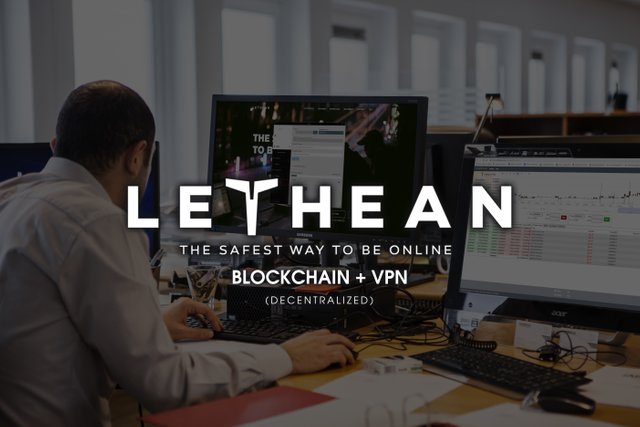 As a brief introduction, Lethean is a decentralized VPN service with anonymous payments backed by the CryptoNote blockchain (same as Monero's). Lethean is a little known blockchain project that is slowly coming out of the shadows as they have just released their first working beta product.
The year 2017 saw a frenzy of ICOs promising ideas that developers wanted to bring to the blockchain. One of those ideas is a peer-to-peer and a decentralized VPN. A number of groups launched ICOs for this purpose and they were able to gather millions of dollars in funding. One group called Intensecoin led by Valiant, decided not to get public funding through an ICO. They instead went the traditional route of launching their blockchain through social media with the help of a community of miners, investors, and traders who shared the same vision. The Intensecoin team got a premine that would be used to fund development. It was clear from the start that the developers will not earn anything if they cannot deliver a working product that will be valued highly by the crypto market. This is in contrast to those groups who did ICOs where whether they deliver their products or not, they already have the money of the investing public.
Intensecoin rebranded to Lethean in September of 2018 for trademark reasons. After more than a year of development, the Lethean team released their first product, the beta Browser Extension. This browser plug-in combined with the Lethean wallet allows a user to connect to different Lethean proxy servers or exit nodes around the world to access the internet without geolocation restrictions. The full Lethean VPN client is scheduled to be released in the first quarter of 2019 as can be seen in the Lethean roadmap. Rumor in the Lethean community is that a beta VPN client can be seen in as early as six to eight weeks, barring any unforeseen major problems.
The Lethean developers are building a VPN software infrastructure that is peer-to-peer and decentralized. This means that there is no single central VPN provider. Anyone can be a VPN provider if he wishes to. This setup will create a market for VPN providers, either individual or commercial entities. Each resulting VPN provider can set his own price in Lethean to charge VPN users. VPN users in turn will rate Lethean VPN exit nodes with regards to their reliability, speed and performance. This will provide feedback to VPN users as to which are the best, fastest and cheapest Lethean VPN exit nodes according to their needs.
The Lethean peer-to-peer and decentralized VPN platform allows any individual or private company to share their unused internet to avail of VPN services, for a fee in cryptocurrency. This shows a real world use of funding an internet infrastructure with cryptocurrency. This will be an opportunity for any crypto enthusiast to have a passive income while he is not using his internet. This business model is called a sharing economy popularized by Uber. Uber has become a giant in the ride sharing business around the world. Lethean VPN is bringing the sharing economy to everyone's internet service and this could revolutionize how VPNs are accessed and paid for around the world.
For more introductory information, you can watch the Interview with Lethean Strategy Manager (Casey alias ThePigwee) by the NewEconomies.com, filmed at the NASDAQ Studio in Time Square, New York.