Buchen-Kahneule ■ Green Silver-lines
Pseudoips prasinana (Linnaeus, 1758)
Die Buchen-Kahneule ist ein Nachtfalter aus der Familie der Eulenfalter (Noctuidae). Der Falter lebt in Laubwäldern mit einem hohen Anteil von Rotbuchen wie man sie im Spessart vorfindet. Er fliegt ab der Dämmerung bevorzugt nachts und fliegen auch gerne an künstliche Lichtquellen. Die Flugzeit beginnt im Mai und endet im Juli.
The Green Silver-lines is a moth from the family of Noctuidae. The moth lives in deciduous forests with a high proportion of red beech as found in the Spessart. It prefers to fly at night after dusk and also likes to fly to artificial light sources. The flight time begins in May and ends in July.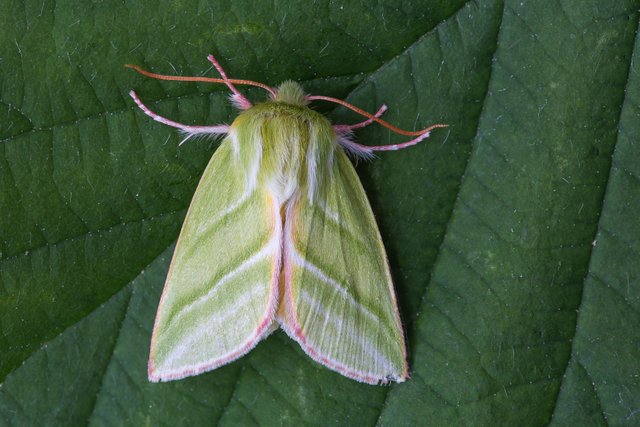 ▲ Click on the image for full resolution ▲
Die nachfolgende Raupe habe ich vor zwei Wochen auf einer Tour im Spessart entdeckt. Sie war mit ihrem leuchtenden Grün kaum zu übersehen. Jetzt im Herbst verpuppt sich die Raupe zwischen Blättern am Boden unter Rotbuche in einem Kokon. Dort verbringt sie als Puppe den Winter bevor der Falter im Frühjahr schlüpft.
I discovered the following caterpillar two weeks ago on a tour in the Spessart. It was hard to miss with its bright green. Now in autumn the caterpillar pupates between leaves on the ground under red beech in a cocoon. There it spends the winter as a pupa before the moth hatches in spring.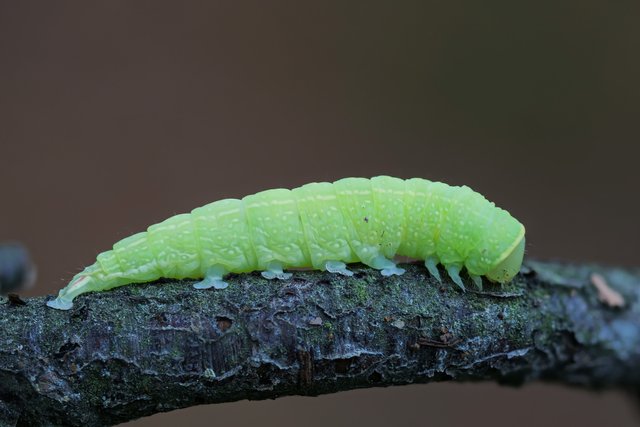 ▲ Click on the image for full resolution ▲
〰️
| | |
| --- | --- |
| Category: | Macro |
| Camera: | Panasonic Lumix DC-G9 |
| Lens: | Olympus M.Zuiko Digital ED 60mm 1: 2.8 Macro |
| Location: | Germany, Bavaria, Lower Franconia, Kreuzwertheim - Spessart |
Wenn dir mein Beitrag gefällt, freue ich mich über deine Nachricht.
Herzlichen Dank und viele Grüße vom @faltermann 🐛
If you like my contribution, I am looking forward to your message.
Many thanks and greetings from Germany 🦋
🔴 SteeamPeak (Best user interface for the Steem Blockchain)🔴
🔴 SteemWorld 🔴
🔴 eSteem Search 🔴
🔴 Partiko mobile app 🔴