I Bet You Have Signed Illegal Stuff at Least Once in Your Life
Signing contracts is virtually inevitable for any adult in the modern world. You want a job - you sign a contract. You start a business - contracts everywhere. You rent a place - contract! You buy a place - contract! You want something basic as a cell phone - you sign a contract without even reading! You register for a simple website online - guess what, that clickwrap terms of service thing is a contract too.
Anything you want to do nowadays requires a legally binding signature. Sometimes you can't help but wonder...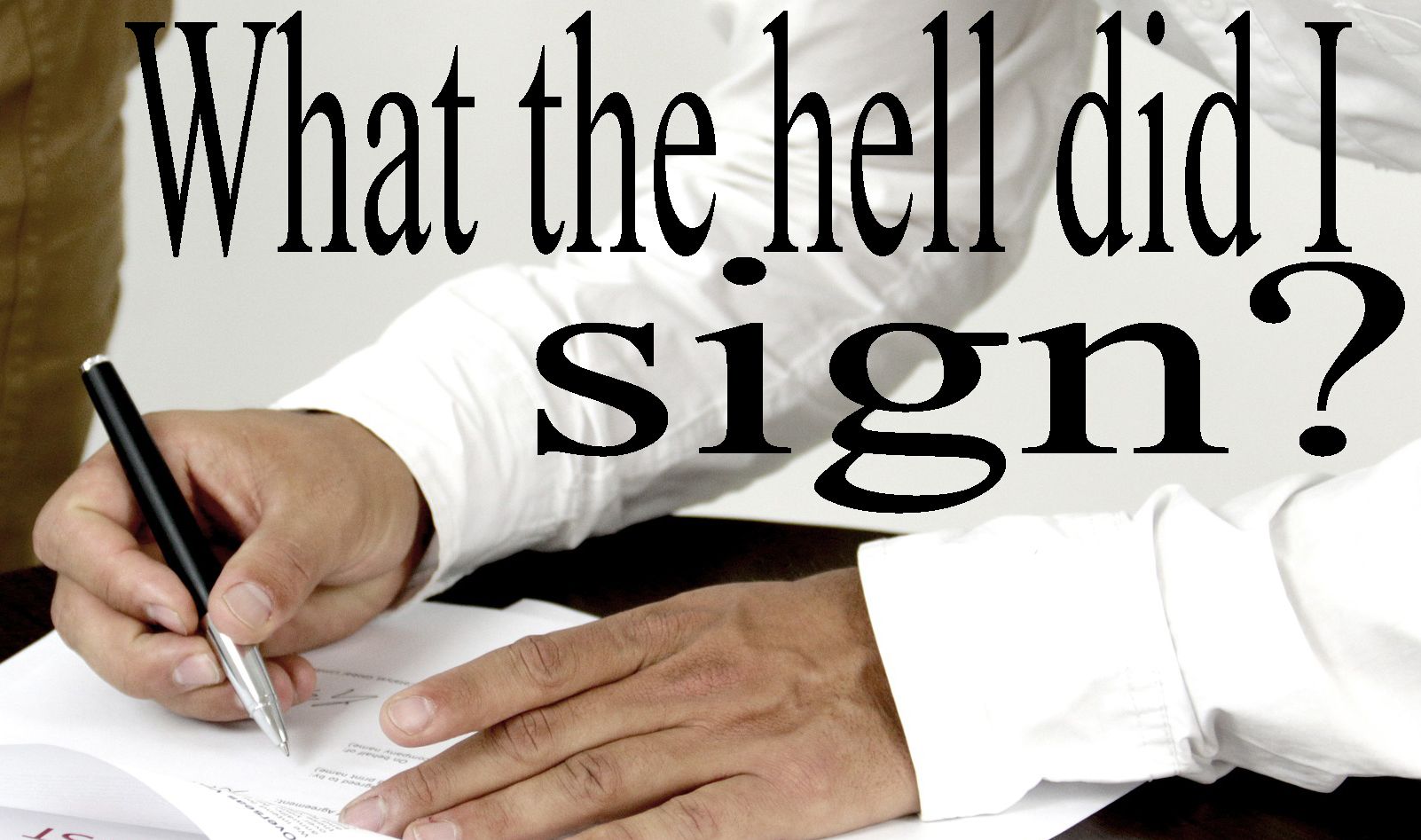 Source
You have probably signed so many things in your life my bet from the title is actually pretty safe. Let me explain why...
Contracts Are Not Magical
A very common misconception about contracts is that anything you sign your name on all of a sudden becomes legally binding. But this is never the case regardless of the country and jurisdiction you live under. There are many reasons a contract might not actually be enforcible and this is something important that many people don't understand.
For instance, any clauses in a contract that contradict the local laws would always be deemed void and this is something pretty much universally true all over the world. If me and you were to sign a contract that you'd pay me $100,000 for me to kill that noisy neighbor you hate, that wouldn't be legal. If I went and committed the murder and you refused to pay me, I wouldn't be able to sue you successfully for breach of contract anywhere in the world. That would be ridiculous, right? Well, a clause does not have to be as blatantly illegal as murder to be void or non-enforcible.
There are two important types of contracts that often turn out to be void or non-enforcible. Keep in mind that I'm not saying all of those contracts are non-enforcible, I'm saying some of those contracts are non-enforcible.
Contracts of Adhesion or Standard Form Contracts
This a class of contracts that we tend to sign the most. Those are contracts that are presented to us by a service provider on a take-it-or-leave-it basis. In those cases we are the clients who are buying a product or a service from a large company that requires some non-negotiable paperwork. You sign this type of standard form contract when you open a bank account, when you get an internet provider for your home or when you check that I agree checkbox when signing up for that secret third email your significant other doesn't know about. They are also called contracts of adhesion because they are attached to a service you are interested in.
Since those contracts are something that people don't usually even read, this would allow dishonest service providers to put some crazy terms in there. But as I mentioned already, contracts are not magical and the fact that a service provider has managed to stuff the fine print full of things you now owe them, doesn't mean those terms would actually be legally binding for you. Even if you click I agree on a ToS that says the website now owns your house and the CEO of the company can eat your children, that would not be legally binding.
In the US for instance as in many other countries, the standard for such contracts of adhesion is that the terms in there should be conscionable and reasonable for the type of service being provided. The standard form contract you sign to rent a car cannot include clauses that would allow them to harvest your organs in case you crash their car and your bank can't claim your house if you don't use your credit card at least once a week. So in the same way that those ridiculous clauses would be unenforceable, many clauses in contracts you have already signed might be too.
NDAs, Non-Compete Agreements and Employment Contracts
The reason I started thinking about how many people out there are following contracts that they don't have to is the recent Donald Trump / porn star Stormy Daniels thing. If you are not familiar with the story, turns out that Donald Trump had an affair with said porn star just after his current wife gave birth to their son. And to make sure that this wouldn't come back to haunt him, he had her sign a NDA (Non-Disclosure Agreement) that she wouldn't reveal this.
What happened now when the story leaked is that she first denied it with a written statement that was obviously drafted by a lawyer to comply with her NDA. But after that she (or more like her lawyer) apparently realized that the NDA wouldn't stand in court and she started talking about it.
The thing with a significant amount of the NDAs, non-competes and even some employment contracts out there is that employers tends to draft them so broadly that they overstep the legal boundaries. Many businesses try to make sure that they are protected as much as possible and having you sign some pretty strong terms might seem like a good idea, but quite often some of the terms infringe on other rights afforded to you by the this or that law which makes them void. In the case of the Trump porn star NDA, the information she has agreed to withhold cannot really be the subject of an NDA in the US as it's not really a business secret. It's entirely possible that some agreement like that you might have signed with an employer is void and practically worthless too.
In my country for instance, some employers ask you to sign non-compete agreements, but those are generally found unconstitutional because you they infringe on your right to make a living. This things vary around the world, but you get them everywhere.
Why Do Companies Keep Asking You to Sign Illegal Stuff?
Now the big question is why companies keep asking people to sign contracts that are void. There are two main reasons. The first one is that like in any other profession, some lawyers are incompetent or imperfect and they draft up imperfect contracts. But the second reason is more common and more nefarious. Companies draft contract that they know will not stand in court because they are hoping they can scare you into complying. That's why I think it's quite important to be aware that many contracts are illegal. If you've signed a contract like that, consult a competent lawyer to see if the contract is actually enforceable.
---