Landscaping Pathways to Anchor Your Home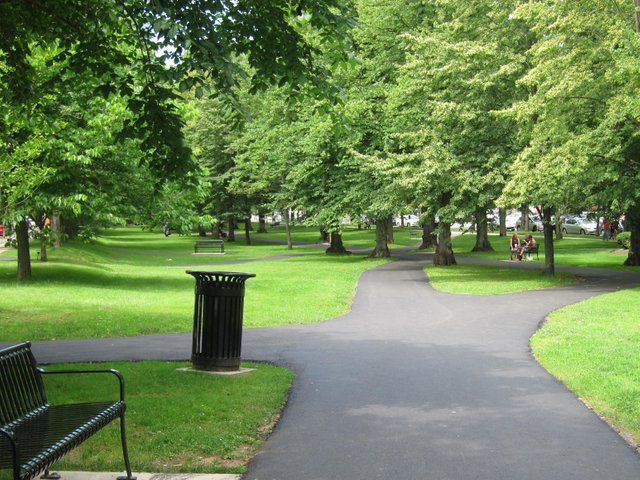 Image source: Wikimedia Commons
Pathway Ideas to Enjoy Your Garden
You don't need an extremely large area to have a beautiful garden and winding, meandering pathways to walk through it and enjoy all of the beauty. Pathways can be made of many materials to suit your tastes.
Landscaping Pathways to Anchor Your Home
Your landscaping pathways have a manner of anchoring your home into the lawn. Pathways can be very formal, very informal or any style in between. It is a great pathway if it compliments your gardening style and your home at the same time.
A Stone and Gravel Combination
Stone and gravel work very well together when you choose two different colors of the products. You can plan a simple gravel pathway and update it with the stones in a color you like. Consider brown tones of pea gravel all along the pathway with staggering Eden dimension stones for a landing spot to stand and to engage the eye. You can also use stone edging in the same color as the stone on the pathway to hold the gravel in place along the path. Eden dimensional is a cut stone with a sawed top and bottom and it is snapped on the ends to reveal a split faced surface with all of the internal light gray and buff tones exposed. This pathway is very informal but also eye catching and beautiful.
A Strong Geometric Shape
If your garden is asymmetrical in shape and has a lot of interest in your plantings with different shades of greenery or flowers, then you may opt for a geometric shaped pathway to anchor your garden. You can achieve this by placing crushed rock in a rectangle at the start of the pathway with the narrows end vertical. Then add bluestone in a rectangle but with the narrow ends placed horizontally to stair step down the pathway. The repetition of the rectangular forms continues down the pathway with longer or shorts runs of the materials alternating.
An Elegant Entry Pathway
Entry landscaping pathways work best if your home sits several yards from the street in front of it. For this idea to work best, you would have flowers and greenery as well as shrubs on each side of the pathway. A straight pathway to the front door looks nice; however, when you start the pathway from the road at a slight angle and then straighten it to the front door, it makes a much bigger visual impact in your landscape design. A great option for materials is to use is fieldstone in large pieces that are thick near the road and then when the pathway straightens consider using bluestone in a much thinner material for better footing.
Watch for a Curve Ahead
Curved walkways are always in style and work well for any type of landscaping you may have--even if you make a pathway to your front door through the green, grassy lawn. An S-shaped pathway is carefree and easy to plan. A great material to make this type of path very informal is to use granite stepping stones that are not all uniform in shape and space them about four inches apart from each other. Make certain that the granite is lower than the lawn so it can easily be mowed around and over without harm to a lawnmower.
A Rest Stop on a Slope
If your garden pathway will be on a slope, then it is a good idea to make a seating area part way up the slope. Consider using oversized stepping-stones for the pathway up the slope like a stairway for the ascension. You can fashion a customized stone bench by placing two oversized stepping-stones on their ends vertically and another oversized stepping-stone on the top for your seating area. This is a great place to sit and take in all the beauty and nature of your garden area.
Diagonal Straight and Narrow
This pathway idea works great for drawing attention to your front lawn without the need for plants or flowerbeds on each side of it. You simply use pavers set diagonally across a straight path. Leave about six inches between each of the pavers in each direction and plant dwarf monkey grass around each one. This will emphasize the diamond patter and will give your walkway a deeper dimension.
The Small Wonder
Even the smallest area in your landscape design can become very striking. This works especially well with a water feature in your garden. Use modern, minimalist pavers that are thin and scatter them in a loose pattern to walk down and observe the garden and water feature. This type of path is informal and doesn't detract attention from the details of a traditional style garden of greenery, flowers and trees.
A Beautiful Side Yard
The side yard is the most neglected area for homeowners as it's seen as merely a walkway from the front to the rear of the house and is usually quite narrow. You can actually spruce this area up and make it a rock star of flagstone. Try mixing and matching colors of flagstone with reds, oranges, browns and grays to create an intricate pattern to invite all that visit to walk down it. Planting tall and thin trees, such as Leyland Cypress or Emerald Green Arborvitae on each side of the pathway will help to elongate your space visually and the stonework pattern will keep the area from feeling too narrow.
"Oui" to French Parterre
The French parterre originated in gardens in the French Renaissance of the 15th century. This type of garden is the utmost in a formal garden with pathways that divide areas of a garden by its different plants and also interconnect all the areas to walk through. The pathways should wind around in intricate patterns and be made simply of gravel that is held in the pathways with bricks on the outer edgings. Parterre gardens often include fragrant flowers, vegetables and herbs.
A Pathway with the Blues
If your home happens to have a blue hue to it, then you will love this draw dropping idea of a blue pathway. Form a straight pathway with minimalist, modern blue step stones that are thin. Leave about two inches between each one and dig out the soil about six inches wide on each side of the step stones. Fill in the areas around the steppers with crushed bluestone chips to add a pop of bright blue in your walkway.
Flowing Along
If you have a more modern home that has straight lines then a curvaceous pathway will compliment it. You can make two curved pathways out of pavers placed where each touches the next and intertwining them in one area. The shape will resemble a figure eight to add a lot of character and to soften the lines of your home while inviting guests in.
A Southwestern Vibe
If your home is a Southwestern home or if you have a garden that contains Southwestern plants, such as Agave, Sage and cacti, then your walkway through these plants should also reflect an easy care Southwestern style. Decomposed granite is a perfect match for this walkway. It is granite that is worn down into small particles and then compacted into a pathway to reflect a desert feel. The addition of some small boulders on the sides of the path in different sizes and shapes will enhance the Southwestern desert feel.
Very Formal Flair
You can make a very formal pathway when you have a wet laid full-range bluestone path to anchor your formal garden. This works great to create continuity between sections of your landscape design. It can connect your driveway, outdoor fireplace or kitchen area, your lawn and an entertainment patio. The full range of colors includes blues, grays and tans in different shades to mix and match them into any pattern you prefer.
Bluestone and Brick Diamonds
This is a very striking pattern for any walkway or pathway no matter how large of a space it's in. Bluestone is laid where it is turned on the diagonal to form a diamond shape. Bricks surround each stepper in red shades for the ultimate in high color and contrast. This pattern naturally makes any pathway appear to be wider and the diamond pattern allows room in between each of the bluestone and brick diamonds to tuck in your plantings of your choice.
Formal and Playful
A great use for square brick stamped stepping-stones is to create a checkerboard pattern. You simply place the red brick pavers in lines down your walkway with the same distance open in between the pavers as the size of the pavers. Planting grass in the open areas gives it the checkerboard effect for a playful note, while the red brick pavers make it formal.
If you are planning landscaping pathways and walkways for your home or if you are planning to update your area and recreate it, then you can draw inspiration from all of the above examples of pathways to make it unique for your particular design.