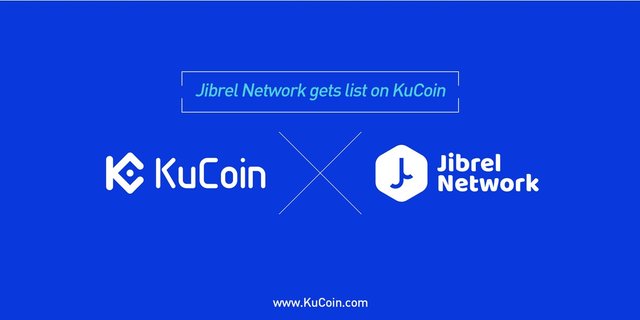 Jibrel Network(JNT) gets listed on KuCoin!
Published 2018-02-21
This post is also available in: 简体中文 (Chinese (Simplified))
Dear Users,
KuCoin is extremely proud to announce yet another great project coming to our trading platform. Jibrel Network(JNT) is now available on KuCoin. Supported trading pairs including JNT/BTC,JNT/ETH. Please take note of the following schedule:
JNT deposits and withdraws: 18:00 Feb 21, 2018 (UTC+8)
JNT trading: 22:00 Feb 21, 2018 (UTC+8)
Jibrel Network(JNT) Introduction:
The Jibrel Network provides currencies, equities, commodities and other financial assets and instruments as standard ERC-20 tokens on the Ethereum blockchain.
Jibrel Network(JNT) Official Website:https://jibrel.network/
Jibrel Network(JNT) Telegram:https://t.me/jibrel_network
Jibrel Network(JNT) Whitepaper
Jibrel Network(JNT) Competition Details
Competition running from 2018/02/21 22:00:00 to 2018/02/26 23:59:59(UTC+8)
Follow and Retweet to Win 5 BTC
KuCoin and Jibrel (JNT) are running a joint promotion to celebrate the listing of JNT on KuCoin. We are offering 5 BTC for retweeting the tweet on Twitter.
Risk Warning: The cryptocurrency investment is a venture capital deal, it has7 x 24 hours trading business model with no market close time.Please pay more attention to risky investment.KuCoin hold a strict system of censorship about all tokens deal,But we never take any liability for the investment behavior.
KuCoin Team
Categories:Announcements
Previous Post IoT Chain(ITC) gets listed on KuCoin!