Krispy Kreme - Exclusive to Selfridges London - Part 2
Hello Steemers,
Here is Part 2 of Krispy Kreme's range exclusive to Selfridges London. If you read my previous post you will see how disappointed I was. I am pleased to say I have a much better response to the other donuts out of the range. Today I have Gianduja, Salted Caramel & Honeycomb and last but no means least, it is of course The Selfridges.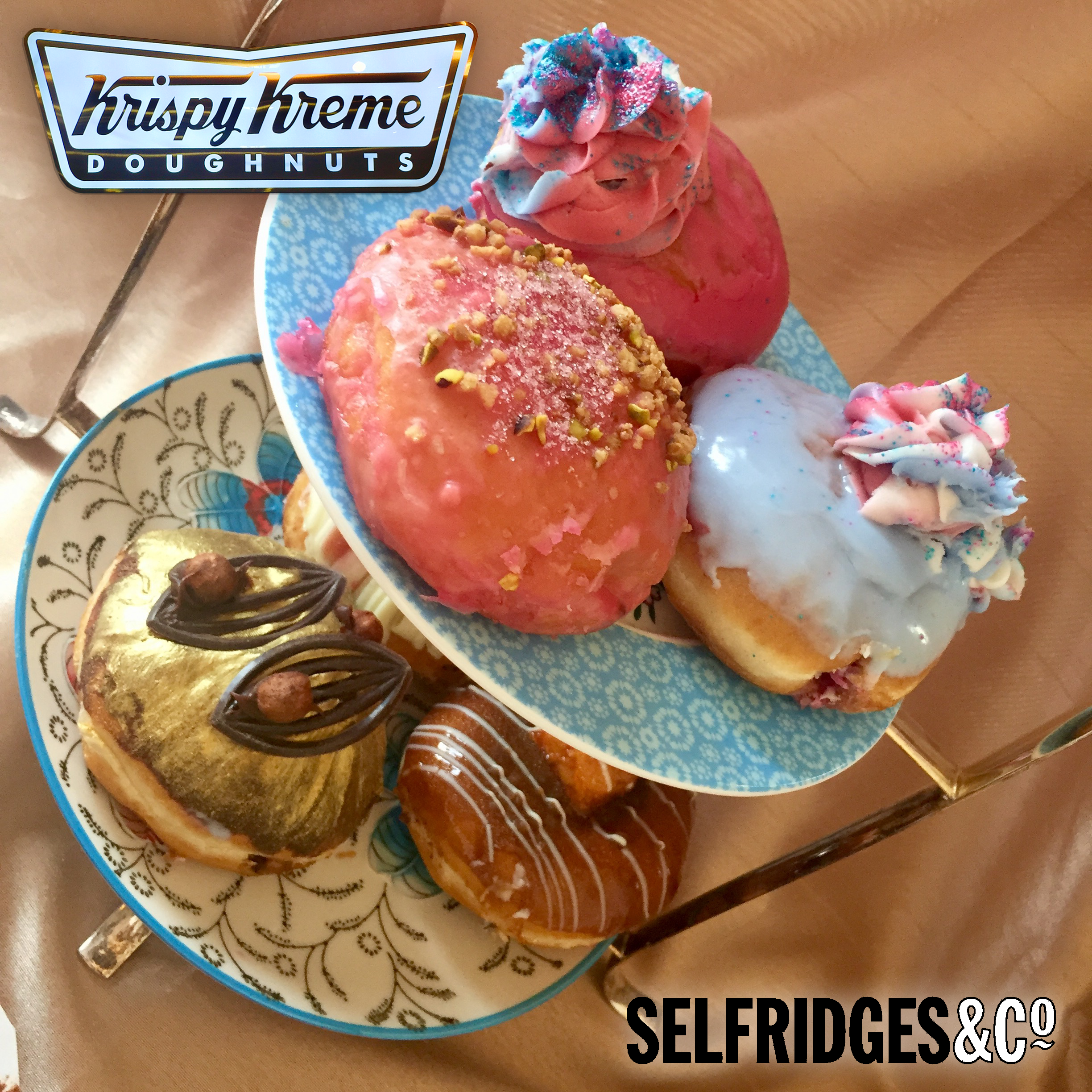 I have managed to work my way through the exclusive range over two days. That's quite a lot of donuts for someone who is of a slim build. I'm surprised I don't look like a donut or at least pregnant! Hey ho, it's all in the name of tantalising my tastebuds. Who ate all the pies??? Who ate all the donuts more like!!!
Gianduja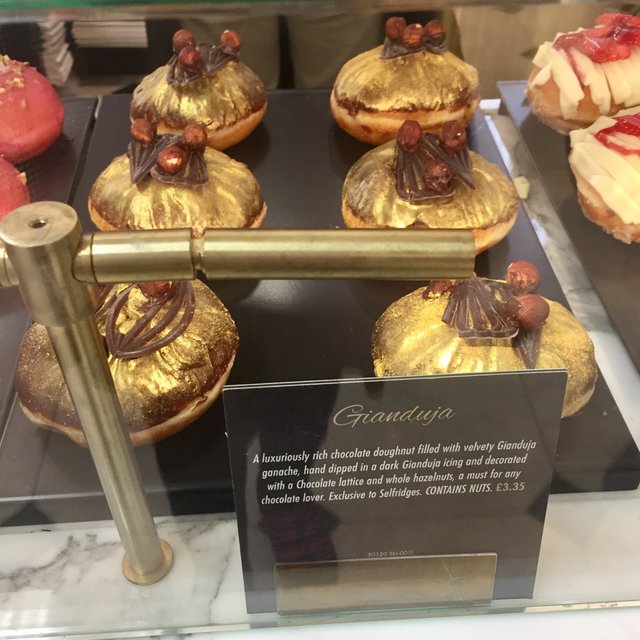 This is a really decadent donut. I do have an eye for shiny things, especially gold (my poor husband… lol) so this donut certainly drew me in.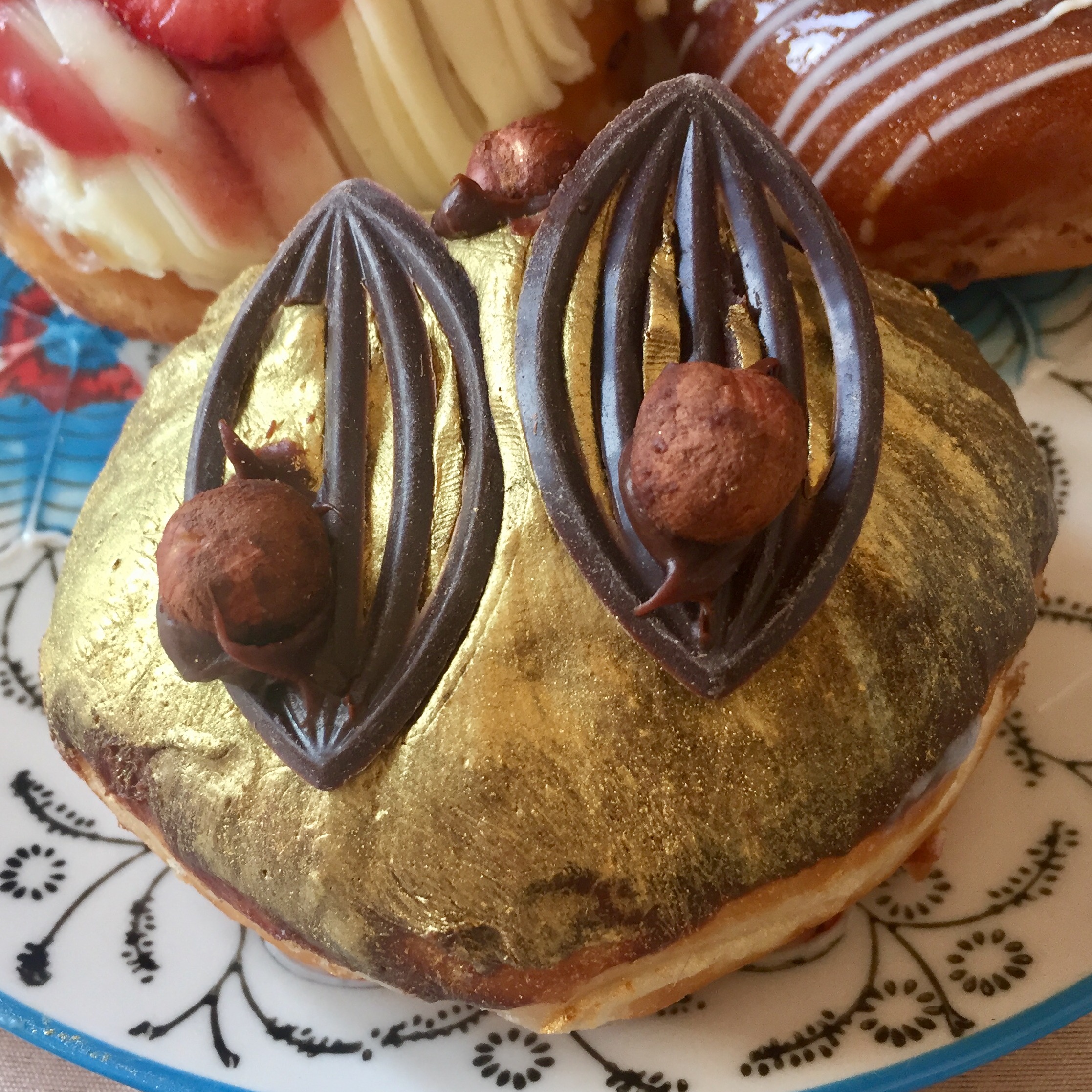 The dark chocolate lattice has a real good snap to it and the whole hazelnuts really give this donut a good bite!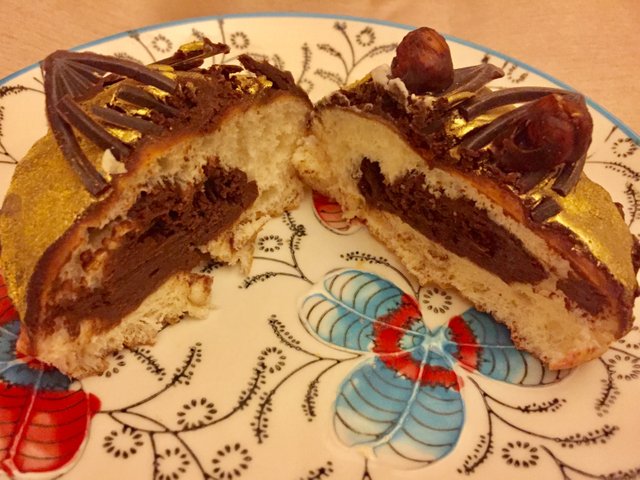 Mmm… this is certainly a chocoholics must. Look at that centre! It's very full. Just how I like it. The Gianduja ganache is very rich. I can't really taste much hazelnut, but you can tell the ganache is good quality chocolate with a high cocoa content. I can almost taste a sense of booze as well! Like you would get in a chocolate liquor. I really like the gold coloured chocolate icing. A very delicious donut.
Salted Caramel & Honeycomb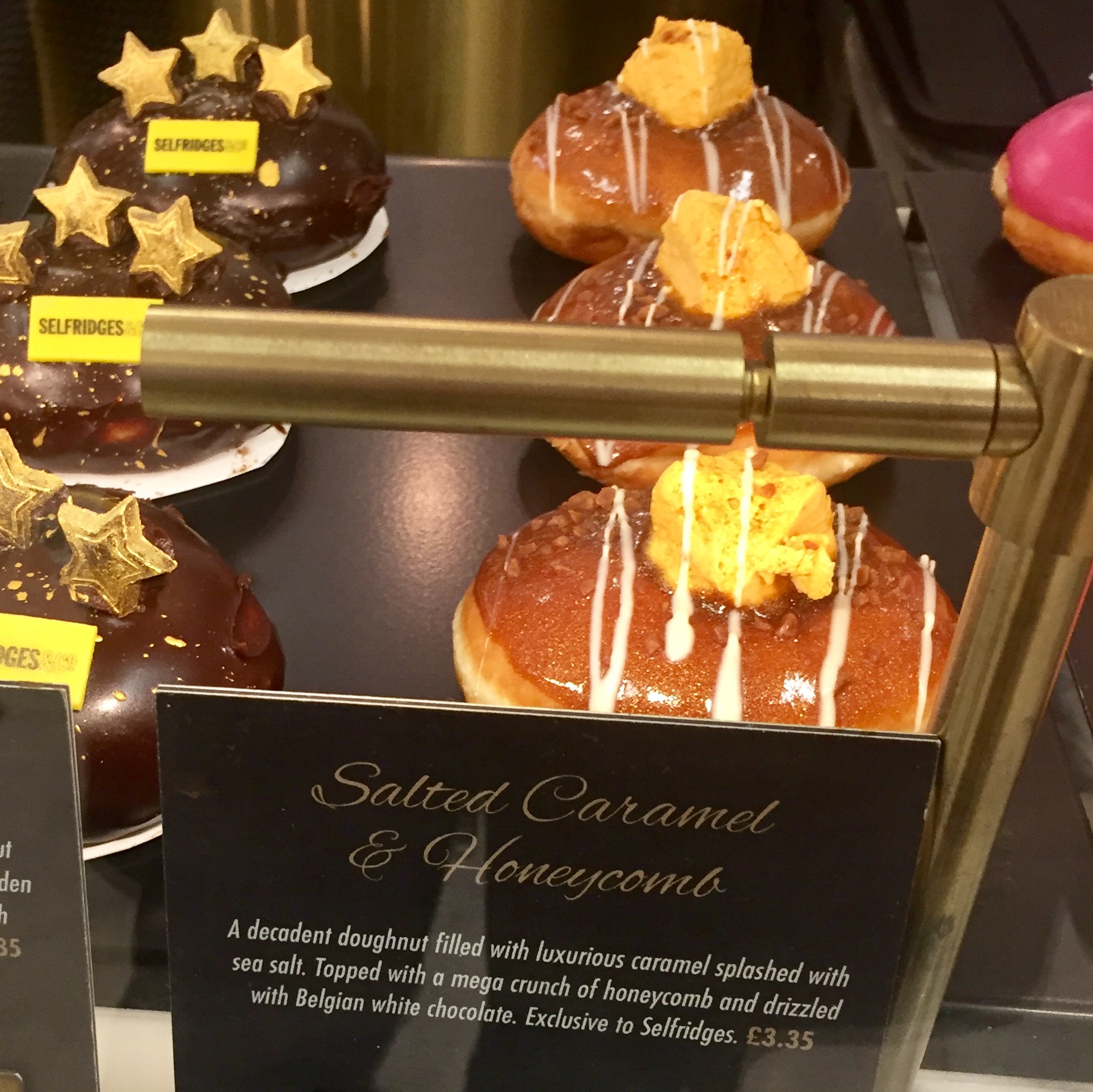 I am a fan of all things sweet and salty. Whether that be popcorn or a piece of cake. I like the big chunk of honeycomb sat in the middle. It looks like a big golden nugget. The glaze has a nice sheen to it, almost sparkly.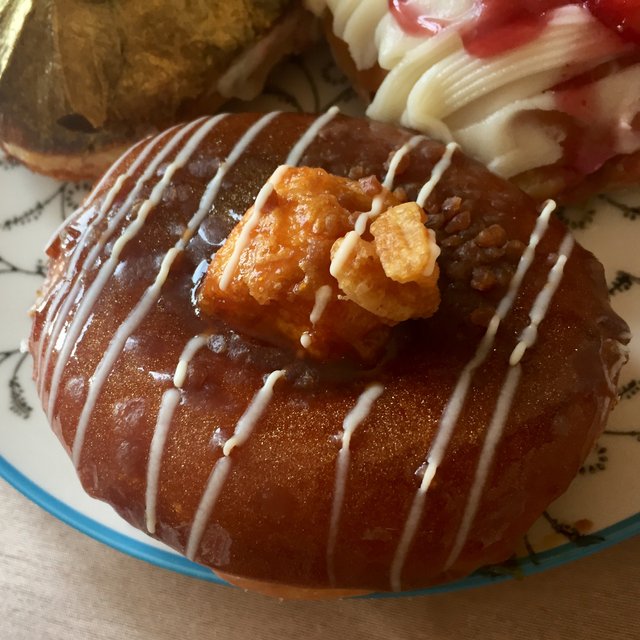 So the honeycomb has slightly disintegrated. Maybe I should of had it out of the first set of donuts I ate. Nevertheless, the majority of it is still there, The honeycomb has a great crunch and tastes delicious. Much better than a well known chocolate bar thats full of honeycomb. The glaze is sticky and salty. The combination is nice of the sugary coating with the hint of salt. I don't get much flavour of the Belgian chocolate drizzle, however it does make a pretty looking donut.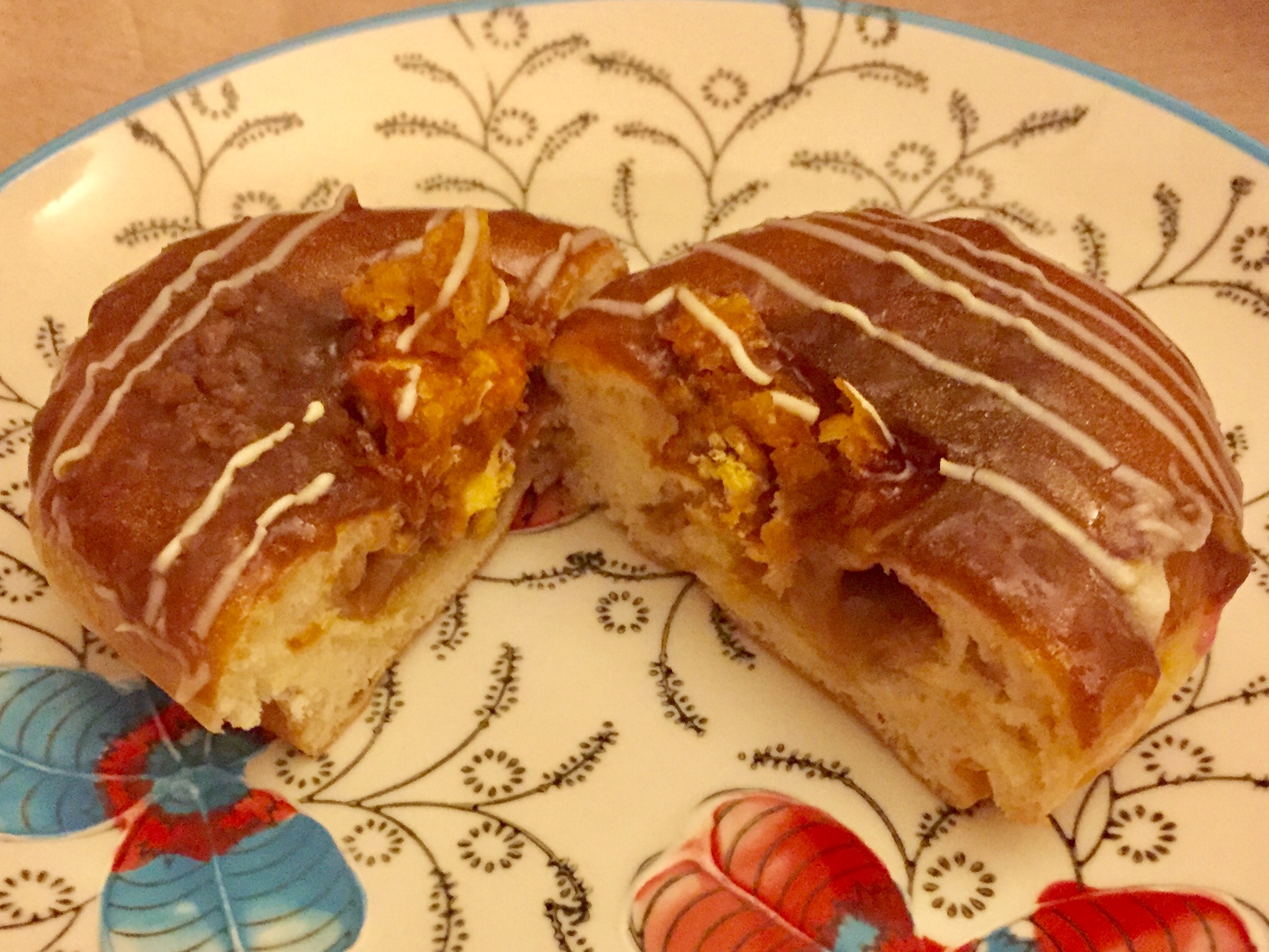 Lots and lots of runny caramel here (although my photo doesn't do it much justice)… eek!!! As I pick it up to eat it, it runs out of the donut onto my fingers, drips down my chin as I give it a bite. Wow, I have never tasted such delicious salty caramel before. It's kind of a buttery sweet caramel. You can really taste the salt in it as well. Be prepared to be covered with this sweet thang. I suggest you eat it in the privacy of your own home, unless you don't mind having a face full of drizzle in public.
The Selfridges
Another chocolate donut with the eye catching yellow logo of Selfridges.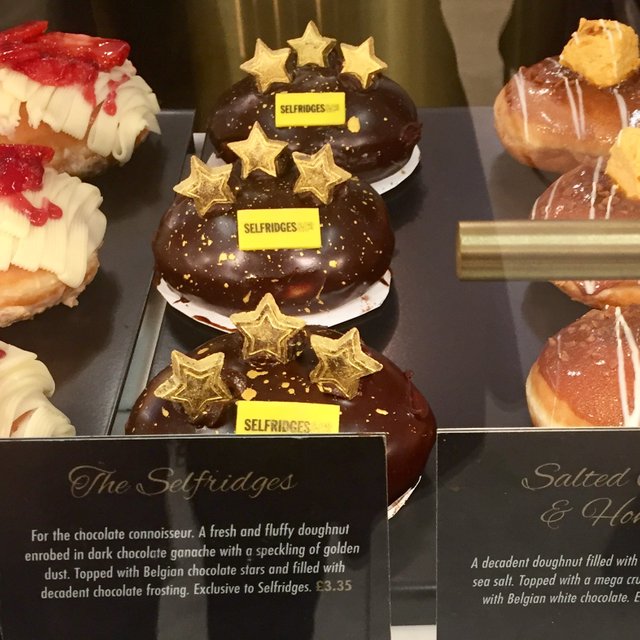 A pretty looking donut with the three gold stars and gold dusting. Is this donut worth three stars? Well let's see…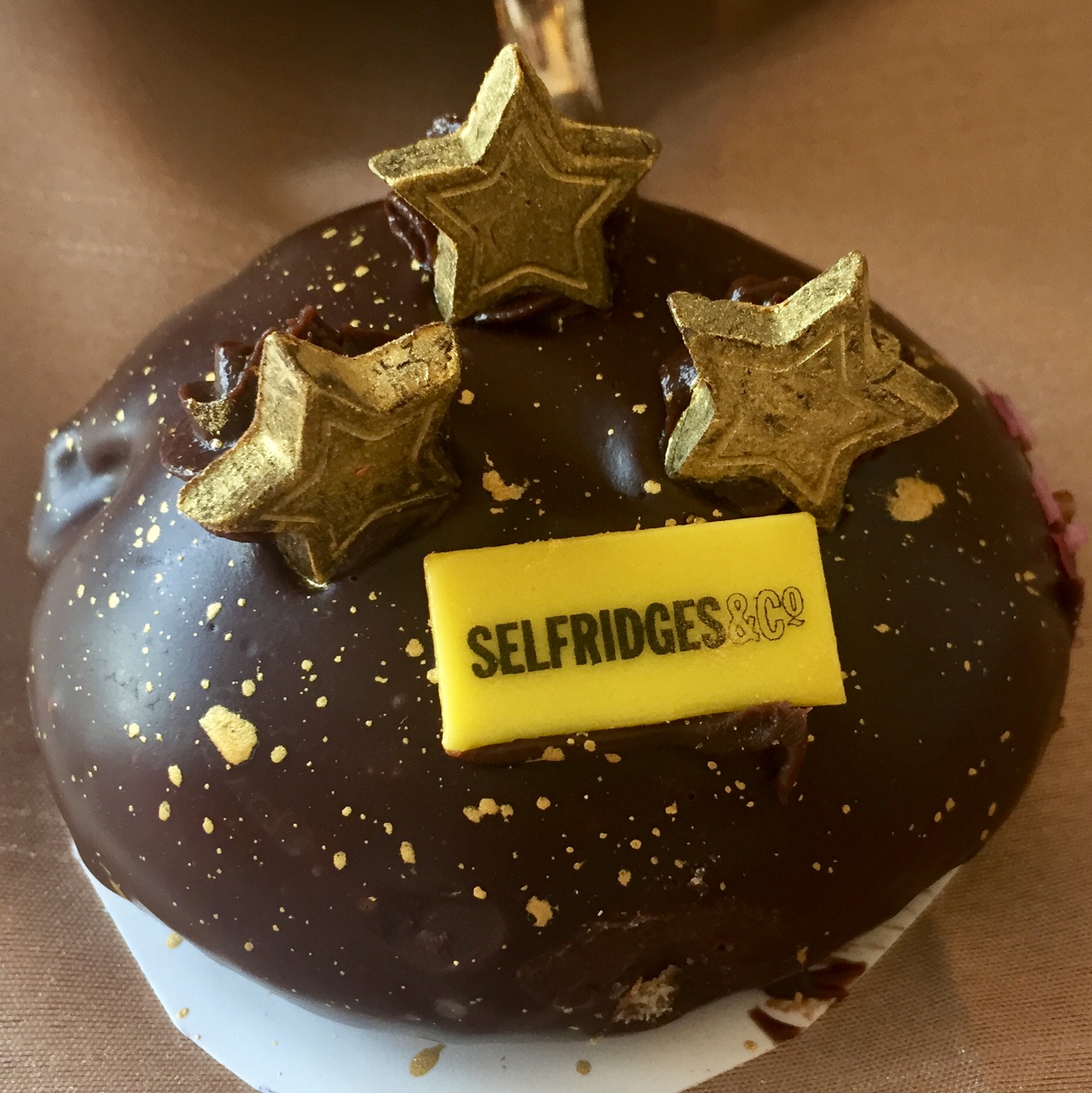 The Selfridges looks just as good as in the display after two days. The Selfridges logo is as clear as day. The gold dust makes the donut look like a galaxy and the three stars are standing to attention in the cosmic sky.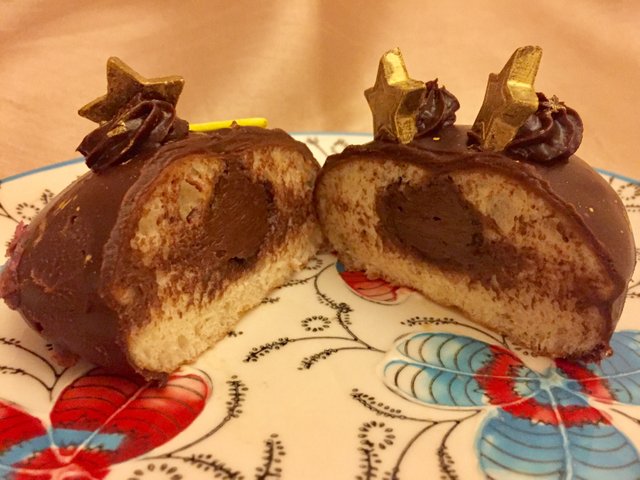 I first try a star. It's dark Belgian chocolate. It's nice but not as chocolatey as the chocolate lattice on the Gianjura, I do like the chocolate swirl that the star is attached to. The chocolate ganache icing is nice and thick. It surrounds the majority of the donut. Not sticky, mind you. It has a much nicer flavour than the stars. I then pick off the Selfridges logo. It's just a piece of fondant icing. Upon diving into this donut, I notice it doesn't have as much filling as the Gianjura either. The chocolate frosting it ok. It taste like a chocolate spread. It's quite a sweet, milky, chocolatey frosting. Still nice though. I'd give it two stars.
Overall Verdict
Out of the three donuts I have described today, I would certainly give my vote to Gianduja and Salted Caramel & Honeycomb. Gianjura has the most intense chocolate flavour and is a real masterpiece. A very expensive looking donut and it certainly has the taste to match. Salted caramel and honeycomb is just divine. The caramel in the middle is so smooth, so rich in flavour and it really tickled my tastebuds. I would put these donuts as the front runners out of the whole range too, followed by Red Berry Drizzle, The Selfridges, Rose & Pistachio and lastly The Magic Unicorn
I hope you enjoyed my run down of the Krispy Kreme Exclusive Range as much as I did tasting them.
Keep calm and Enjoy Krispy Kremes!!