Hi Steemit,
You can probably tell by now I have a massive obsession with Krispy Kremes. This week I took a special trip to Selfridges in the heart of London. Not for shoes, clothes or even designer handbags for that matter. I decided to make the journey for the one and only Krispy Kreme!!! Woo!!!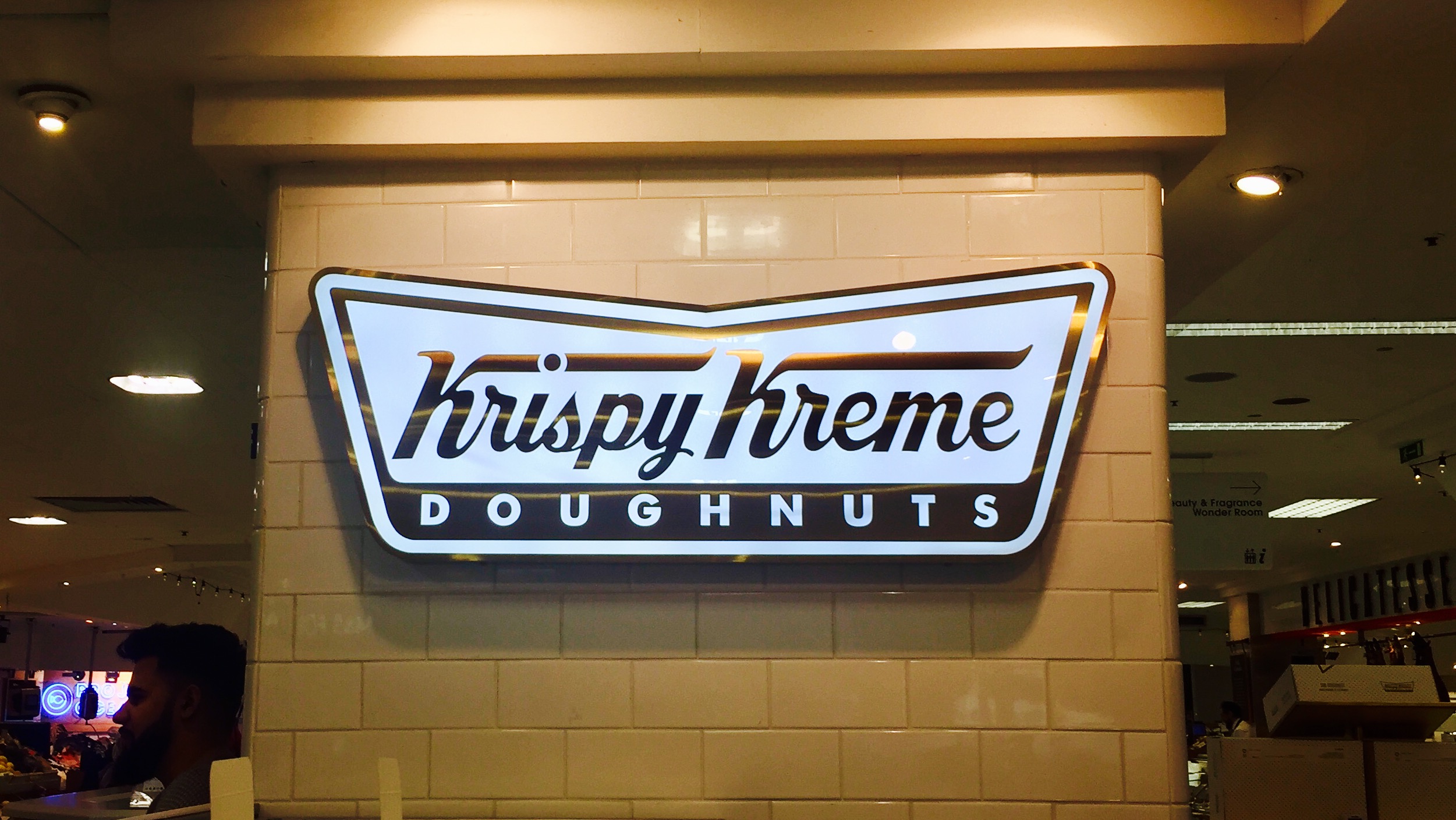 I am going to give you the lowdown on what I thought of these bad boys of the donut world. I have for you today, presenting The Magic Unicorn, Rose & Pistachio and Red Berry Drizzle
The Magic Unicorn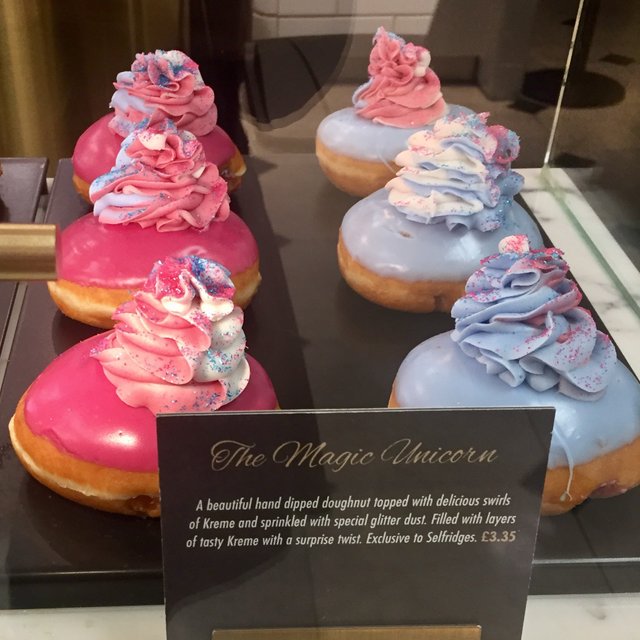 These little guys are gorgeous in colour! We have the pink one and the lilac one. Just look at the swirly, colourful, creamy horn. It's topped off with blue and pink glitter as well. Every girls dream! This is definitely a statement donut. So shiny, tall and neat. You can't miss it.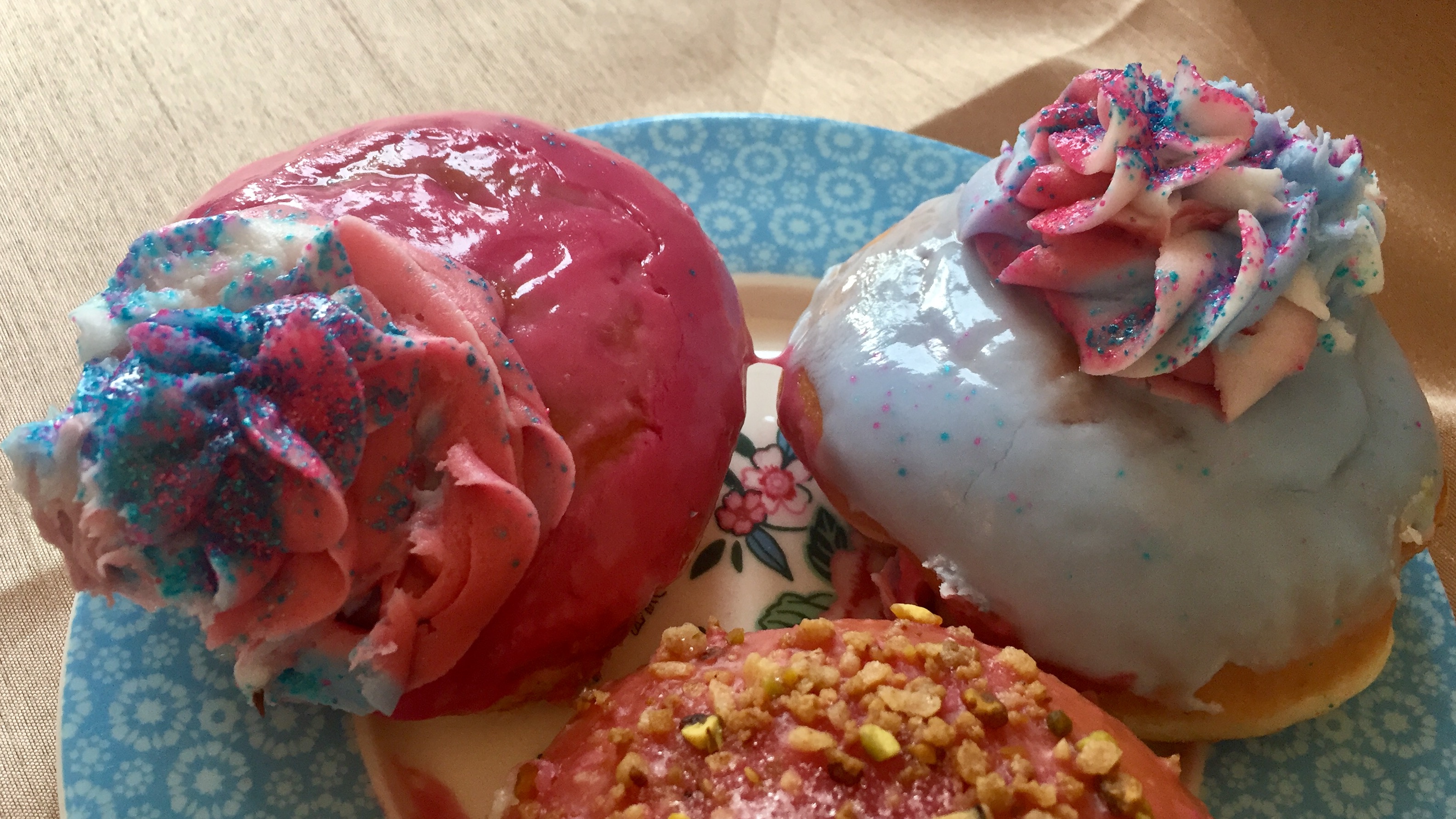 I was disappointed when I got home. The hand dipped icing slid off the top taking the horn with it! Gutted! Hey ho, just as well these unicorns were for my stomach only. You wouldn't want to present these to anyone. Poor unicorns look tired and unappetising.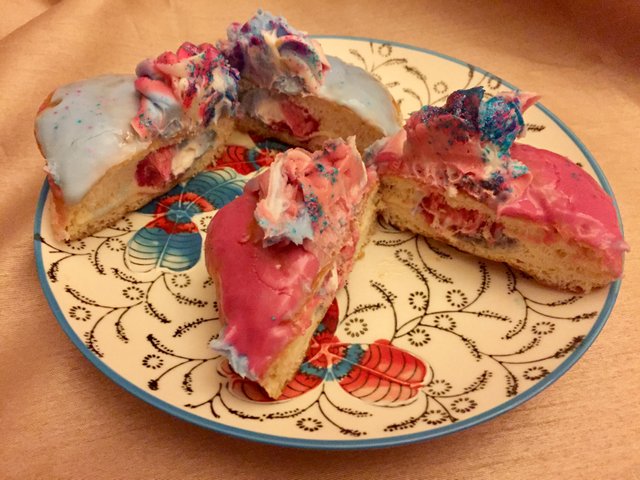 So as you can see the kreme in the centre is the same as the horn. Pretty in colour, tastes the same as the horn. The flavour of the horn is vanilla and the centre is vanilla and strawberry. Nice flavours but, my God is this one sweet! I thought the Pecan Pie one was from one of my previous posts, but this one is above and beyond sweet! There is no difference in flavour from the pink unicorn to the lilac one. These donuts are lovely to look at. If you were going to surprise your friend or a loved one with one of these, may I suggest you get it to them quick smart. They don't do well as time passes. This donut is one I wouldn't buy again. Hard to say from a Krispy Kreme fan. Maybe it might turn your poo glittery!
Rose & Pistachio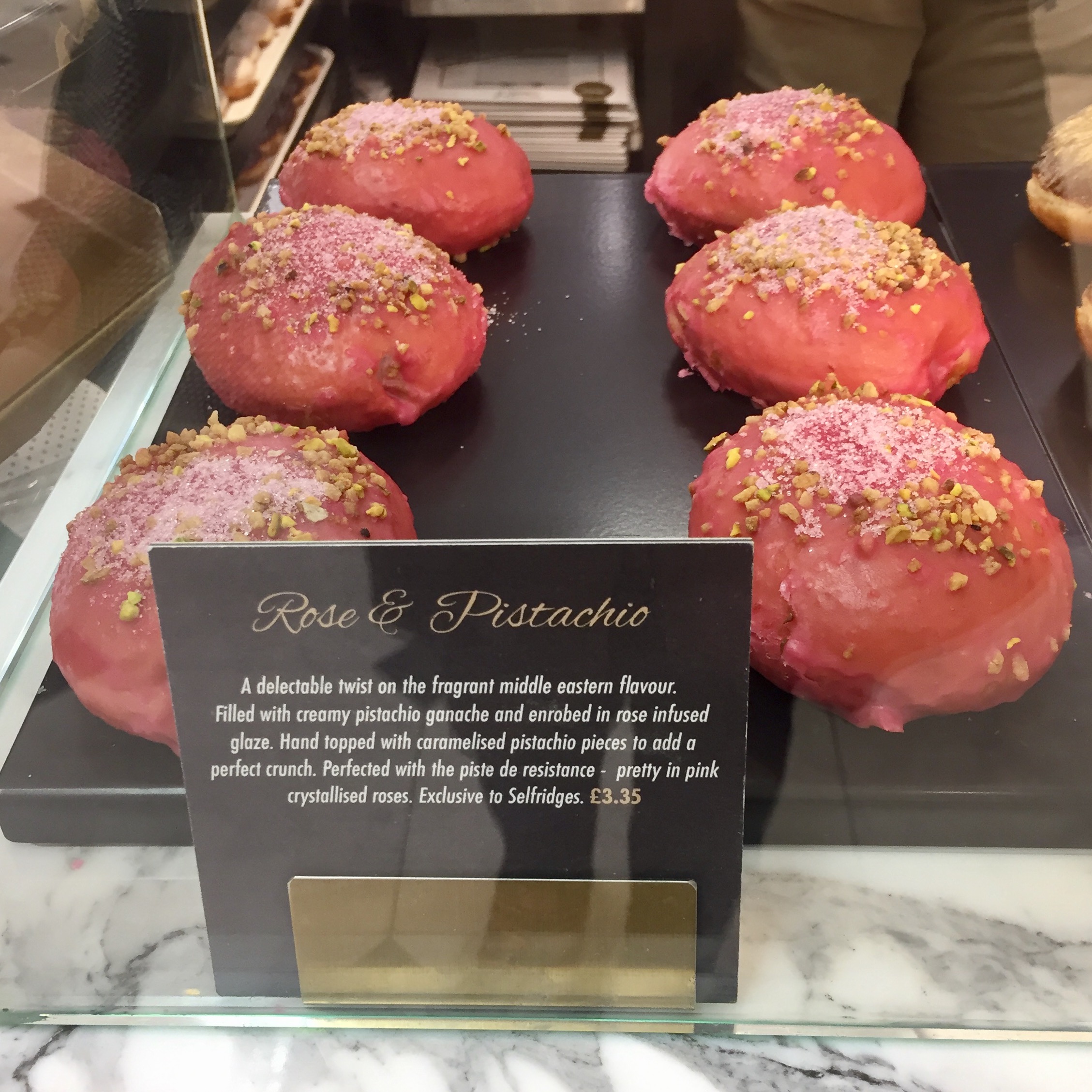 Well hello my Middle Eastern friend. How round and plump you are. Lovely pink colour topped with the green of the pistachio and the glitter of the crystallised rose really sets it off nicely.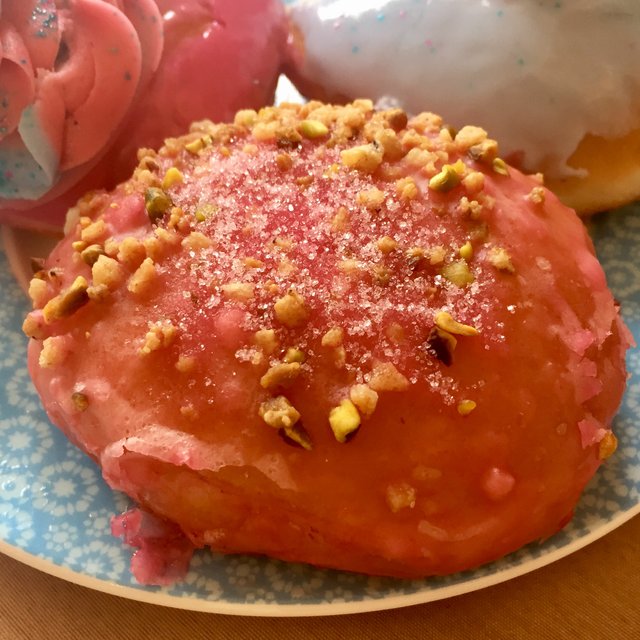 This donut did manage to hold itself together, unlike the Magic Unicorn. It has a fragrance to it just like Turkish Delight. I hope it doesn't taste like Turkish Delight though. I'm not a fan of it. The donut, however, has a glaze that pretty much covers all of the donut. The pistachio pieces and the crystallised rose still look the business. The Rose & Pistachio donut is a heavy donut. Must mean it has lots of filling in it, so let's have a look.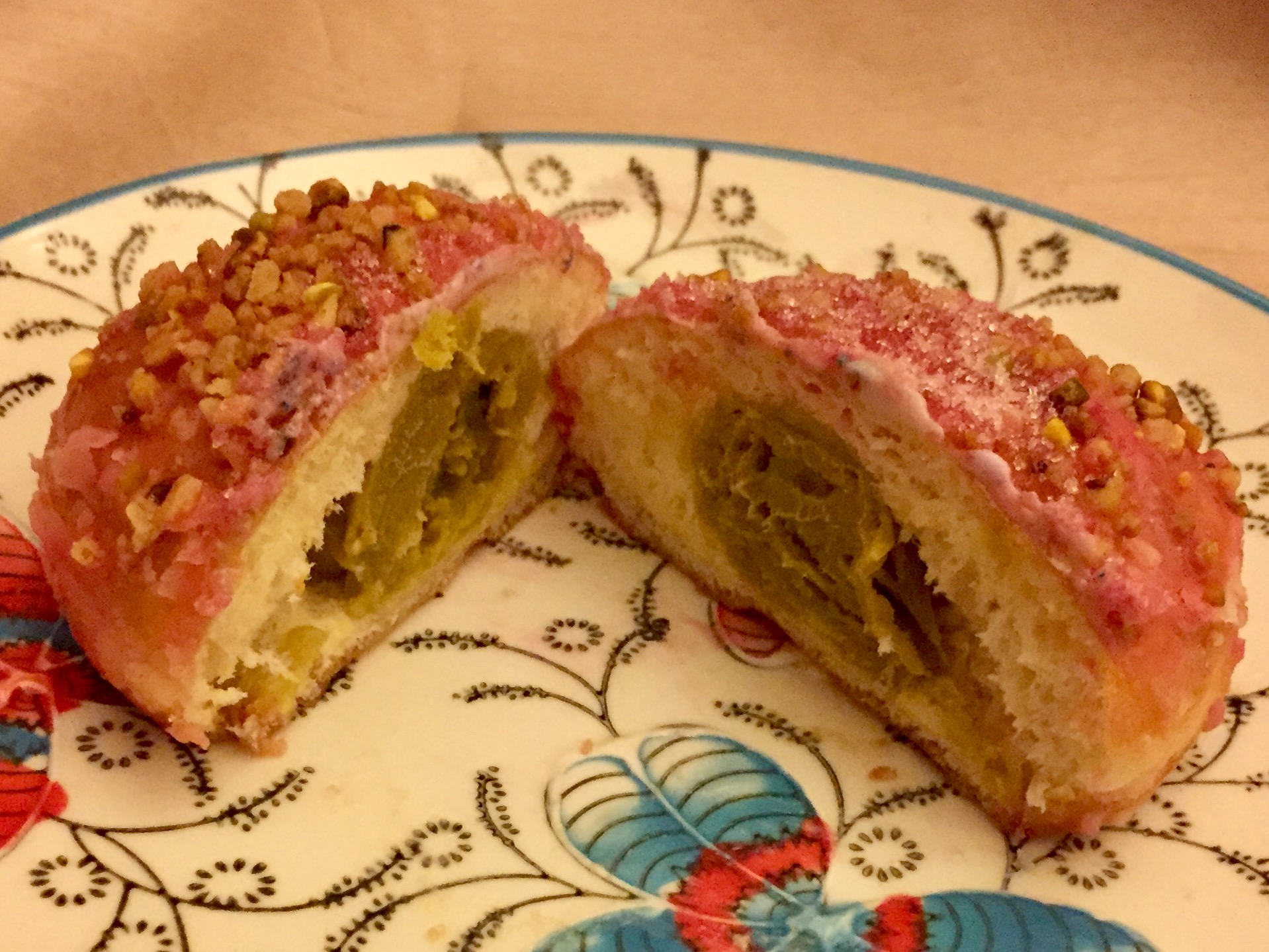 Just as I suspected. Lots of filling!!! Hooray!!! The pistachio ganache is thick and dense. It is very smooth too. Strong pistachio flavour, yum. The rose glaze and caramelised pistachio pieces do make this donut taste just like a Turkish Delight. Bleugh. I cannot eat this donut, but as the filling is so delicious and nutty, I decide to scoop it out with a spoon and enjoy that pistachio taste instead. If you like Turkish Delight, you will love this donut, I do not. It's definitely a Marmite donut. You either love it or hate it.
Red Berry Drizzle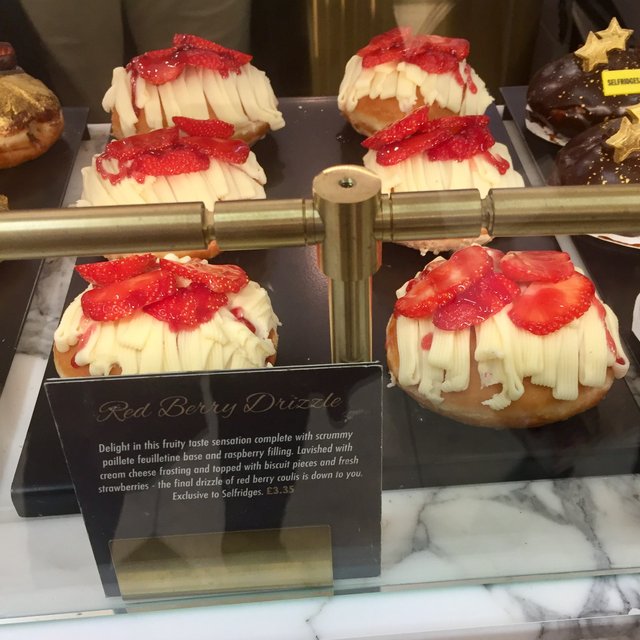 I love the look of this donut. I can definitely say this is my kind of donut. Fruity and creamy. I like the way the cream cheese is piped over the donut and the way the drizzle runs down the side of the donut. This one reminds me of Wimbledon with the strawberry and cream theme.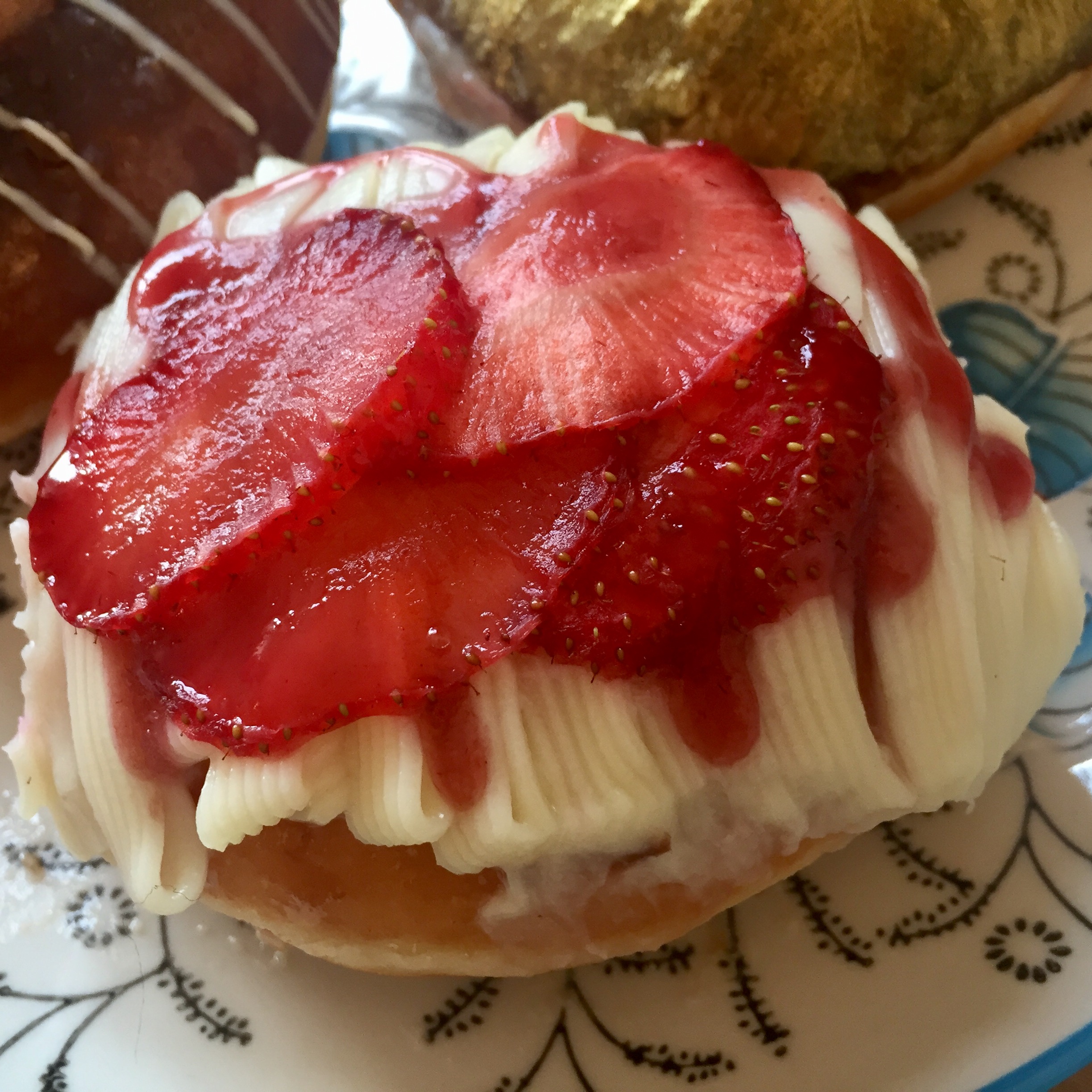 I saved this one until last as it was the one I was looking forward to the most. Upon inspection I notice the donut is missing something. Where are biscuit pieces??? I go back to the description of the donut and sure enough they haven't put the biscuit pieces! Peeved or what! Brushing my moment of disgust aside I decide to tuck in.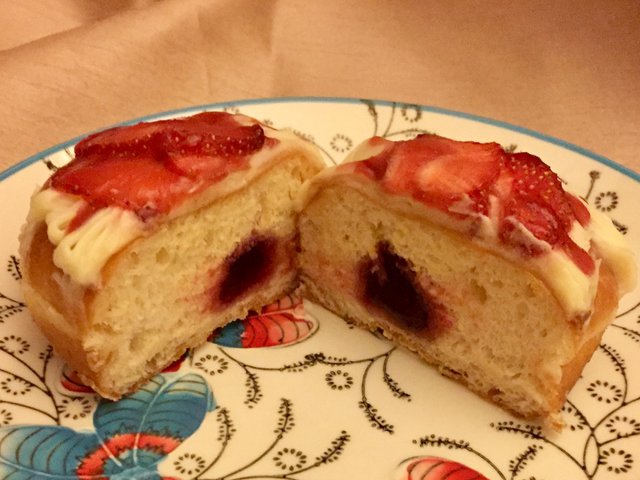 Okay… yep there is some filling but not enough in my eyes. Not when you compare it to the Rose & Pistachio one. The filling is very fruity. It doesn't taste like raspberry to me. Tastes like strawberry jam. I like strawberry, don't get me wrong, but I was expecting raspberry as described. The cream cheese frosting is really nice and works well with the fresh strawberries and coulis. This donut is the tamest of the three. Just the right amount of fresh sweetness. This donut does need the biscuit pieces to give it another dimension though. I think this one should be renamed the Wimbledon Donut. All I get are flavours of strawberry and cream. I do not taste any other fruity flavours, so calling it Red Berry Drizzle for me is a little misleading.
Overall Verdict
Looks wise these donuts all are great. Flavour wise leaves a lot to be desired. I was so excited when I finally found the stand in Selfridges Food Hall. I couldn't wait to get them home and demolish them. Turns out they demolished my emotions instead. Too sweet, not the right ingredients and just not my cup of tea. In fact, I'd rather have a cup of chai. Considering I travelled to London and back for these precious, they weren't special at all. I would say if you like the Middle Eastern flavours the the Rose and Pistachio would be the best one out of the three. If the Red Berry Drizzle had fitted its description right then I would have said that one was my favourite. Thankfully I have another three donuts to try from the Selfridges Exclusive Collection. Fingers crossed I will have something to sing about.
Keep an eye out for Exclusive to Selfridges London - Part 2
Krispy Kreme - Superstar Collection