South Korea police raid Samsung unit in embezzlement probe / AFP - The Straits Times
---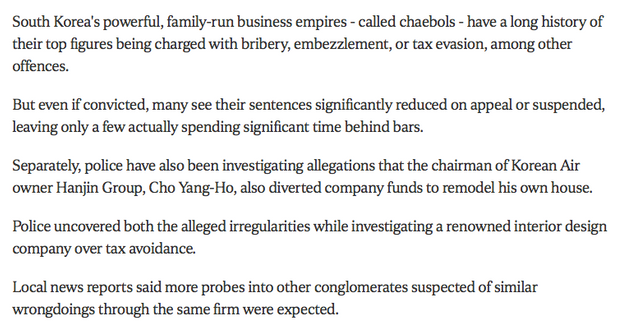 image from_ The Straits Times' article
---
...
South Korea's powerful, family-run business empires – called chaebols – have a long history of their top figures being charged with bribery, embezzlement, or tax evasion, among other offences.
But even if convicted, many see their sentences significantly reduced on appeal or suspended, leaving only a few actually spending significant time behind bars.
Separately, police have also been investigating allegations that the chairman of Korean Air owner Hanjin Group, Cho Yang-Ho, also diverted company funds to remodel his own house.
Police uncovered both the alleged irregularities while investigating a renowned interior design company over tax avoidance.
Local news reports said more probes into other conglomerates suspected of similar wrongdoings through the same firm were expected.
...
재벌이라고 불리는 한국의 막강한 가족경영의 기업 제국들의 최고경영진들은 뇌물, 횡령 또는 탈세 등의 혐의로 기소되는 오랜 역사를 가지고 있다.
그러나 유죄 판결을 받더라도, 많은 이들이 항소심에서 형량이 현저하게 줄거나 집행유예를 받아 실제로 상당 기간을 복역하는 사람은 많지 않다.
이와 별도로, 경찰은 대한항공 소유주인 한진그룹 조회장 역시 자택을 개보수하기 위해 회사 자금을 유용했다는 혐의를 조사하고 있다.
경찰은 유명한 인테리어 디자인 회사를 탈세 혐의로 조사하는 동안 두 혐의사실을 밝혀냈다.
한국 언론 보도에 따르면, 동일 디자인 회사를 통해 유사한 불법행위를 저지른 것으로 의심되는 다른 대기업에 대해서도 조사가 더 이루어질 것으로 예상된다.
...
---
---
Source & Copyright

HEADLINE | South Korea police raid Samsung unit in embezzlement probe
PRESS | AFP - The Straits Times
DATE | 2017. 10. 18
영어기사 / AFP - The Straits Times | https://www.straitstimes.com/asia/east-asia/south-korea-police-raid-samsung-unit-in-embezzlement-probe
번역기사 / The News Pro | https://thenewspro.org/2017/10/20/south-korea-police-raid-samsung-unit-in-embezzlement-probe/
---
| 표현 | 의미 |
| --- | --- |
| family-run business empire | 제국적 가족경영기업 |
| chaebols | 재벌 |
| charged with bribery | 뇌물혐의로 기소되다 |
| tax evasion | 세금탈루/탈세 |
| even if convicted | 유죄판결을 받더라도 |
| significantly reduced | 현저하게 감소하다 |
| behind bars | 철장속에 갇히다/교도소에서 복역하다 |
| on appeal | 항소심에서 |
| suspended | (집행)유예 |
| investigating allegations | 혐의를 조사하다 |
| diverted company funds | 회사자금 유용 |
| renowned interior design company | 유명한 디자인회사 |
| tax avoidance | 조세회피/탈세 |