Ethereum Making Big Moves 에테르 큰 움직임 만들기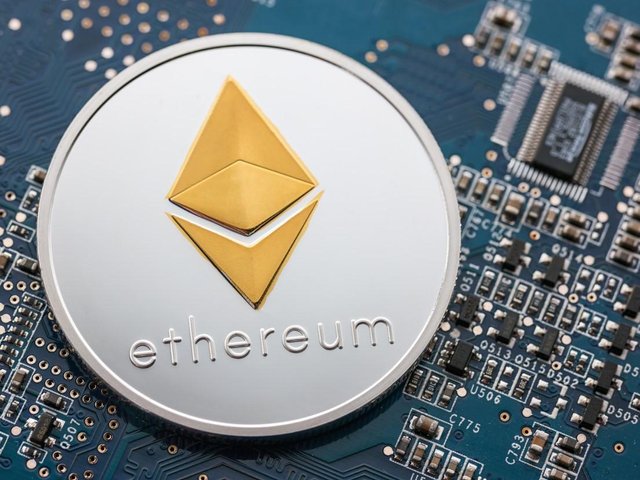 Ethereum is set to transition from Proof of Work to Proof of Stake by June 30 this year according to Cointelegraph .
The transition code named Phase Zero is the first step in the implementation of Casper the Proof of Stake update on the Ethereum Blockchain.
Not only is Ethereum going to implement POS for they plan on changing the way transactions are processed by nodes by using sharding. Sharding is when data is spread among the network to be processed.
The way Ethereum currently works is that every miner must confirm all transactions on the network. So as more miners joins the network the level of security is increased but so is the time it takes to process all transactions.
With Sharding transactions are spread among all miners to be processed, so when more miners join the network not only is security increased, but speed as well.
Ethereum could see transaction speeds of up to 1500 per second.
Ethereum would become a direct challenger to other blockchains that have already implemented sharding.
Developers have also been working on creating an identity protocol Uport that will be embedded into Ethereum.
Currently there are identity protocols that run on top of Ether do embedding this tech into it is innovative. To create an identity two kinds of contracts will be used to create two different identity tokens being the ERC780 & ERC1056 .
ERC780 is an on chain token that has off-chain capabilities. An ERC780 token sings using a DID that is linked on-chain.
An ERC1056 token is a Decentralized Identifier or DID.
Any Ethereum Address can mint an ERC1056 therefore they are all valid Decentralized Identifiers. The ERC1056 token is also used for governance purposes.
Also currently in development is an ERC712 token to be used for signatures with keys. These protocols have been in development for around a year and when implemented will be a massive improvement to Ether.
Amazon one of the biggest companies in the world has been working with the Ethereum Foundation to create blockchain templates for their Amazon Web Services.
There have been a lot of projects that have claimed to be the Ethereum killer, do none have yet to dethrone Ether. The King of Smart Contracts not only lives, but grows stronger with each passing day.
에테르은 코인 텔레그래프 를 참조하십시오.
위상 0라는 전환 코드는 에테르 블록 사슬에 대한 말뚝 업데이트 증명 캐스퍼 구현의 첫 번째 단계입니다.
에테르은 트랜잭션을 샤딩을 사용하여 노드에서 처리하는 방식을 변경하려는 스테이크의 증거를 구현할뿐 아니라, 샤딩은 데이터가 처리 될 네트워크 사이에 확산되는 경우입니다.
에테르이 현재 작동하는 방식은 모든 광부가 네트워크상의 모든 거래를 확인해야한다는 것입니다. 따라서 더 많은 광부가 네트워크에 합류하면 보안 수준은 증가하지만 모든 트랜잭션을 처리하는 데 걸리는 시간도 증가합니다.
샤딩을 사용하면 처리 할 모든 광부에 거래가 분산되므로 더 많은 광부가 네트워크에 가입하면 보안이 향상 될뿐 아니라 속도도 빨라집니다.
에테르은 초당 최대 1500 개의 트랜잭션 속도를 볼 수있었습니다.
에테르은 이미 샤딩을 구현 한 다른 블록 체인에 직접적인 도전자가됩니다.
개발자는 또한 에테르에 포함될 신원 확인 프로토콜 ( Uport )을 만드는 작업을하고 있습니다.
현재 Ether의 최상위에서 실행되는 신원 확인 프로토콜은 혁신적입니다. 신원을 생성하기 위해 두 종류의 계약이 ERC780 & ERC1056 인 두 개의 서로 다른 신원 토큰을 생성하는 데 사용됩니다.
ERC780은 오프 체인 기능을 가진 온 체인 토큰입니다. ERC780 토큰은 체인에서 링크 된 DID를 사용하여 노래를 부릅니다.
ERC1056 토큰은 분산 식별자 또는 DID입니다.
에테르
주소는 ERC1056을 만들 수 있으므로 유효한 모든 고유 식별자입니다. ERC1056 토큰은 관리 목적으로도 사용됩니다.
현재 개발중인 것은 키가있는 서명에 사용되는 ERC712 토큰입니다. 이 프로토콜은 개발 중 입니다. 1 년 및 구현시 Ether에 대한 대규모 개선이 이루어질 것입니다.
아마존의 세계 최대 기업 중 하나가 에테르 기초과 협력하여
아마존 웹 서비스 용 블록 체인 템플릿을 만들었습니다.
에테르 살인자라고 주장한 프로젝트가 많이 있었지만 아직
에테르을 폐위해야 할 사람이 아무도 없습니다. 똑똑한 계약의 왕은 살아갈뿐 아니라 지나가는 날마다 더 강해집니다.