Today I want to introduce to you the most popular king of Korea's medieval Joseon Period. He ruled from about 600 years ago between 1418 to 1450.
There is a giant statue of him in the center of a large plaza in downtown Seoul on the road between a palace and the city hall.
A few times every year, people wash him. It's an honor to bathe the king, so there is always a picture in many newspapers.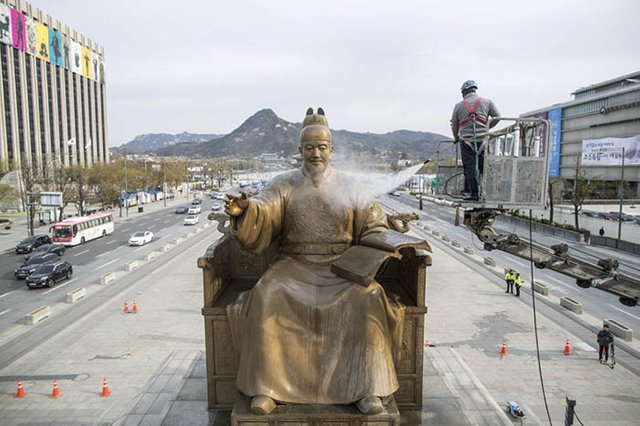 Source: Chosun Ilbo
Actually, below that statue, there is a museum for him and Hangul (한글) which is the native Korean alphabet.
Commissioned Hangul Alphabet
A very interesting fact is Hangul was made during King Sejong's reign. He wanted to give the people a script that was easy to read. Before this everyone used Chinese characters. With thousands of characters, it was difficult to use, also it was designed to be used for Chinese, not Korean. Hangul could do Korean better and all in 28 symbols (Today there are only 24). Today in his honor, there is something called the UNESCO King Sejong Literacy Prize. It's actually the most scientific language and studied by linguists.
So why else was he great?
Treating slaves well
Now I'm sure you are thinking why didn't he just free the slaves? Well, he gave slaves childcare leave. Mothers got 1 month of pregnancy off and 3 months after the child was born and fathers got 1 month off. Also, it was feudal slavery and nothing like what went on in the Western World during the colonial ages.
Tax reform
He actually listened to the people and made a tax reform system that worked. Instead of beating farmers who had a bad harvest and stealing whatever food they managed to grow. He made that illegal and considered production.
He even asked the people for assistance in designing the system. That's why it worked.
Science
He found a fellow call Jang Yeong-sil (장영실) who was really talented but lower class. King Sejong didn't care, he told his officials the guy was good.
Jang made a standard rain gauge, water gauge, waterclock, armillary spheres, and sundials. I think he used Islamic books for his ideas (more on that later).
Military
He kicked the Japanese pirates out of Daemado (Tsukishima Island), he even gave it back to Japan a year later after they promised to behave.
He helped develop new weapons like cannons, gun powder, fire arrows, mortars etc.
He defended and expanded the Northern frontier against Jurchens / Manchus.
Relgion
Here is contentious part
At first, he suppressed Buddism and promoted Confucianism. He threw the Buddists out of Seoul. Later, he changed this policy, it could have been because of his advisors pushed him at first, he learned it was unnecessary after.
He made Islam illegal and burned their books. Their mosque was closed down and they had to dress like Koreans. Basically, Joseon dynasty started after the Mongols were expelled from Korea and China. Mongols had Islamic administrators who received tribute. They had too much power and weren't really liked. Sejong solved this problem in the old fashioned way. It is also believed this is why science advanced so much during his reign. He got some books from them.
Personal Life
He was born on May 7, 1397, as the third son of King Taejong. His name was Yi Do originally. He was a Jeonju Lee, but was born in Hamyang which is what Seoul was called back then.
He became crown prince in 1404 and was named Chungnyeong. His brother's mothers fell out of favor, or maybe he was just smarter ;) Kings had a lot of wives back then. His mother was Queen Wongyeong. Actually, an interesting story is Syngman Rhee, the first president of South Korea was related to Sejong's father and older brother who was Sejong's half-brother.
Sejong became king in 1418 when his father abdicated the throne. His father was an advisor but eventually died in 1422.
Sejong's first son Munjong took the thrown in 1450, but was sickly and died in 1452. Munjong's eldest son, Danjong took over. However, Danjong was only 12. Sejong's second son took the throne from Danjong in 1455 and had him killed later. As we can see, in early Joseon, Sejong brought stability compared to others.
Sejong died of diabetes. He went blind first and was probably very overweight, but it is difficult to know for certain.
His body is in Yeongneung near Yeosu next to his consort queen Soheon. Although his tablet is in Seoul at Jongmyo with all the other Joseon Kings.
source
Legacy
Sejong is on the 10000 KRW note
There is a city named after him which is the new administrative capital about 2 hours south of Seoul
There are lots of schools, buildings, streets, etc. named after him
He has that giant statue
My thoughts
I like him because he invented hangul and wasa good king. He is definitely better than most elected officials today.