I've decided recently to take a look at some of the parks and playgrounds in my area. I'm going to try and avoid parks that are not entirely public such as the ones that charge money or belong to schools, churches and apartment complexes. I'll also try to avoid provincial parks or nature preserves. I'm going to look at municipal parks.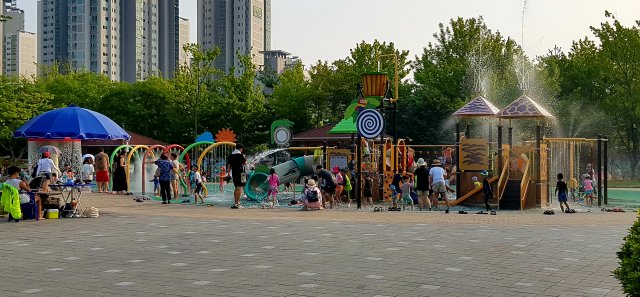 The first park is called Samnae Park (샘내공원), it is located in the beautiful CheonCheon2-dong neighborhood which is in the North end of Suwon City. This park is an urban park and it is of medium size. It is right next to a large supermarket and shopping area. Asides from being an urban retreat for the local community, it is perfect for mom or dad to take the kids to after shopping or while the other is shopping.
There are trees and grass, but that isn't the main feature. The main feature is the super fun splash pad. I can't say this is very useful in winter because the playground is designed mainly around water.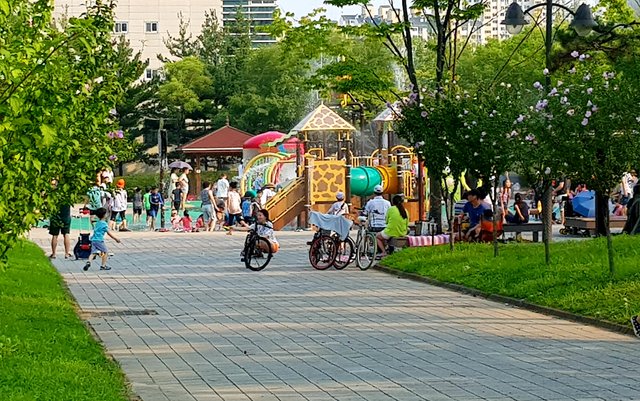 There are a few water slides and water cannons, there are waterfalls and the bucket. It looks like kids can have a lot of fun here. Also, the water is only about 6 inches deep so a life jacket is unnecessary.
A lot of children were fully clothed, some of the special kids were wearing lifejackets and swimming caps which was quite funny. There is actually a voluntary lifeguard on duty to look out for kids who are breaking the rules or in trouble. I can't image there are many rules which can be broken, however.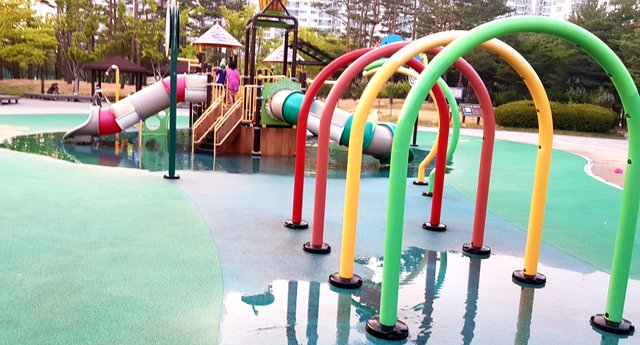 I can imagine the water is disgusting because a lot of people were wearing shoes and clothing in there. It was extremely hot and sweaty, too. Hopefully, these children have all their vaccinations because if you like to catch communicable diseases, this is the place for you. Actually from what I noticed the water was barely chlorinated. I can imagine after a few hours it gets so nasty, I wouldn't want my kids anywhere near it. With that in mind, it is best to bring them at 10 AM or whenever it first turns on for the day.
Thankfully there is a bathroom in the park and drinking fountains and vending machines, as well.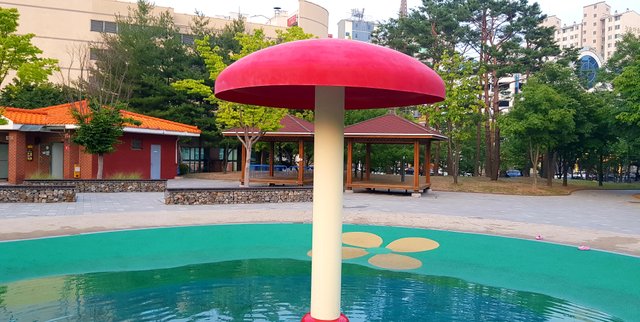 I think it's open from 10 to 8 during for the 6 high weeks of summer and 12 to 6 for a couple of border weeks. Actually, I visited it at 8 PM a couple of minutes after it shut down for the day. There were still puddles and kids were splashing and having fun in the filthy water. Actually, I think the local ponds and swamps are cleaner. There was an image of a frog I did like.
I did see some people nearby with dogs. This is clearly against the rules. I know it is your precious baby, but dogs belong in dog pools or better yet natural lakes, they tend to be even dirtier than the dirtiest children. Do not bring your dog to the splash park, please. The volunteer watcher on duty seemed to be only concerned with idiots bringing their dogs to that part of the park.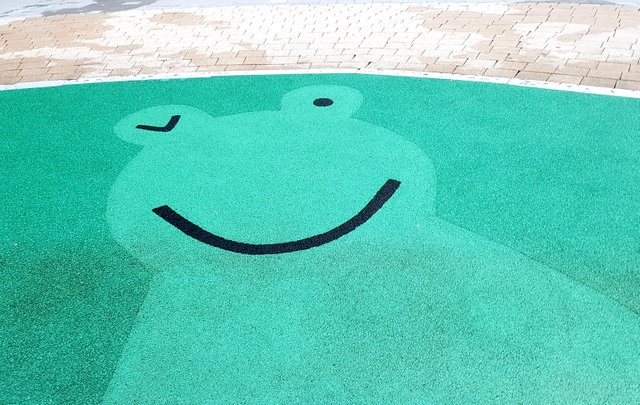 Actually, the only rules maintained were no dogs, RC toys, bicycles, alcohol or smoking at that end of the park. The other end is the place for that sort of fun. There is also basketball and Jokgu (족구) which is like tennis soccer on the other end. It is for people who aren't in middle school or younger or don't have children with them. It is also more useful in winter, spring and fall. There are also outdoor exercise machines which are common everywhere and a little strange, but the older folk love them.
The park also sucks for dogs since it is too small. If you take them off the leash, you will likely get a fine since there are cameras and signs saying it is illegal (people are afraid of your pooch and it's not a biter until some kid smacks it).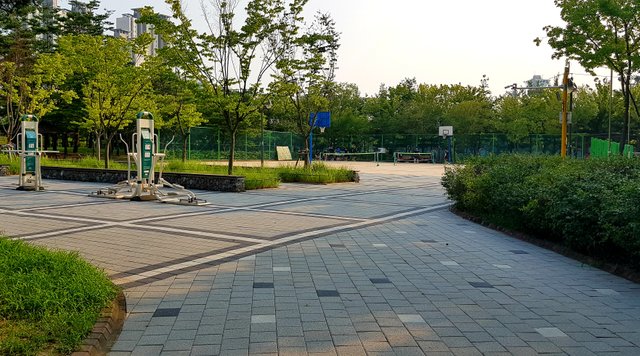 I do think, however, that minus the splash pad the park is average. There is a bit of nature, but there are much better parks not too far away so unless you just want a quick walk after dinner in a nearby restaurant or live right next door, come during summer to splash.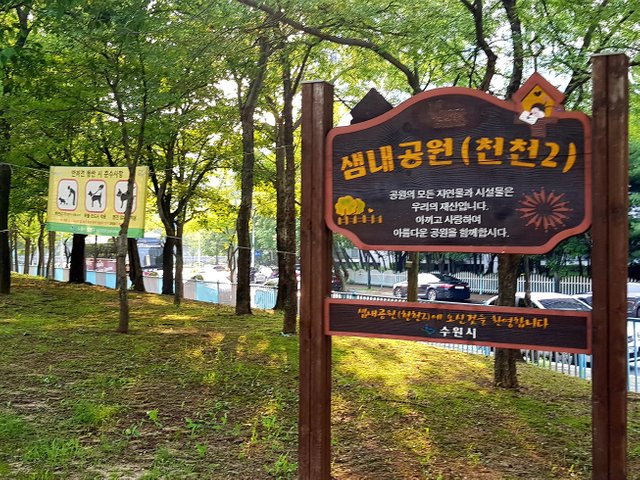 Overall, I think this is an awesome park and I would definitely recommend stopping by with young children in the summer. Just remember to shower after (they have outdoor showers for a quick rinse - using soap is discouraged) and tell them not to drink too much of it or stick their heads under the water unnecessarily, maybe they will listen.