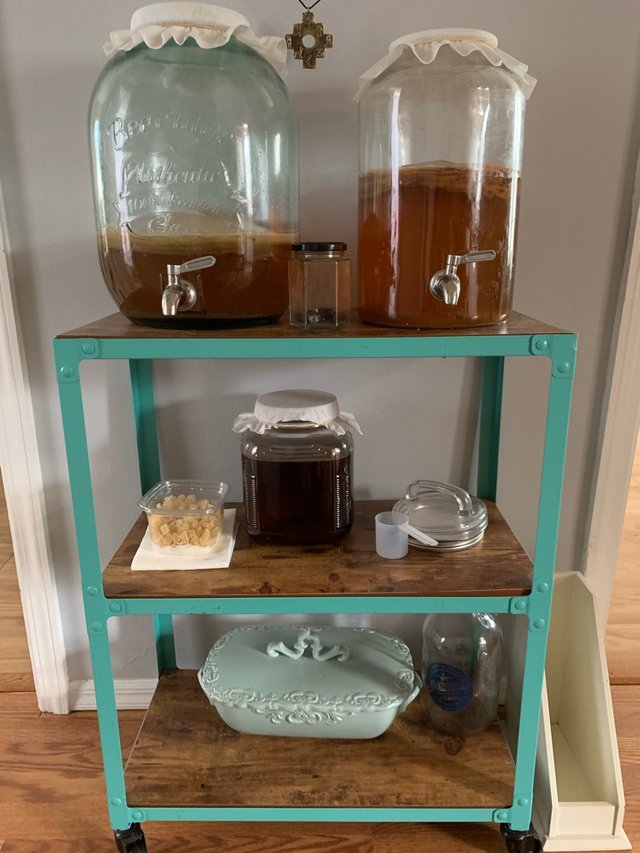 I've been on my kombucha journey for about 6 months now. A while back, a friend of mine from the yoga studio hooked me up with a slimy, disc shaped 'SCOBY'... that's the weird looking 'Symbiotic Colony of Bacteria and Yeast' that consumes the sugars in the sweet starter tea. The byproducts of this process are CO2, carbon dioxide, trace amounts of alcohol and a probiotic cocktail that can help restore gut health.
Most kombucha we see in stores are flavored in a second fermentation process, but I actually prefer to drink it right from the large jars.
I started with the 2 gallon jar on the right and recently added the 5 gallon on the left, and also upgraded the spigots from the cheap plastic ones that came on both.
The smaller 1 gallon jar on the lower shelf is kombucha made from tea from the chaga mushroom. This is an ongoing experiment that I am excited about. Because of the anti microbial and anti bacterial properties of the chaga, it has taken a while for a SCOBY to form, but it is progressing nicely. I am thinking of using this brew to mix with magic mushrooms. A good friend of mine is a Pipe carrying shaman, and I'm really looking forward to doing a bit of ceremony and some journey/dream work.
Thank you so very much for reading! I love this platform, I am trying to convince myself to write more.
🌏🌍🌎
Posted using Partiko iOS