@AdamKokesh, @BenFarmer: Alleged Attempts to Hack, Dox, Harass and Stalk me, using a Professional Cyber Security Expert.
EDIT: @benfarmer's phone number now corroborated. See comments.
UPDATE: 16 plus hours and not a peep from the team. @BenFarmer has deleted my Facebook comment asking about this, and is active and posting.
UPDATE 2: If anyone tries to claims Farmer wasn't part of the campaign team in May when the messages were sent, point them here: https://medium.com/@markyarm001/crypto-for-president-2020-embracing-blockchain-at-the-libertarian-convention-1a2592d941fd?source=linkShare-88ec2bccf3e0-1538787083
A whistleblower who works for a high profile cyber security firm has just reached out to me, notifying me that a member of the Kokesh 2020 campaign recently sought services on behalf of the campaign, and requested that this individual "take him out" in regard to yours truly. The whistleblower wishes to remain anonymous for safety, and I am going to respect that wish. Once this individual found that I was the actual victim, and that the Kokesh team was engaging in manipulation, and attempting to aggress against an innocent person, communication was cut.
The Kokesh 2020 campaign allegedly reached out to the cyber security professional in the interested of doxxing, deplatforming, and potentially even stalking/hacking me. I have screenshots with a number at the top that is said to be that of @BenFarmer, Adam's campaign manager. Can someone verify this number for me?
Why would they want to dox me, hack me, and even physically stalk/harass me? I guess I had become a thorn in their side by writing articles and quoting Kokesh back to himself constantly, as a voice of dissent. They developed an amusing theory that I had built some sort of "army" on Steemit, to take away Kokesh's donations/delegations. The truth is, Kokesh's scammy ass practices got attention through my posts and whistle blowing, and donations were pulled back.
---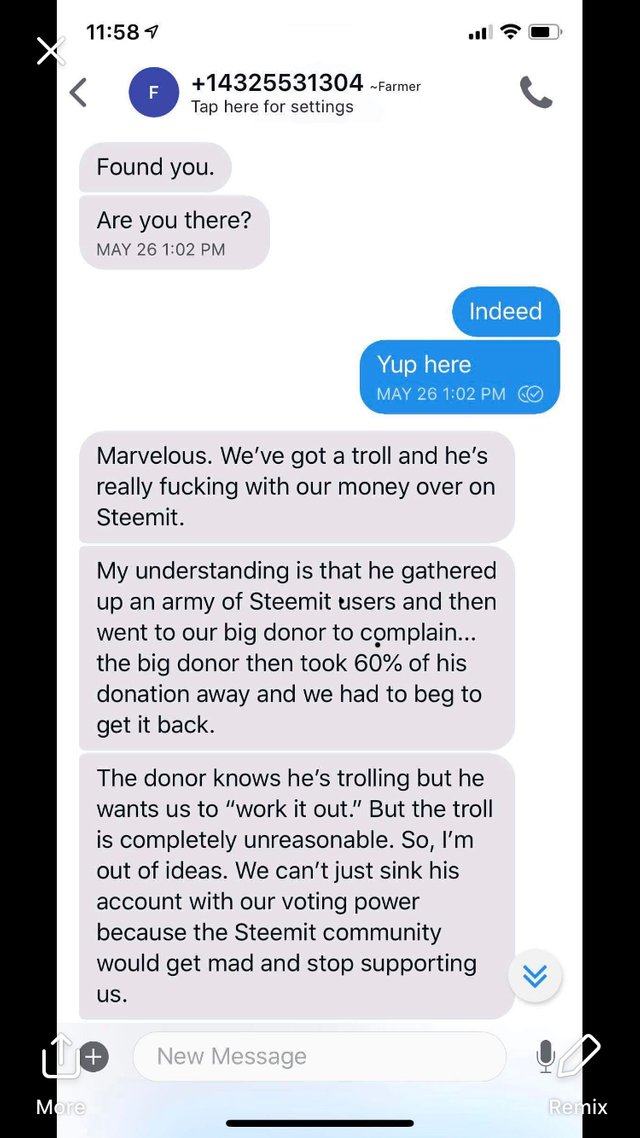 Why would the community get mad, if I were just a "troll?"
---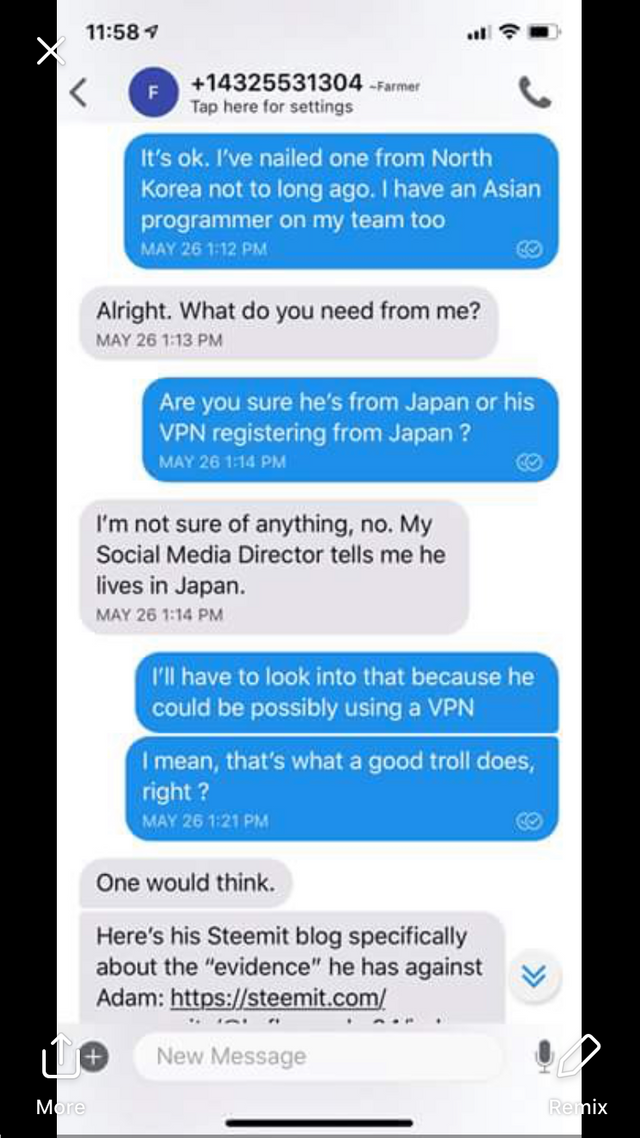 Who is Kokesh's "Social Media Director," by the way?"
---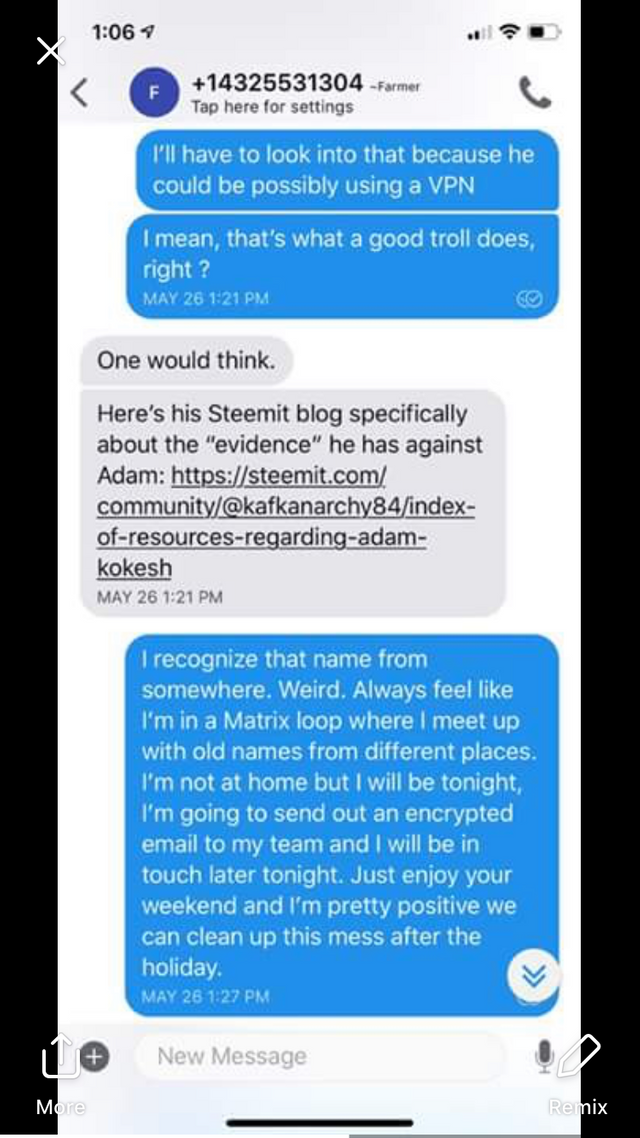 ---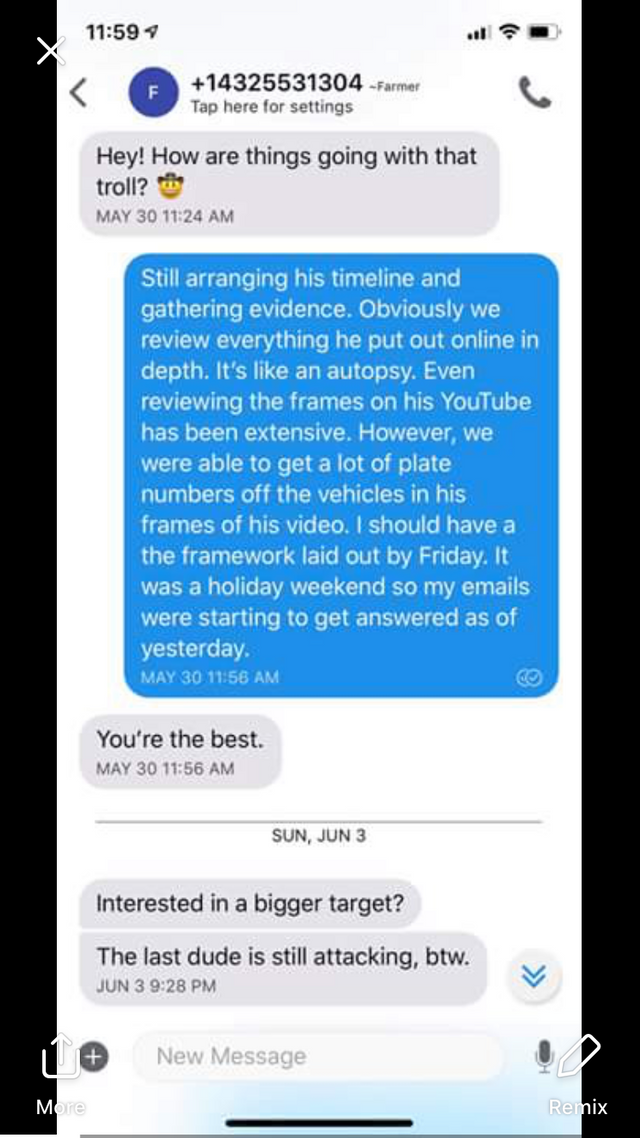 Gathering license plates, watching my YouTube vids frame-by-frame. Also, I am not sure who the "bigger target" is, but now we know this type of cyber atttack probably isn't just a one-off thing.
---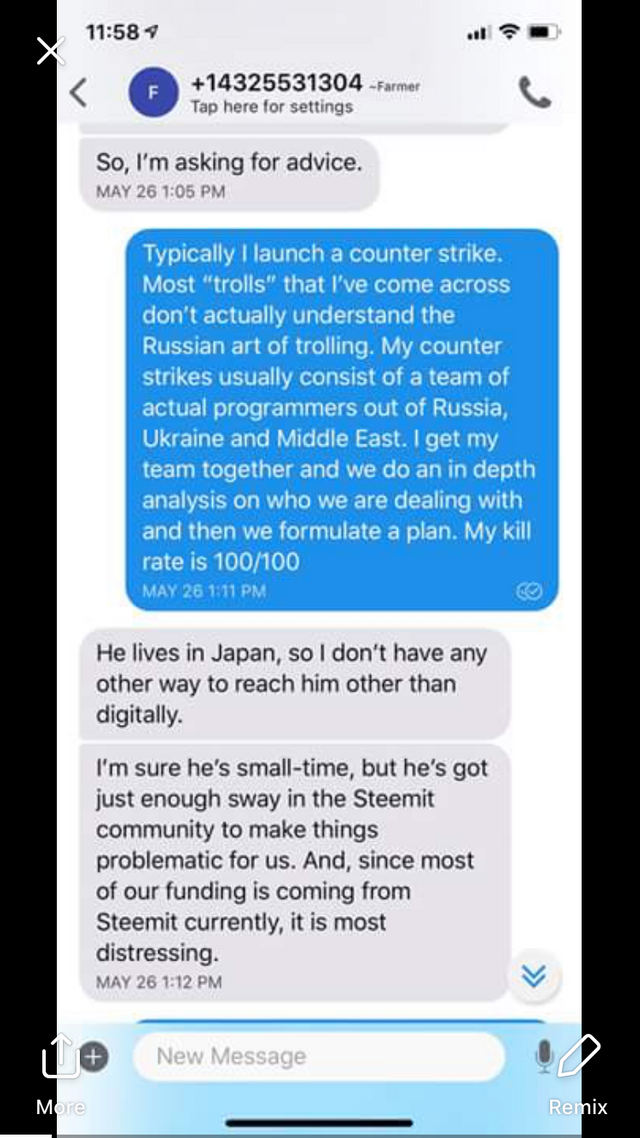 If this number is @BenFarmer, and you WERE able to reach me physically, what were you planning on doing, Ben?
---
Finally a shot from FB Messenger, allegedly from farmer. The whistleblower attempts to tell farmer that kids are off limits for these attacks, but sometimes get dragged in. Farmer allegedly says he's uncomfortable with that, then says to just "keep that to yourself" when he mistakenly believes the hacker wants to also do something to my child. Pretty fucking sickening.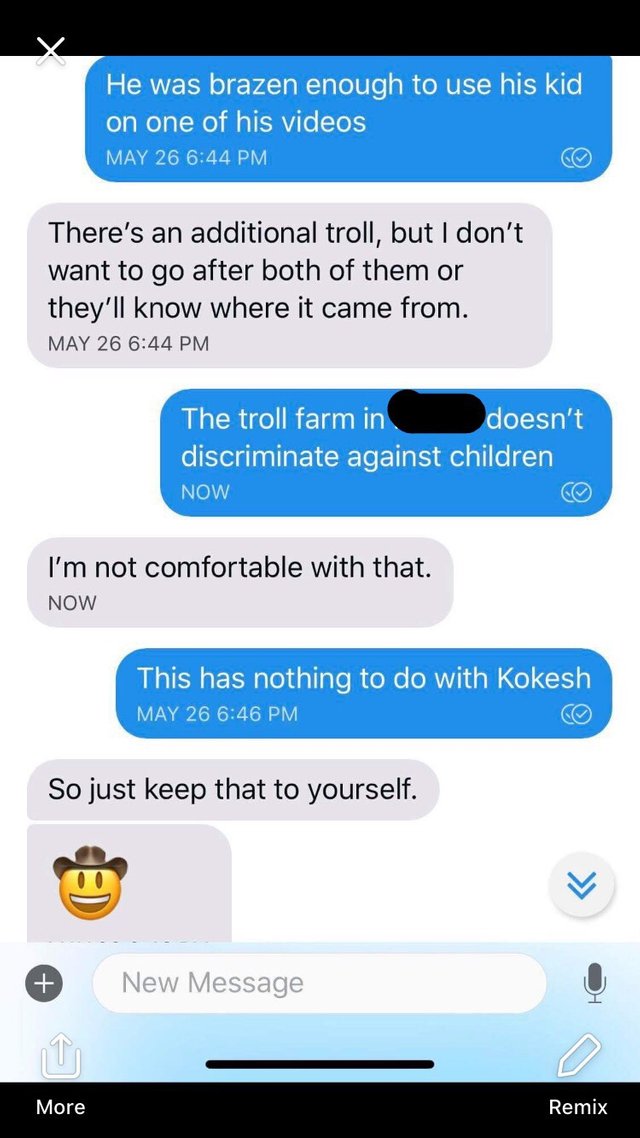 To be clear. Once the white hat hacker looked into me, and realized I was not engaging in any unethical practice, I was notified and an apology was made. This is creepy shit. @BenFarmer, is/was this your number? @AdamKokesh, why would you do this?
If this is "Team Kokesh," I suggest you step back, and publicly apologize for threatening the safety and security of myself and my family by attempting to virtually and potentially physically "take me out" (allegedly said in a phone conversation to the informant) via harrassment. Please address this immediately.
---
---
---
Here is the LINK TO MY FACEBOOK LIVE VIDEO POST regarding this issue.
There are actually many more sordid details surrounding Adam, Ben, and the Kokesh team, from other sources as well, but those will come later, as I can corroborate and verify.
-Graham Smith
~KafkA
!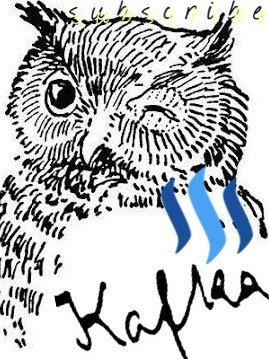 ---
Graham Smith is a Voluntaryist activist, creator, and peaceful parent residing in Niigata City, Japan. Graham runs the "Voluntary Japan" online initiative with a presence here on Steem, as well as DLive and Twitter. (Hit me up so I can stop talking about myself in the third person!)
Support Voluntary Japan!
---
Patreon: https://www.patreon.com/voluntaryjapan
Steem/SBD: @voluntaryjapan
BCH: qqvmdr3l0dlmjqdekkzgsdeg8hq2s9zt5ud3h004r7
BTC: 1MfENEp9tkJMHmrrj5rPKzohYNCw9S6qFw
ETH: 0x9199c3844fd8d3642b39175414c8ffcd403c7aaf
DSH: XpqAkZqHnE12pN9oKapd1Vmj91HSeb93K1
QTUM: 0x9199c3844fd8d3642b39175414c8ffcd403c7aaf