I met Lorna Hamilton-Brown back in 2006-2007 when we were both part of Narrative Laboratory at De Montfort University (DMU), a project which explored the opportunities for writers and other creatives to monetise the web.
Back then, Lorna was the Project Manager for the East Midlands NTI Creative Industries Centre for Knowledge Exchange, based at DMU. I remember that we had a long conversation during a blogging workshop. We talked about knitting, the Internet of Things and the many connections between knitting and the digital world, including blogs made of knitting and code being embedded in yarn.
Source Knitting the Blues promotes the benefits of knitting for mental health, featuring Lorna as Lady Yarnarella, with appearances from knitting designers Laduma Ngxokolo, Kaffe Fassett, Brandon Mably and Jeanette Sloan.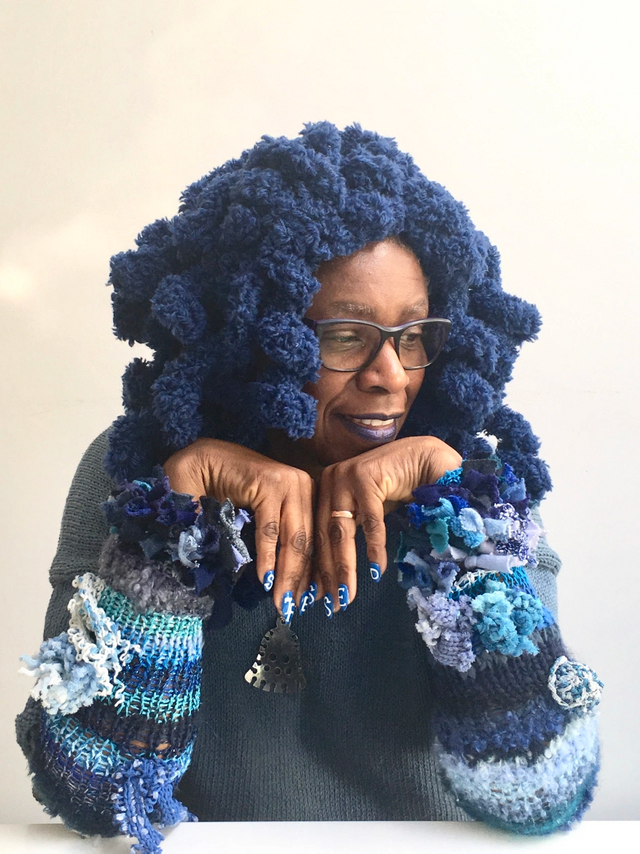 Source Lorna in her knitted Lady Yarnarella costume with stressed blue nails. The blue wig was made using Erika Knight Fur Wool.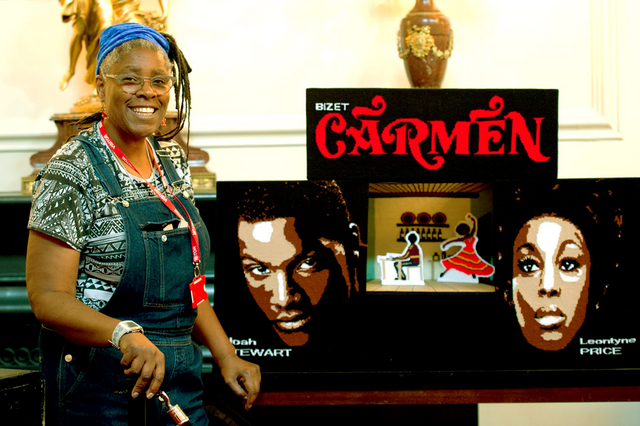 Source I've always loved this Carmen design by Lorna featuring knitted portraits of Noah Stewart and Leontyne Price. Lorna was commissioned to create this artwork for the Royal Opera House Deloitte Ignite Festival in 2015.
Lorna learned to knit and crochet from her Jamaican mother and started out designing and selling items at school. Her mum was born in St D'Acre in Jamaica in 1930 and came to England in 1956. She's a keen knitter.
My mother explained that when she was a child all the women and girls did handicrafts. She was taught sewing and embroidery at school. When asked what yarn she knitted with in Jamaica as a child, my mum explained that they would undo flour bags and use the sewing thread to knit with.
It has been well-documented how flour bags were recycled by cutting them up and sewing them into garments. This became so popular in America and other parts of the world in the 1920s-1930s that the bag manufacturers would put special designs on their bags and some would even sell their own dress patterns. Source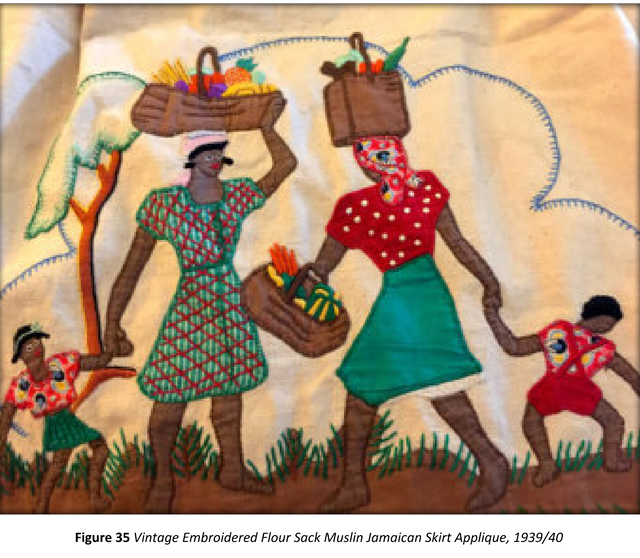 Source: Myth - Black People Don't Knit, Lorna Hamilton Brown, 2017
As part of Myth - Black People Don't Knit, Lorna also interviewed Madge, an 87 year old prolific knitter from Jamaica, who told Lorna that she learned to knit on needles made from bicycle spokes. Knitting needles were also made from coconut bone, the spine in the middle of a coconut leaf:
The leaves would be stripped to reveal the coconut bone and this was then sharpened at one end and used as a knitting needle ... my mum ... said it was quite a common practice in Jamaica.
I asked my mum why would they use bicycle spokes to make knitting needles if there was a ready supply of coconut bone. My mother said that bicycle spokes were quite rare and women liked to show off by owning shiny knitting needles. Source
You can find out more about Lorna and see more of her work at Lorna Hamilton-Brown, MBE, Artist and Myth - Black People Don't Knit.
Lorna is a member of the Vogue Knitting Diversity Advisory Council.
@needleworkmonday hosted by @crosheille, @muscara and @marblely
---
Posted via ReggaeSteem | Reggae Culture Rewarded