A Lawn Chair Story - The Man on the Hill -
8/26/2019
The Man on the Hill
Bus Stop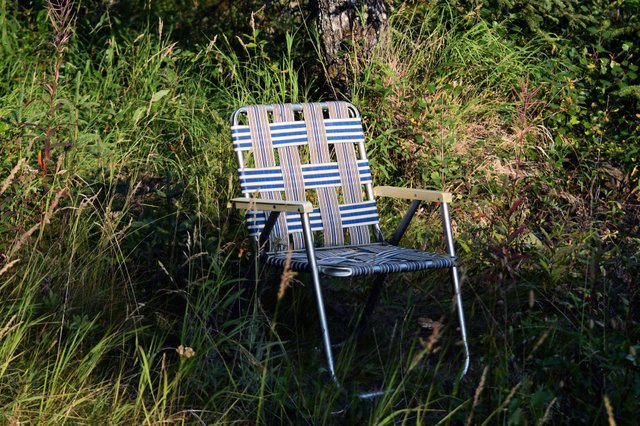 Source big picture Really big picture
Most of the time nothing happens while I wait for the bus to take me into town. Every Tuesday and Thursday, I would wait for the rural county line bus to pick me up. Some times it would be late, but never early, and if it was it always waited for the scheduled departure time, so I never missed it. I had other means to get into town and did not really need to use the bus, but I liked riding as a passenger, no driving stress and I could gaze at the country side as it passed by my window. I always took a window seat.
The fields of corn and wheat, and other vegetables was always in motion, growing or sowing or reaping, always something going on in the fields. It was a peaceful pleasant ride, giving time to reflect on the days gone by and to think of the what if's of the days to come.
Today was different during my wait. Across from the bus stop is a smallish hill. Today there was a gentleman carrying a lawn chair and a small ice cooler lunch box up the hill. Normally all I had to look at was an occasional deer or bird flitting around on the hill, sometimes a stray cow from Misses O'Leary's farm. She was just a couple fields up from the bus stop.
It wasn't that the gentleman had a chair and lunch box that was unusual to me. I just could not ever remember seeing anyone at all in the past five years, of me sitting waiting for the bus, ever on the hill. I have seen people working the fields but had never seen anyone on the small hill. I watched as he carefully set his chair up, he placed his lunch box cooler close to the chair, then sat down. He positioned the chair so that it looked somewhat away from the bus stop at about a thirty degree angle, so I had a slight profile view of him. Shortly after he got settled the bus came, and I put him out of my mind.
That was on Tuesday, Thursday and the following Tuesday was the same. There was no real discernible break in his pattern as I watched him those three days. I do not know if he came every day to the hill or not as I only visited the bus stop on Tuesdays and Thursdays. He was there again today, Thursday. There was just a slight change in his behavior today. Instead of placing his lunch box cooler on the far side of the chair he placed it on the bus side of the chair. I watched him get settled as I always did, then glanced down the road for the bus. The bus was at the crossroad stop sign picking up Misses O'Leary. I glanced back toward the gentleman and it seemed to me as if he was looking at me as he reached into his lunch box cooler. Probably my imagination. I heard the bus approaching and stood up, one last glance to the gentleman and he was settled in his chair, drink in hand looking out and away.
The gentleman was never on the hill when I returned from town on the bus, I figured it was just his current favorite lunch spot. But as I thought about this it clicked and occurred to me that I had never seen this person before, that I had never seen him approaching the hill or from what direction he had come. I walked to the bus stop on every Tuesday and Thursday, I never walked just looking down at my feet, so I thought surely I should have seen him approaching the hill from either the east or the west along the road, but the only time I ever saw him walking was as I settled on to the bus stop bench and then there he was walking up the hill.
Curiosity had bit me, and bit me hard. I needed to know more about this man and the hill. I resolved to visit the bus stop on Friday and see if he was there. While I had made this resolution, I also decided it was time to learn a little bit more about the hill. I went on-line to do some research. Four hours later and I had no more idea of that hill than what I had before. I could not even learn who owned the property. I finally called it a night and laid down to sleep.
I did not sleep well. I am one of those people that rarely dream and when I do dream I rarely remember what they were about. This morning was different, I still felt tired, and when I woke my blankets were in complete disarray. Dreams, I prefer to not dream and to not remember them most times. Last nights dreams seemed to be all over the place. I dreamed of the hill, of pterodactyls soaring over the hill, of giant red deer roaming the hill of thunder-birds and griffons flying over the hill. I dreamed of kings, queens, princes, and princesses, of wars and battles. I dreamed of so much I am surprised it all fit into one nights sleep. it would take me years to write about all the dreams. But throughout all the dreaming he was there, sitting in his chair just watching.
The last I remember of my dreams, he looked at me, and gave a nod. I am not sure what the nod was about, if it was an answer or a question, I took it as an answer to my internal question of should I or should I not approach him. To me the nod seemed to answer yes, it is fine, come join me. I had a nice hearty breakfast, and then packed a lunch for the afternoon. It was not until after packing my lunch that I realized I had a similar lunch box cooler as him, only my was grey and a little smaller with a two cup thermos container. I brewed some coffee and filled my thermos as I thought about the similarities of the lunch boxes.
I stepped out my front door and looked toward the bus stop, and then the hill. I did not see him there. Still I was bound and determined, so i set out toward the bus stop. About halfway there, out of nowhere, he appeared and was walking up the hill. I stopped dead in my tracks. That was not possible to just appear, but that is what he did, one second there was no one, then the next he was there walking. As I stood there mouth slightly agape, I imagine, he turned and looked directly at me and gave a nod. I could swear that he winked slightly, but he was still to far away for me to see that clearly.
I came out of my stupor after a bit and continued toward the hill, to the gentleman and what ever awaited at the top.
---