10-1--2019
A Home to Call Our own
I will actually be covering two tags in this post first it is Tuesday, and while I may not do a #treetuesday post every Tuesday, I di intnentionally take a few tree pictures for this Tuesday's post yesterday. Unfortunately, or fortunately, most of them did not come out.
@old-guy-photos has been graciously hosting #treetuesday since I have been on Steem Block Chain and steemit. It is a and always has been a nice reason to do a social post on steem. Almost everyone in the world has access to a tree they can take a picture of..
The second tag I will be covering is #featheredfriday, it is currently hosted by @melinda010100, I happen to know she likes the Corvus Birds, and that was the good part of the unfortunate part from the top of the post. So enough goofing around, I know you are here for the pictures.
Trees with a view: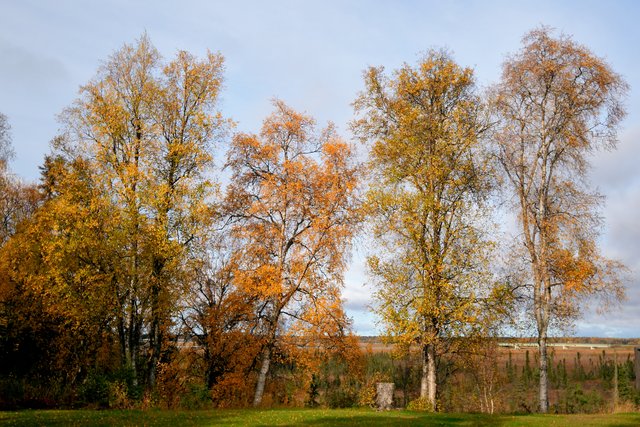 This small stand of trees look out over the Kenai River delta wetlands at our current favorite place to eat out. The skies were trying to clear a little bit but not quite enough, still I do like the tree grouping and the fall colorings going on. It would have been nice if I could have gotten to the color stage before the wind storm, but they still managed to hold on to most of their leaves.
A Corvus Home Tree: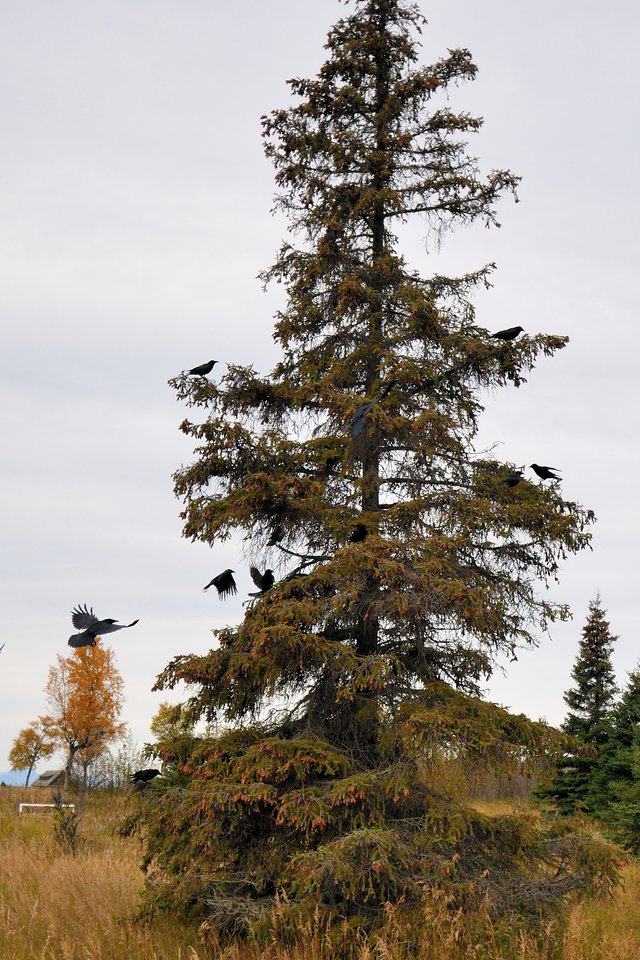 The happy unfortunate part. Since most of my Monday pictures did not come out I had to look through the previous folder of pictures I had taken. Which happened to be last Monday, 9-23-19. This was a total surprise happenstance find. I did not go through last weeks pictures very well or I certainly would have boasted of and shown off this photo in last Fridays #featherfreiday tag.
This was an out the car window doing 55 miles per hour shot with my landscape lens on. (I was the passenger). Of course when first looking through the pictures it looks a little dark as I explained in a previous post of my "Drive By Water Shots". With all the tools available now, camera specific software wise and general software, I am very happy with how I was able to bring that shot to life. There are a few things that would have made that tree shot better, but it is what I was able to get, and I am very happy with it.
---
Well two tree pictures for treetuesday, two tags for the post, I feel like it was a very two-fer-tuesday.
---

---
posted in support of #treetuesday and #featheredfriday
Two very nice tags for social posting, with pretty nice audiences and posters.