JS Index is designed to make your trading decision regarding Steem a walk in the park. Click on the link for more info what it is.
As promised I deliver an update whenever something new or even potentially meaningful happens with the JS Index. So, today the JS index saw its first ever increase ever since I started publishing it! Note of caution: First I suggest starting to buy after at least 3-4 of increase in the index (I for my personal trades will probably wait at least 5-7 days). Second the ×
JS Index update for 09/22 – First Ever Increase!
3 hours ago by james-show58 in jsindex
JS Index update for 09/22 – First Ever Increase!
buying seem to have come from a single account buying (and vesting) at least about 60,000* Steem in the last 24h. And usually a single bird does not... the summer brings.
JS Index for 09/22/2016 15:00 UTC:
362.56
Steem price: 0.00078 BTC/Steem or about $0.465
Past Values:
###JS Index for 09/21/2016 13:00 UTC: 357.41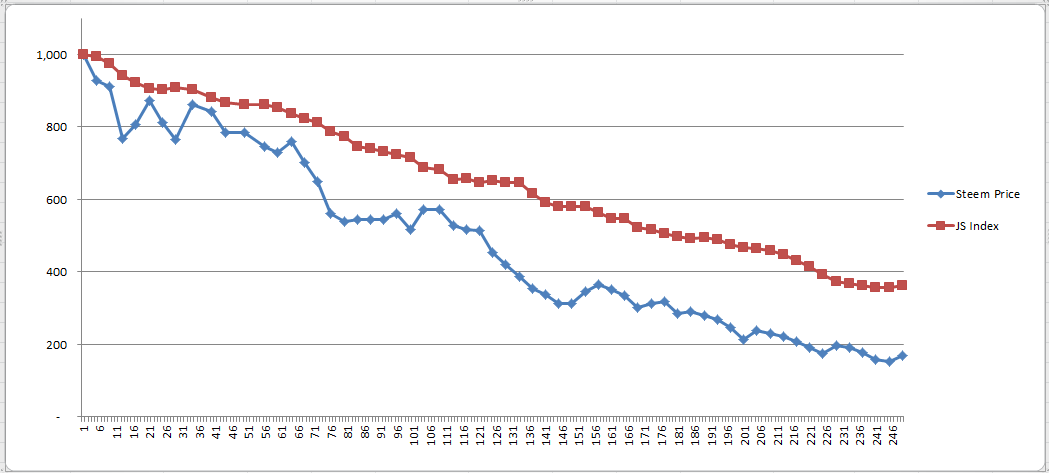 The chart above is for the period 07/26-09/22 of the JS Index and the price of Steem.
---
My Thoughts for today.
Those are just thoughts of mine. Do not take them as trading advice because they are not!!!
"One swallow does not a summer make, nor one fine day..."
Previous post/values of the JS Index:
JS Index 09/20