Here is wait I've cited for reading in the article;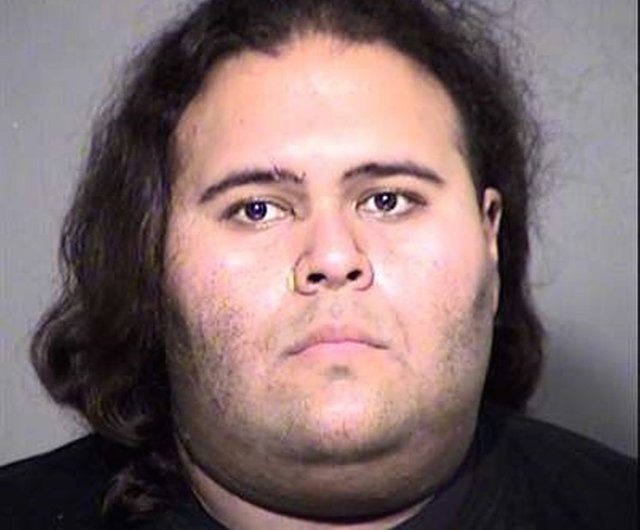 ON MAY 25, 2017 AT APPROXIMATELY 1211 HOURS, PHOENIX POLICE RECEIVED A CALL FROM THE HAWTHORNE POLICE DEPARTMENT IN CALIFORNIA REGARDING AN INDIVIDUAL, LATER IDENTIFIED AS MATHEW ENRIQUE NAVARRO STERLING, VIA HIS ARIZONA DRIVERS LICENSE. DETAILS OF THE CALL STATED A WITNESS WAS RECEIVING FACEBOOK MESSAGES FROM MATHEW STATING HE WAS THREATENING TO SHOOT POLICE OFFICERS, TAKING PICTURES OF THEM AND MATHEW HAD NUMEROUS WEAPONS ON HIS PERSON INCLUDING HANDGUNS, A SHOTGUN, A KNIFE, PEPPER SPRAY AND WEARING BODY ARMOR.
MATHEW WAS SENDING THESE MESSAGES AS HE SAT ON THE SECOND FLOOR OF 100 NORTH 3RD STREET, THE PHOENIX CONVENTION CENTER, WHILE HE WAS ATTENDING THE PHOENIX COMICON EVENT. MATHEW WAS DESCRIBED AS WEARING BLACK TACTICAL PANTS, A RED BANDANA WITH HIS FACE PAINTED BLACK WITH A SHOTGUN BANDOLIER ACROSS HIS CHEST. MATHEW RELAYED TO THE WITNESS HE WAS ON THE SECOND FLOOR WITH LOADED WEAPONS AND WAS NOT LEAVING UNTIL POLICE ARRIVED. HE STATED TO THE WITNESS THAT HE WAS GOING TO BE IN A SHOWDOWN WITH COPS AND HE WOULD KILL THEM.
RESPONDING OFFICERS LOCATED MATHEW ON THE SECOND FLOOR READING A COMICON BROCHURE. OFFICERS APPROACHED AND IMMEDIATELY BEGAN TO CONTROL MATHEWS HANDS DUE TO THE NUMEROUS WEAPONS THEY SAW HE HAD ON HIS PERSON. MATHEW RESISTED ARREST BY TENSING HIS ARMS TO AVOID BEING TAKEN INTO CUSTODY. DURING THE STRUGGLE TO CONTROL MATHEW, HE RIPPED OFF AN OFFICERS PHOENIX POLICE PATCH AFFIXED TO HIS UNIFORM AND PUSHED HIS FULL BODY WEIGHT AGAINST THE BENCH HE WAS SITTING ON SO HE COULD NOT BE MOVED. OFFICERS EVENTUALLY OVERCAME HIS STRENGTH AND HE WAS TAKEN INTO CUSTODY AT 1222 HOURS.
INSPECTION OF THE FIREARMS REVEALED THEY WERE ALL REAL AND ALL FULLY LOADED. MATHEW WAS SITTING ON A TWELVE GAUGE SHOTGUN, TWO 45 CALIBER HANDGUNS, ONE .454 CALIBER HANDGUN, A COMBAT KNIFE, PEPPER SPRAY AND THROWING STARS. THERE ARE SIGNS POSTED THROUGHOUT THE EVENT THAT FIREARMS ARE PROHIBITED AND THERE ARE NUMEROUS STATIONS WHERE ATTENDEES WITH REAL WEAPONS OR PROPS HAVE THEM SECURED WITH BRIGHT COLORED ZIP TIES. MATHEW AVOIDED THESE STATIONS AND PROCEEDS TO THE SECOND FLOOR.
MATHEW WAS TRANSPORTED TO 620 WEST WASHINGTON STREET TO BE INTERVIEWED. DURING THE INTERVIEW, MATHEW ADMITTED TO TAKING LOADED FIREARMS INTO THE VENUE. MATHEW BELIEVED THAT THE LAW PROHIBITING BRINGING LOADED WEAPONS INTO THE VENUE APPLIED TO OTHER PEOPLE, BUT NOT HIM. MATHEW SAID IF HE WAS FORCED TO KILL POLICE OFFICERS, HE WOULD TO DEFEND HIMSELF. MATHEW STATED HE WAS THE PUNISHER, A POPULAR COMIC BOOK CHARACTER THAT PUNISHES PEOPLE THAT DO WRONG. MATHEW BELIEVES THAT THERE ARE POLICE OFFICERS THAT HAVE KIND FACES IN UNIFORM BUT THEY CAN BE BAD OFFICERS. MATHEW SAID HE WOULD USE VIOLENCE AGAINST THEM IF IT MEANT HE NEEDED TO PROTECT HIS FRIENDS.
MATHEW WAS WEARING BODY ARMOR UNDER HIS SHIRT. HE STATED HE HAD THIS ON TO PROTECT HIMSELF. MATHEW EXPLAINED THAT HE CALLS BAD POLICE OFFICERS APHRODITE OFFICERS AND HE CAN DIFFERENTIATE THESE BAD OFFICERS FROM GOOD ONES. WHEN ASKED ABOUT THE OFFICERS HE ENCOUNTERED TODAY, MATHEW SAID HE WOULD SHOOT THEM IF HE DEEMED THEY WERE APHRODITE OFFICERS. MATHEW WENT ON TO POST THAT THINGS WOULD GET BLOODY AND HE WOULD KILL COPS WITH HIS FIREARMS.
WHEN ASKED ABOUT HIS ARRAY OF WEAPONS, MATHEW EXPLAINED THEY WERE FOR SELF DEFENSE IN CASE OFFICERS GAVE HIM TROUBLE AND THAT HE WOULD SHOOT TO KILL. MATHEW SAID HE WOULD USE HIS SHOTGUN TO HOLD THEM BACK UNTIL THEY WERE ABLE TO PRODUCE SUFFICIENT IDENTIFICATION BECAUSE APHRODITE OFFICERS HIDE BEHIND REGULAR POLICE PATCHES.
FACEBOOK MESSAGES LISTED ONE VICTIM BY NAME WHO WAS SCHEDULED TO BE AT THE COMICON EVENT. MATHEW STATED IN HIS MESSAGE AND INTERVIEW WITH DETECTIVES THAT HE HAD STABBED THE VICTIM FIFTEEN YEARS PRIOR AND WAS AT THE EVENT TO FINISH THE JOB. I ASKED MATHEW WHAT HE MEANT WHEN HE SAID FINISHING THE JOB AND HE SAID HE WANTED TO SEE THE VICTIM BEHIND BARS.
MATTHEW SET A CALENDAR REMINDER IN HIS PHONE TO ALERT HIM TC KILL THE VICTIM AT COMICON ON MAY 25TH. THE VICTIM WAS SCHEDULED AT COMICON ALL FOUR DAYS AND MATHEW PURCHASED A FOUR DAY PASS. MATHEW STATED HE BELIEVED IF THE VICTIM WAS DECEASED, THE VICTIMS WIFE AND CHILD WOULD BE HAPPY. MATHEW WAS SUB-SEQUENTLY BOOKED INTO JAIL FOR THE LISTED CHARGES.
If you wish to see video of the booking and arrainment in front of the judge and the charges with the bail amount here is the article link for more information.
http://www.phoenixnewtimes.com/arts/phoenix-comicon-gunman-matthew-sterling-punisher-jason-david-frank-9363877