A Few Ambitious ReggaeSteem JAHMFEST Objectives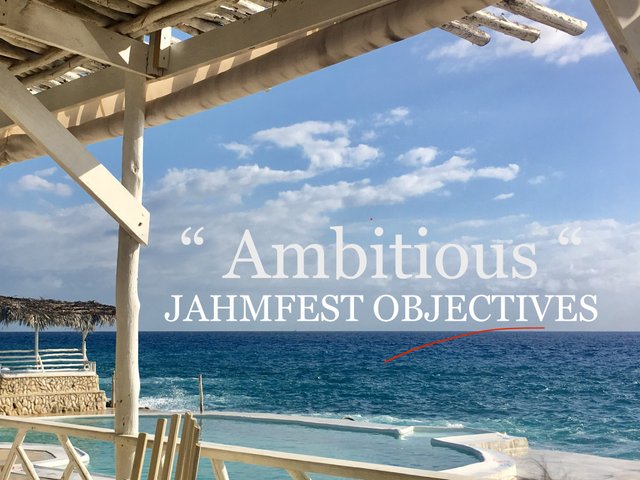 ReggaeSteem JAHMFEST 2020 planning has begun!
Main Dates: June 26th to 28th
Location: Negril, Jamaica 🇯🇲
Main Venues: @MiYard, @NegrilEscape, @SeastarInn and Booby Kay (a small island near Negril)
Early-bird tickets will be available by next week!
Here's a random list of #JAHMFEST2020 objectives circling around in our internal docs. By all means these are not concrete goals, more of what we are trying to achieve on a grand— ambitious scale.
A Few JAHMFEST Objectives (in no particular order)
First ReggaeSteem/Steem Caribbean Meetup
First (Independent) Crypto Meetup in Jamaica
First Tokenized Event (on Steem?) utilizing JAHM and JSNS
Raise Blockchain Awareness in Jamaica and the Caribbean
Raise Awareness of local JAHM/STEEM Merchants
Remove Apparent Trust Barriers
Attract New Investors and Merchants (Globally)
Introduce Negril, Jamaica as the center of Caribbean Crypto Tourism
Connect Local Business with Blockchain Industry Participants
ReggaeSteem Onboarding
Emphasize Power of Steem

Building/Connecting Communities
Merchant Services and Benefits
Powering Meetups

ReggaeSteem/Beachfront Crypto Branding
Spur JAHM Token Volatility
Reward JSNS Holders
Provide an annual stage for Steem Artistes
Have an epic time with friends
Make life-long memories
Convert a few hundred no-coiners
This list can go on for a while and will most likely be narrowed down or amended with new @ReggaeSteem objectives as we go forward. Stay tuned.
Happy Sunday and Jah Bless!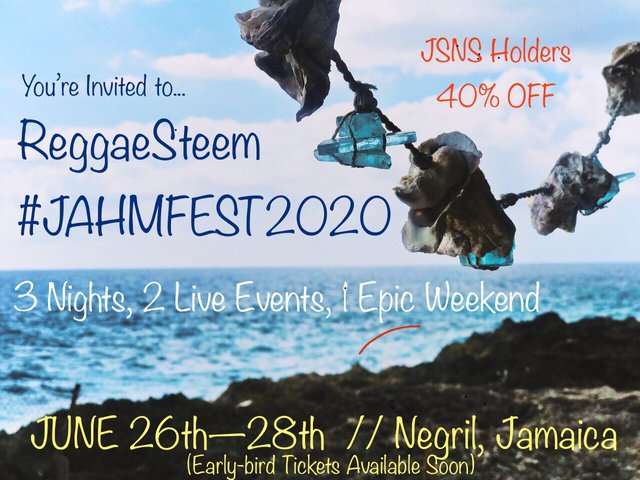 ---
Posted via ReggaeSteem | Reggae Culture Rewarded