Surviving coronavirus - the game
ENG
Heilà, coronavirus prisoners! How are you? Have you looted a few supermarkets lately or assaulted a running train like Jesse James?
None of this?
If you are simply depressing yourself indoors, don't worry, I will make the situation worse with a satirical game that you didn't miss.
SURVIVING CORONAVIRUS
(click on image to play)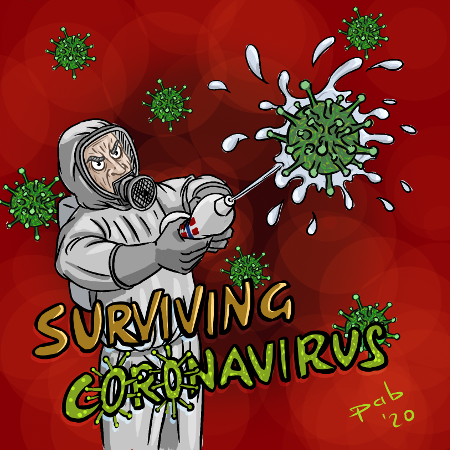 Try to stay alive by killing the virus with purell shots as long as the vaccine is ready.
For this game a total of 10k PAB tokens will be mined which will be distributed in packets of 100 tokens to anyone who posts the screenshot of the hilarious final screen in the comments.
Each game has an identification number, so you can win multiple packages if you play multiple times.
Finally, I remind you that the PAB token is always convertible into STEEM at the fixed exchange rate 1 STEEM = 100 PAB.
There is no advertising on the site nor cookies or other junk.
I greet you folks, may the antibodies be with you ...!
ITA
Heilà forzati del coronavirus! Come va? Avete saccheggiato qualche supermercato ultimamente o assaltato un treno in corsa come novelli Jesse James?
Niente di tutto questo?
Se vi state semplicemente deprimendo chiusi in casa, niente paura, ci penso io a peggiorare la situazione con un gioco satirico di cui non si sentiva la mancanza.
SURVIVING CORONAVIRUS
(click sull'immagine per giocare)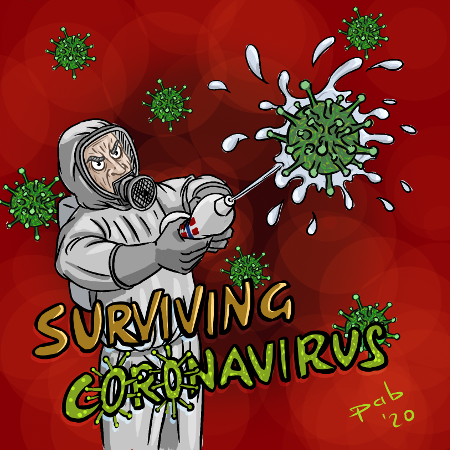 Cercate di rimanere in vita ammazzado il virus a colpi di amuchina il tempo necessario perchè il vaccino sia pronto.
Per questo giochino verranno minati un totale di 10k PAB token che saranno distribiti a pacchetti di 100 token a chiunque posterà nei commenti lo screenshot dell'esilarante schermata finale.
Ogni partita ha un numero identificativo, quindi potrete vincere più pacchetti se giocate più volte.
Vi ricordo infine che il PAB token è sempre convertibile in STEEM al cambio fisso 1 STEEM = 100 PAB.
Non c'è pubblicità sul sito ne cookies ne altra robaccia.
Vi saluto gente, che gli anticorpi siano con voi...!