𝟕,𝟔𝟐 𝐜𝐦 𝐏𝐚𝐤 𝟑𝟔 𝐰𝐢𝐭𝐡 𝐈𝐧𝐟𝐚𝐧𝐭𝐫𝐲
𝐏𝐀𝐑𝐓 𝟐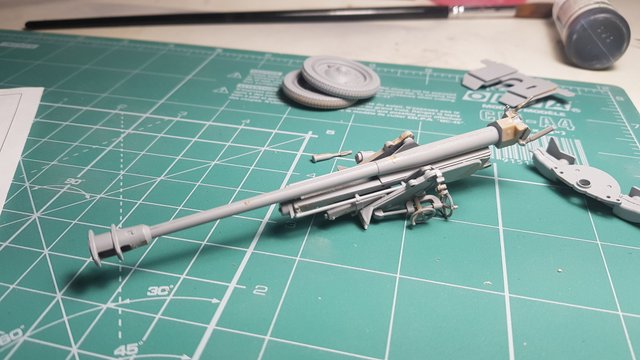 𝐎𝐩𝐞𝐧𝐢𝐧𝐠 𝐢𝐦𝐚𝐠𝐞 - 𝐈𝐦𝐦𝐚𝐠𝐢𝐧𝐞 𝐝𝐢 𝐚𝐩𝐞𝐫𝐭𝐮𝐫𝐚
| ↑ ENGLISH! | ↑ ITALIANO |
| --- | --- |
Hello everyone, we continue the assembly of the pieces to arrive today to the complete formation of the cane and underarm.
The other parts of the model can be found here:
Photos, images and videos taken by myself during the construction of the model.
Buongiorno a tutti, continuiamo l'assemblaggio dei pezzi per arrivare oggi alla completa formazione della canna e sottocanna.
Le altre parti del modellino è possibile trovarle qui:
Foto, immagini e video scattate dal sottoscritto durante la realizzazione del modellino.

𝑴𝒚 𝒘𝒐𝒓𝒌 𝒔𝒕𝒆𝒑 𝒃𝒚 𝒔𝒕𝒆𝒑 ~ 𝑰𝒍 𝒎𝒊𝒐 𝒍𝒂𝒗𝒐𝒓𝒐 𝒑𝒂𝒔𝒔𝒐 𝒑𝒆𝒓 𝒑𝒂𝒔𝒔𝒐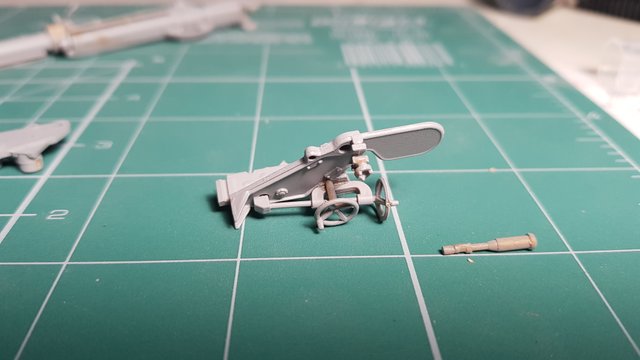 | ↑ ENGLISH! | ↑ ITALIANO |
| --- | --- |
| Yesterday we stopped at the left side with the pieces to be glued; here they are all inserted except the organ for the distance pointing (that cylindrical piece) that I will add later | Ieri ci siamo fermati alla parte sinistra con i pezzi da incollare; eccoli qui tutti inseriti tranne l'organo per il puntamento a distanza (quel pezzo cilindrico) che aggiungerò dopo |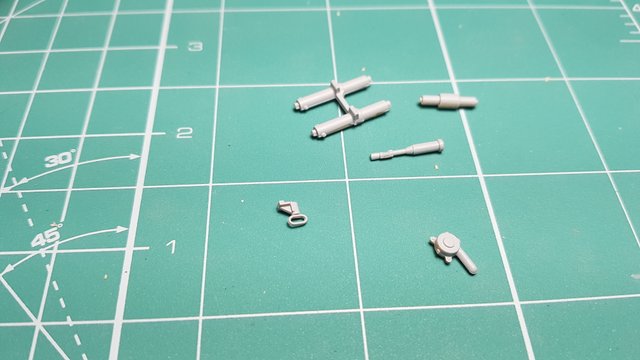 | ↑ ENGLISH! | ↑ ITALIANO |
| --- | --- |
| Swinging group for the sub-hatch | Gruppo oscillante per il sottocanna |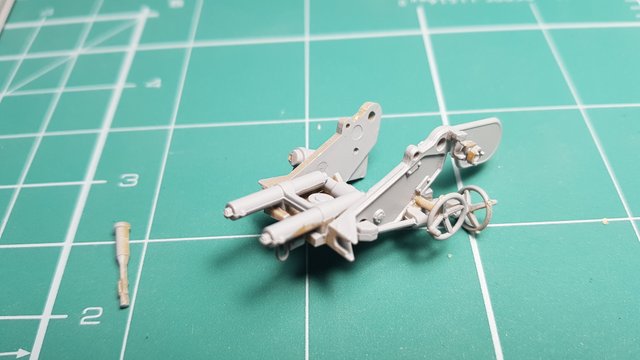 | ↑ ENGLISH! | ↑ ITALIANO |
| --- | --- |
| Pasted the left and right parts together with the oscillating part we finally got the support for the barrel | Incollate le parti sinistra e destra insieme alla parte oscillante abbiamo ottenuto finalmente il sostegno per la canna |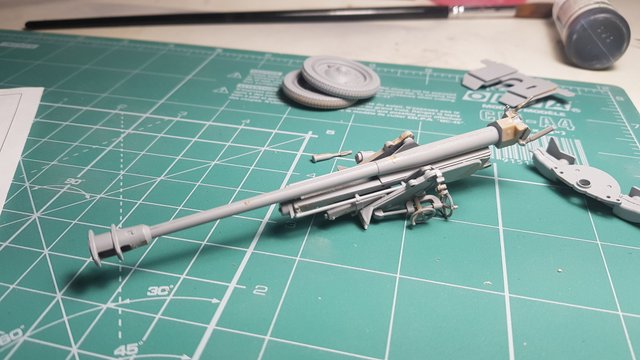 | ↑ ENGLISH! | ↑ ITALIANO |
| --- | --- |
| Pasted the left and right parts together with the oscillating part we finally got the support for the barrel | Incollate le parti sinistra e destra insieme alla parte oscillante abbiamo ottenuto finalmente il sostegno per la canna |
𝐄𝐧𝐝 𝐨𝐟 𝐏𝐚𝐫𝐭 𝟐 ~ 𝐅𝐢𝐧𝐞 𝐝𝐞𝐥𝐥𝐚 𝐏𝐚𝐫𝐭𝐞 𝟐

─────────────────────────────
Follow me!
♠ Youtube: https://bit.ly/2xUHfbp
♣Instagram: https://bit.ly/2sFRMT0
♥Steemit: https://bit.ly/2JBqVRE
─────────────────────────────