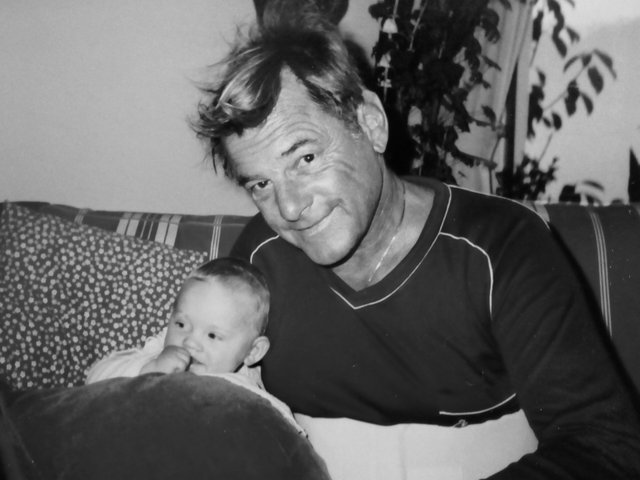 GOODBYE DAD, I MISS YOU!
Hello dear friends,
Unfortunately, my father died a week ago.
There is never a good time to die, but I console myself knowing that he has lived a wonderful life full of adventures and experiences, and that he has been so loved as I have never seen another person be loved.
My mother is the one who suffers the most, after having spent 49 years together, she is exhausted at the moment, even she knows that we really did everything we could to make every day special for him.
We were with him from morning till night, and we could still enjoy a beer in the sun with him and with my father's best friend the day before his death.
I am very sad but at the same time I' m happy to have been close to him until the last minute, with my mother, holding his hand, caressing and encouraging him.
We left something personal in his jacket pocket, so it will be with him forever.
We miss You Dad! I am grateful to have been spent all this time with you, in which no second was lost.
ADDIO PAPÀ, MI MANCHI!
Ciao cari amici,
purtroppo una settimana fa mio padre é partito per sempre per il suo ultimo viaggio.
Diciamo che non c' é mai un momento buono per morire, ma mi consolo sapendo che ha vissuto una vita bellissima piena di avventure ed esperienze, e che é stato cosí tanto amato come non ho mai visto un' altra persona essere amata.
Mia madre é quella che ci soffre di piú di tutti, dopo averci passato e lavorato 49 anni insieme, al momento é proprio sfinita, malgrado sa che abbiamo fatto veramente tutto il possibile per rendergli ogni giorno speciale.
Siamo state con lui dalla mattina alla sera, e abbiamo potuto ancora goderci un birrino al sole il giorno prima del suo decesso. Eravamo io, mio padre, il suo migliore amico e mia mamma.
Sono molto triste ma allo stesso tempo felice di potergli esser stata vicina, con mia madre, fino all' ultimo momento, tenendogli la mano, accarenzandolo ed incoraggiandolo.
Infine abbiamo lasciato qualcosa di personale nel taschino della sua giacca, cosí sará per sempre con lui.
Papá ci manchi! Sono grata di aver potuto passare tutto questo tempo con te, in cui nessun secondo era perso.