Islam is Easy & Beautiful
Allah Subhanahu wa Ta'ala said (which means):
"Allah desires convenience for you and does not want trouble for you." (Al-Baqarah: 185)
Dinul Islam is a teaching and guidance derived from the side of the Creator, Sustainer, Owner of the heavens, the earth and all its contents, including humans of course. So Allah Subhanahu wa Ta'ala is the Essence Knowing the limits of strength, ability, and human potential. Therefore Allah Subhanahu wa Ta'ala also set the Shari'ah in accordance with their abilities and not the will of their passions. Dinul Islam does not want difficulties, but it comes with convenience.
The Prophet sallallaahu 'alaihi wa sallam said:
إن الدين يسر ولن يشاد الدين أحد إلا غلبه
"This religion is (Islam) easy, and no one complicates it but it overpowers him (returns him to ease)." (Narrated by Al-Bukhari 39)
Islam is not a religion of self-torture ritual, Islam gives relief when sick or does not get water with bertayammum instead of ablution. Islam emphasizes to hasten the breaking of the fast when the time has come, even forbidding the daily fasting in addition to the fasting of Ramadan. Islam also emphasized the importance of the evening prayer, but forbade it to be carried out overnight. Islam intends to marry, forbidding the practice of celibacy for its adherents.
Source of image:
En.wikipedia.org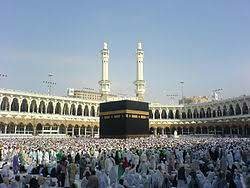 Posted using Partiko Android