Tesla in Home Depot? A Powerwall near you?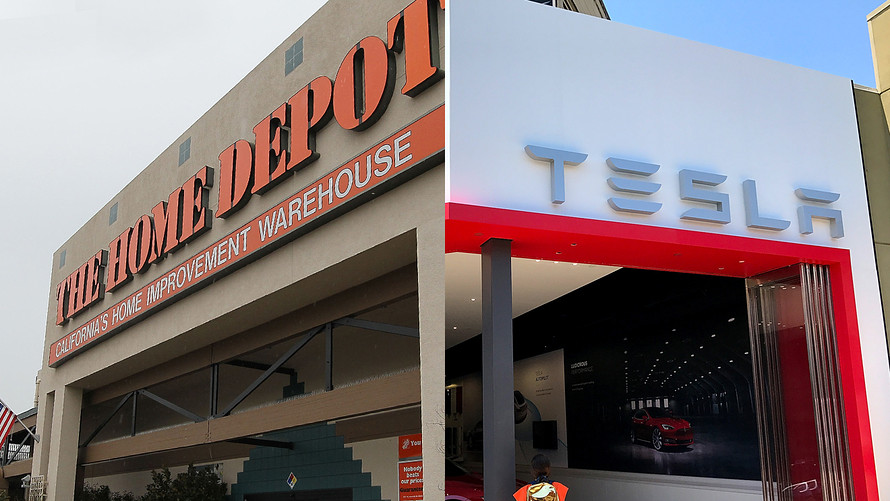 Credit : Bloomberg/CNBC
Tesla is looking into a major expansion of its solar division in Home Depot Inc., embarking on a vital test of the conventional appeal of its renewable-energy products from its Solar City division.
Tesla, best known for its electric cars, is beginning to roll out Tesla-branded kiosks at 800 of Home Depot's locations. The areas, which will be outfitted during the first quarter of this year, are going to be staffed only by Tesla employees ,who can can demonstrate its solar panels and Powerwall battery.
Lowe's Home Improvement, the second-largest U.S. home-improvement chain, after Home Depot -- are still in discussions with Tesla about selling its solar products, said people familiar with the situation. At some point, Home Depot may also offer Tesla's much-anticipated solar roof, said one of the people, who asked not to be identified because the deliberations are private. Tesla, Lowe's and Home Depot declined to comment on those plans.
Home Depot has had a previous relationship with SolarCity Corp., the company Tesla acquired in 2016 and with salespeople in some stores trying to generate customer leads.
But the products themselves haven't been on-site. Now, they will be highlighted in high-profile displays, which are 12 feet tall and 7 feet wide.
Specific locations will be fitted with visual exhibtions that show how the products function.
Expanding Tesla's existence at Home Depot -- one of the largest home improvement retailers in the world, with more than 2,200 stores -- will be a healthy measure of its aspirations for solar.
Many companies have attempted, and failed, to make similar products financially feasible.
For Home Depot, Tesla's solar panels and Powerwall battery are a solid chance to get a bigger presence from an admired brand.
It's already been a vigorous period for the home-improvement retailers.
Escalating home prices have spurred Americans to upgrade their properties, helping the chain avoid the melancholy that has engulfed much of the retail industry in general.
The average cost of a solar panel system is anywhere from $8k to $25k with an additional $6-$7k for the battery, according to Tesla's website.
Tesla's Solar Roof, which is just now hitting the market, is between $35,000- $55,000 for an average home (depending on dimensions).
Tesla Inc.'s plan to roll out sales areas at Home Depot Inc. stores will take the Silicon Valley company's luxury products into every-man's world, but fulfilling customers' expectations will be the key for success.
Can Tesla do it?
Time will only tell..