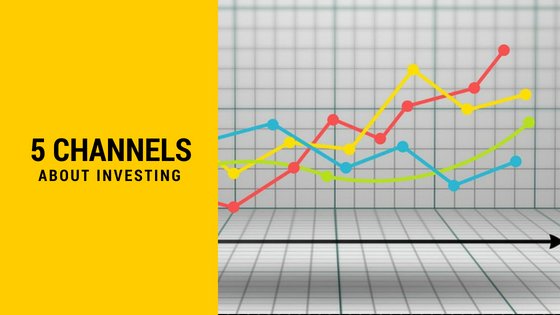 Who I Enjoy Watching For Financial Knowledge
There is certainly a lot of content out there to consume. We will each have our own favorite people to listen to, but today I want to share the top 5 financial channels I have been watching recently.
These are the videos you will find me playing on my other monitor or minimized while I am working on something else (or playing a game to relax).
---
Number 5: Michael Jay
Here is the newest channel I have come across, Michael Jay.
I like his channel because he is looking for value stocks in his pursuit towards financial freedom. He is mild mannered and seems genuine enough.
Since he has just started about a month ago, he only has about 15 videos so far. I look forward to hearing more of his value stock finds.
---
Number 4: Ryan Scribner
Ryan has sure blown up over this past year. Now his channel has over 221,000 subscribers. While his success has gone to his head, he mostly keeps it under control.
He covers everything from stock picks to life and success lessons. You might not be interested in every video subject, but a great channel to have on your watchlist.
---
Number 3: Phil Town's Rule 1 Investing
I like to watch Phil's videos as he has decades of investment knowledge to share. So think of it as going to ask your grandfather for advice.
Phil hates modern portfolio theory and loves waiting for the proper time to invest. He isn't afraid to be sitting in nearly all cash while he waits for the time to strike.
---
Number 2: PPCIAN
Do you like dividends? Well, PPCIAN is the channel for you.
He has been investing in dividend growth companies for 20 years now and he shares the lessons he learned about investing.
He often goes into deep detailed videos about specific stocks. Laying out the positives and negatives is most welcome.
If he isn't doing deep digs into specific companies, he will often talk about general thoughts and concerns about the market and financial freedom.
---
Number 1: Minority Mindset
Jaspreet makes short high-energy videos about entrepreneurship and the mindset of wealth.
He just graduated from law school so I expect he will have even more time to expand his business and create more content for us.
I highly recommend his videos.
---
The Financial Channel I Stopped Watching: Financial Education
About two years ago I found Jeremy's channel and would watch his daily video without fail. Now I watch none of his stuff.
The reason? He's gotten too cocky.
His success on Youtube has surely gotten to his head and his videos have that "I'm better/smarter than you" feel to them.
Maybe if you weren't there at the start of his channel you might not notice, but I can tell. Or maybe you can. Jeremy started his channel months before Ryan Scribner and now Ryan has 56,000 more subscribers.
---
There You Have It
Five channels I am watching now and one I no longer like.
Have you watched any videos from these channels before? Do you have some channels I should check out?
Let me know in a comment below.