Apple news smashes markets. Forex has a flash crash too. Trade action is a little bottom fishing in pharma and telecom. A few more covered calls written and more hedge building in Europe.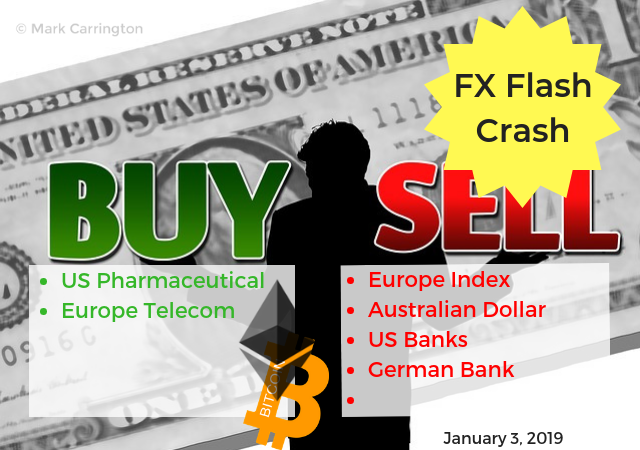 Portfolio News
Market Selloff
As I intimated in TIB341, Apple guidance smashed markets right across the world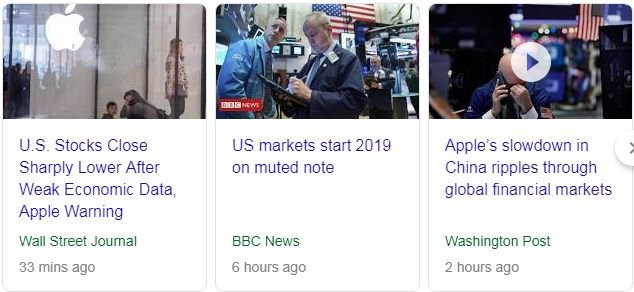 I wrote in TIB341, that it is time that Donald Trump focused on resolving the trade war with China and the wall war with the Democrats. I am not alone. This interview with Ravin Gandhi, CEO of GMM Nonstick Coatings pulls no punches. GMM sells non stick coatings products in China (20% of GMM business) - after 10 years of untrammeled growth since 2007, sales are down 30% in 2018 in China.
You can imagine the dark clouds we have on the horizon
The problem is China consumer spending pullback and intense competition - GMM cites 5 competitors for his 80% US business and 80 for his 20% China business.
This is what happens when two governments get in each other's face and start messing with each other
The video is worth watching
https://www.cnbc.com/video/2019/01/03/were-seeing-unintended-consequences-of-us-china-trade-war-says-ceo.html
The timing of the Apple announcement had other unintended consequences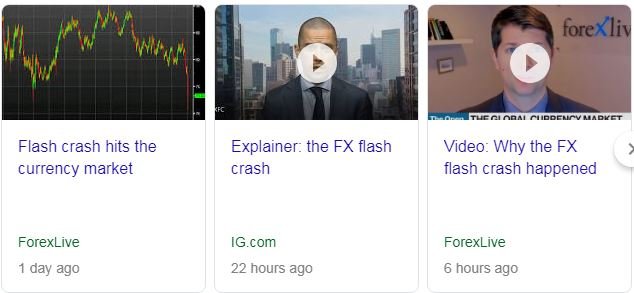 Traders took the announcement as a signal that China was a problem and they shifted away from riskier assets into the safe havens. This happens all the time but it is never pretty when it happens when Japanese markets are closed for a public holiday. Spreads widen and with low liquidity price crashes. Biggest casualty was Australian Dollar which dropped to lows not seen since 2009 after the GFC.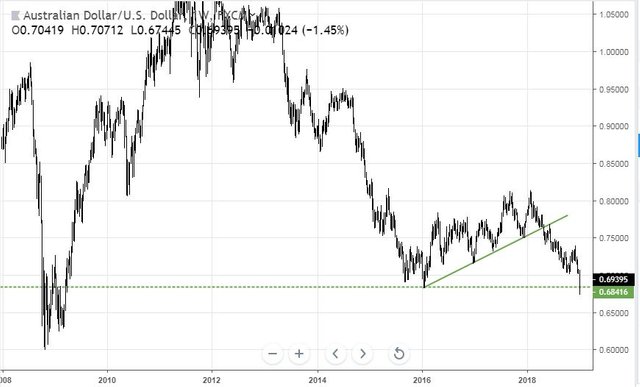 https://www.ig.com/au/news-and-trade-ideas/forex-news/explainer--the-fx-flash-crash-190103
Interest rates markets are clearly pointing to a looming slowdown and recession.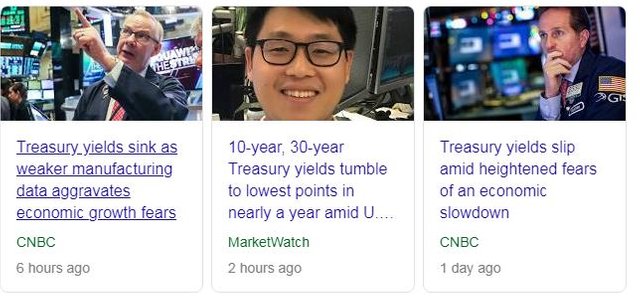 https://www.marketwatch.com/story/10-treasury-yield-extends-fall-to-january-low-amid-china-growth-fears-2019-01-03
Bought
Amgen Inc (AMGN): US Pharmaceuticals. Used market selloff as opportunity to average down entry price on small holding in Amgen. This is a Jim Cramer idea to keep building quality names in a US-based portfolio. Stock is carrying a dividend of $1.45 (0.76%) and forward yield is 3.05%
Deutsche Telekom AG (DTE.DE): German Telecom. The review I did for expiring options on DTE brought up a chart shape I like. Price has been trading in a range since early 2015 and has made its way off the bottom of the range. I added a Decembr 2020 strike 15 call option in a portfolio that does not hold DTE. There are options listed for 2021 and 2022 but there are no strike 15's available - hence choosing December 2020. With a closing price of €14.93, price does not have to move much to go in-the-money. Let's look at the chart which shows the bought call (15), breakeven and 100% profit as blue rays with the expiry date the dotted green line on the right margin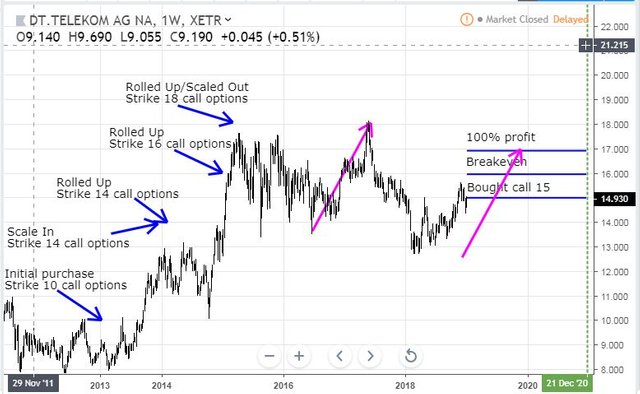 What I like is the 100% profit level is below the 2018 and 2016 highs. Price has pulled back in the December selloff and bounced in the last week. I have modelled a price scenario from the bottom of the last range and cloned it to the current lows (pink arrows). Get a repeat of that and 100% profit is reached
Last point is telecom companies behave a little like utilities - i.e., something of a safe haven in sellofs. Just look at the Eurostox50 index (orange line) overlaid on this chart (all in Euros). Part of the difference in performance of Deutsche Telekom is its large (62%) holding in T-mobile USA (TMUS) - i.e., it is more than a European telco.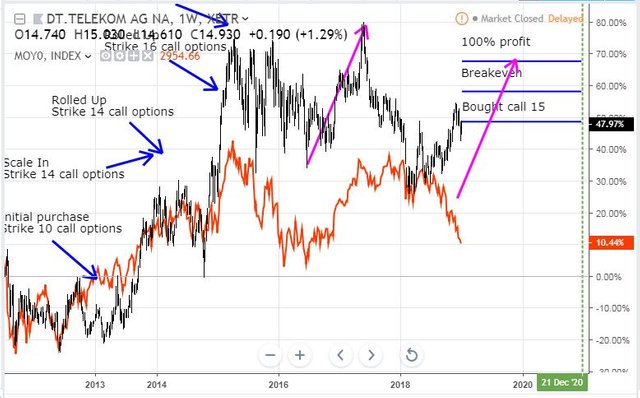 Shorts
Vanguard FTSE Europe ETF (VGK): Europe Index. After the review on Europe in TIB341, I added to Europe hedges in one of my portfolios. After some good profits from using bear put spreads on Nasdaq and S&P500 I chose to invest the profits directly with an open end put contract - i.e., not a spread. I bought one strike out-the-money March 2019 47 strike put options for a $1.30 premium (2.7% of closing price of $48.01). Price needs to drop another 5% to reach breakeven which is just above the 2017 lows.
Income Trades
SPDR S&P Bank ETF (KBE): US Banks. Sold January 2019 strike 39 calls for 1.43% premium (1.79% to purchase price). Closing price $37.71 (lower than last month). Price needs to move another 3.4% to reach the sold strike (tighter than last month). Should price pass the sold strike I book a 29% capital gain. Income to date amounts to 7.7% of purchase cost.
Commerzbank AG (CBK.DE): German Bank. Sold January 2019 strike 6.4 calls for 1.38% premium (0.95% to purchase price). Closing price €5.79 (lower than last month). Price needs to move another 10.5% to reach the sold strike (easier than last month). Should price pass the sold strike I book a 24% capital loss. Income to date amounts to 3.1% of purchase cost.
This looks like a strange trade to make as Commerzbank will be a losing trade if it is assigned. I am happy to get assigned as I have run out of patience. However, I do not think there is a snowball's chance in hell that price will rise 10% in the next two weeks.
Cryptocurency
Bitcoin (BTCUSD): Price range for the day was $133 (3.4% of the high). I was not wrong about it being hard to guess what price will do. It chose to make new train tracks, this time down off the $3900 level and to test lower into the trading range. The key for any push higher is for price to make a higher low - if not we will be back to the bottom of the range.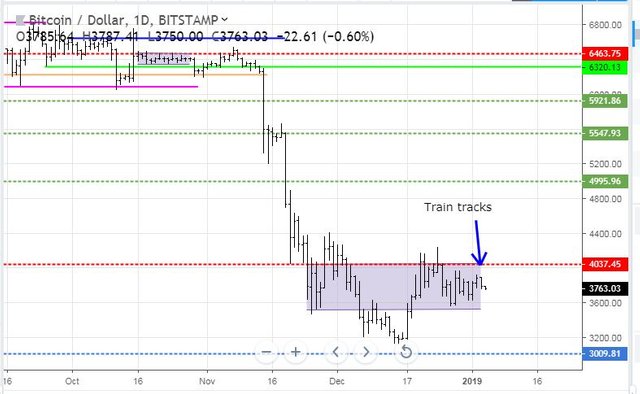 Ethereum (ETHUSD): Price range for the day was $11 (7% of the high). Price did choose to pullback but it did not go lower than the previous day's low and feels like the pullback to test a run to break the $160 level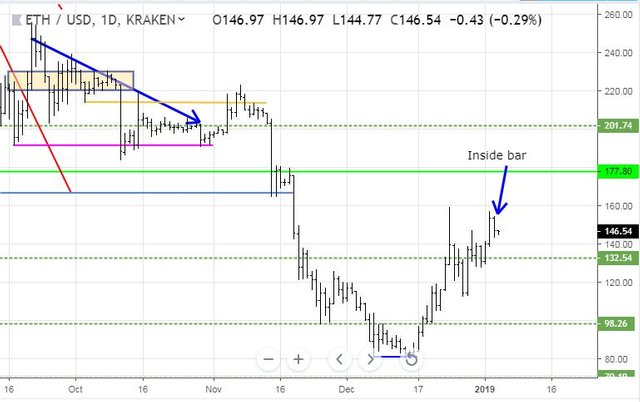 I did put in a pending order long in my IG markets account at $149
CryptoBots
Outsourced Bot No closed trades. (222 closed trades). Problem children remains at 19 coins. (>10% down) - DASH (-72%), ETH (-62%), ZEC (-71%), AE (-43%), LTC (-51%), BTS (-68%), ICX (-86%), ADA (-72%), PPT (-85%), DGD (-84%), GAS (-88%), SNT (-66%), STRAT (-67%), NEO (-85%), ETC (-63%), QTUM (-76%), BTG (-72%), XMR (-52%), OMG (-76%).
Coins moved in a tight band of 1 or 2 points, all but QTUM down. GAS (-88%) remains the worst coin. LTC (-51%) dropped a level
Profit Trailer Bot One closed trade (1.01% profit) bringing the position on the account to 5.20% profit (was 5.19%) (not accounting for open trades).

Dollar Cost Average (DCA) list drops to 5 coins with TRX moving off and onto profit after one level of DCA. 3 coins traded worse and 2 better.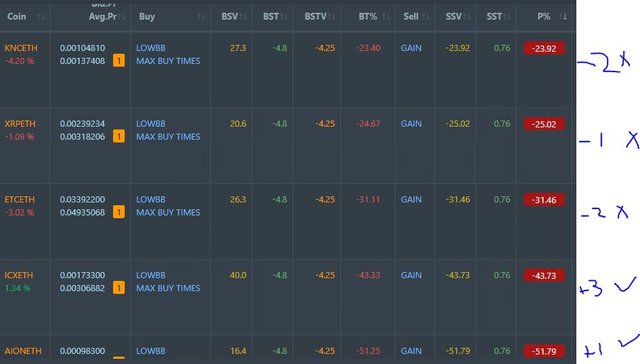 Pending list remains at 10 coins with 2 coins improving, 1 coin trading flat and 7 worse.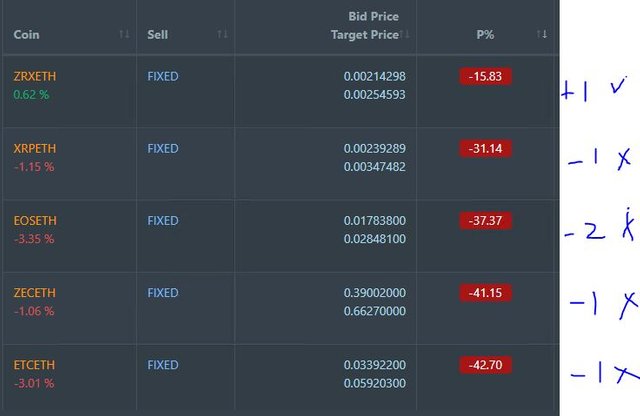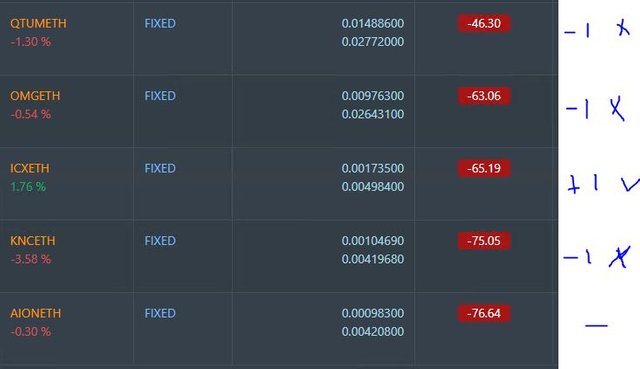 PT Defender continues defending 9 coins with no change
New Trading Bot Trading out using Crypto Prophecy. No closed trades.
Currency Trades
Forex Robot closed 26 trades (0.57% loss). Trades themselves were 0.34% profitable but swap costs made it all negative. All open trades closed.
Outsourced MAM account Actions to Wealth got caught in Flash Crash as it was long Australian Dollars vs New Zealand and closed out 3 trades for 5.6% losses for the day = OUCH!!! Normally they would run 1% stop losses but without liquidity their trades could not settle at 1% down.
Cautions: This is not financial advice. You need to consider your own financial position and take your own advice before you follow any of my ideas
Images: I own the rights to use and edit the Buy Sell image. News headlines come from Google Search. All other images are created using my various trading and charting platforms. They are all my own work
Tickers: I monitor my portfolios using Yahoo Finance. The ticker symbols used are Yahoo Finance tickers
Charts: http://mymark.mx/TradingView - this is a free charting package. I have a Pro subscription to get access to real time forex prices
January 3, 2019