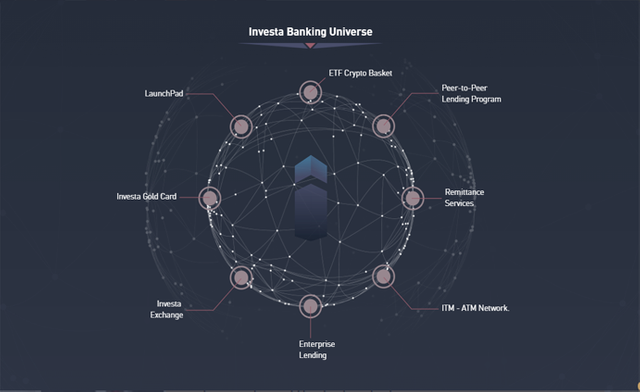 Last airdrops analyzed by us
LibertyLance | Spindle | BitNautic | Modex | BCharity | Kinguin | Shopiblock | Boatpilot | Safein Sancoj
---
"The future is bright, the future is Investa"

Since the emergence of money, domestic and global financial services have been controlled by banks and governments. Central banks had dominated monetary policy and have been using financial manipulation to control markets by printing banknotes, interest rates, and issuing government bonds.
In 2013, with the creation of Bitcoin was born a new era of financial services. The first decentralized currency was created, without any controller - financial freedom. It's just the beginning - light in the tunnel.
"Investa - a decentralized investment platform"

One of the many ferrys that clears the way to the aforementioned financial freedom is described ICO. Investa offers a unique platform of free cryptographic services which are working together to enable users to manage and invest their cryptocurrencies. Investa was designed to offer best-in-class management of cryptocurrency funds, ICO investments, loans, debit cards and a network of ATMs. For the first time you will be able to transfer, manage, invest, exchange and lend your crypto using one mobile application. The main advantage is transparency, everyone will be able to see what is happening with its resources when it is managed by an investment fund, which is not possible with traditional banking. Currently, this is not possible, no one knows how the bank invests our hard-earned money in funds, on our deposits or even savings accounts. And here comes blockchain, and with it, Investa, where everything is transparent and free from manipulation.
For more information about the project please read the whitepaper and the project page.
---
Rating on ICO Bench - 4,0/5 – source.
Numeric data
| Name | Info |
| --- | --- |
| Quantity of created tokens | 50 000 000 |
| Quantity of tokens in ICO | 30 000 000 |
| Quantity of tokens to be dealt in airdrop and bounty | 100 000 |
| The amount of tokens available for airdrop | 20-100 |
| The current value of the token | 0,8$ |
| The value of tokens from the finished airdrop | 16$ - 80$ |
| Expected date of receipt of tokens | After the ICO phase |
| The time it takes to receive tokens | 5 - 10 min. |
---
Description of steps to take part
Subscribe to airdrop by clicking here, then on the button "Begin Your Hunt!".
Enter your details in the form.
Complete as many tasks as possible described on the page, you do not need all.
Rewards in the form of tokens are described at the bottom of the page.
---
To be up to date with the projects found by us we invite you to like our fanpage:
Facebook
Twitter
Instagram
LinkedIn
Have a good hunt and hear you soon! !
~ Maurycy