A whirring top - a gyroscope - whose cycle drives the year,
Appears to gain momentum from a still point in the sky.
Our hearts, in kind, remain as constant, pivotal, and clear,
While e'erything else rotates about until the day we die.
(original work, 2016)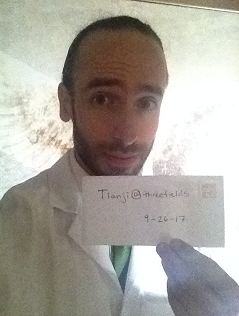 My name Michael - or Tianji, depending on where I'm traveling. I work as an acupuncture doctor 中醫醫生 and translator of Classical Chinese in Massachusetts, USA. While Chinese medicine takes up most of my time - whether in the clinic or in the study - I also have interests in classical philosophy, astronomy, mathematics, symbolism, martial arts, and religion.
I'll be posting a mix of things, but predominately short passages from classical Chinese works of philosophy and medicine, accompanied by my own translations and commentaries. The goal isn't so much to present "definitive" translations or interpretations, but rather to provide a good starting point for further thought. Other content will include riffs on modern healthcare and discussions of technology from a classical point of view (e.g., SimpleCoin and the Uncarved Block 樸: Cryptocurrency Along the Way 道 - forthcoming).
While I do have academic and professional credentials in these fields, I certainly have much to learn, and welcome whatever criticism or insight that might be had. In particular, I should mention that I did not grow up in a Chinese community, and so do not enjoy a cultural background native to most of the texts I'll be discussing.
Thanks for reading! Hope to see you in the comments.
-Tianji