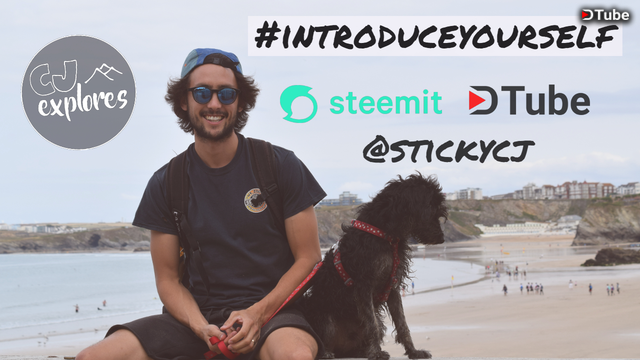 ---
HELLO STEEMIT AND DTUBE!
---
I am reintroducing myself on the advice of @alphasteem's recent post Important! Verify Your Account. For those of you who have recently joined my journey I am over a year old on Steemit now and have recently started to distribute my vlogs on Dtube. I can't say how much I enjoy using this platform. It's incredible how much support and gratitude you can receive from this wonderful community. I really enjoy that my content gets in the feeds of completely unsubscribed steemians and I can connect with so many individuals.
---
My vlogs are pretty much based around the lives of my wife, @chazzie-leigh, and I as we make our way through this adventure game called life. It was only about 6 months ago, my mother-in-law convinced me that our lives are that fascinating we should just share the adventure through my passion which is video editing. I have been editing for over ten years now and have learned a lot since I started. I have finally been able to be rewarded for my skills and creativity through these wonderful platforms, Steemit and Dtube, and so I will continue to build my audience here.
---
My next goal is to get a drone, I did have one but I lost it in a freak gust of wind on a New Years Day (the unluckiest day of the year for me, but I'll get to that another day...). I hope to eventually be able to pull some of my hard-earned STEEM from my wallet to purchase a DJI Mavic Pro (I still have the controller!). So if nothing else, send me some upvotes so I can provide a much higher production value through aerial videography!
---
My aim for this platform is to spread a bit of light-hearted entertainment and a message of positivity and empowerment for all those willing to listen. I will be using a few tools at my disposal. Currently that is Steemit, Busy, Dtube, Dlive and Steepshot. And I won't be using tools such as bots to artificially boost my rewards. I only want to be rewarded for my creativity and entertainment value please!
---
I have a few exciting projects in the pipeline for this platform. That is Dtube exclusives! And I also have a couple of very large and exciting events happening in my life over the next couple of months. So hit that subscribe button, buckle up and enjoy the adventure!
---
---
As Always,
PEACE, LOVE & LIGHT
---


Gear;
Nikon D5300 https://amzn.to/2NKkvhs
Rode VideoMicro https://amzn.to/2LNgU1o
Sony Vegas https://amzn.to/2v6n8T1
Toshiba Satellite P70 https://amzn.to/2LNyUce
Logitech Performance MX https://amzn.to/2v2WmuH


Other Socials;
STEEMIT
YOUTUBE
INSTAGRAM
DTUBE
BUSY
FACEBOOK
---
▶️ DTube
▶️ IPFS