We would like to welcome you to our new and growing community here on Steemit.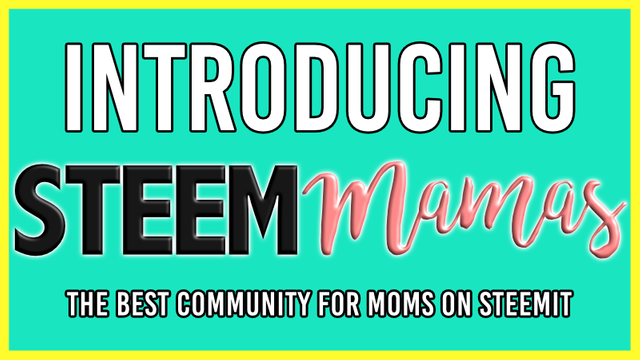 This is THE place to be if you are a mama here on Steemit. It's a safe haven for all moms to meet other like-minded people, get support for your Steemit content, and even vent when you need to! There are currently 40 mom members of STEEMmamas and we are growing more and more each day!

Why Join STEEMmamas??
Find other moms that have the same interests as you, including mamas of multiples and homeschooling mamas!
Get support for the parenting, family, and other content you share here on Steemit.
Collaborate with other Steemit moms on projects, challenges, contests, and more!
Grow your Steemit account by joining a quality community of people who have been there, are there, or will soon be there! (Yes, pregnant women are welcome too!)
Have your content featured on the STEEMmamas Steemit account, which shares only the most fantastic stories, videos, and more from the mama here!

Who is Behind STEEMmamas?
The @STEEMmamas community was started by @keciah, a Steemian with two young sons and an extensive blogging and online marketing background. She saw the need for a place for the moms of Steemit to congregate and get to know each other better.
Also, a huge shoutout to @khimgoh, an awesome STEEMmamas member, for helping to get our STEEMmamas Steemit account up and running!
How to Join STEEMmamas
The only real requirement to joining is being a mom. Ages of your children do not matter -- we want moms of babies all the way to adult children!
Once you are in the Discord server (find the link below!), we do ask that you read the Rules & Guidelines document and introduce yourself. Once admin looks over your post and Steemit profile, you will be given the role of "STEEMmamas" which gives you full access to all channels inside the server.

Ready to reach out and support other mamas?


Join the STEEMmamas Discord now!
Don't forget to follow @STEEMmamas to help support the community!