Introducing Steemit Outdoors! Steemits premiere outdoor channel- The whos,whats,whys, and hows of our project + the Exclusive Trailer!
We have been around the Steemsphere for quite some time now,  and have seen many things come and go.  Over time, one thing we have noticed that hasn't gotten the exposure it needs (in our eyes of course) is outdoor education, living off the land, and exploring the "older" survival ways of life, which we came from.  
Don't get us wrong we LOVE technology, but we feel that it is a hindrance when it comes to the natural and symbiotic relationship that we have with the earth.
With this said,  We are proud to announce the creation of STEEMIT OUTDOORS!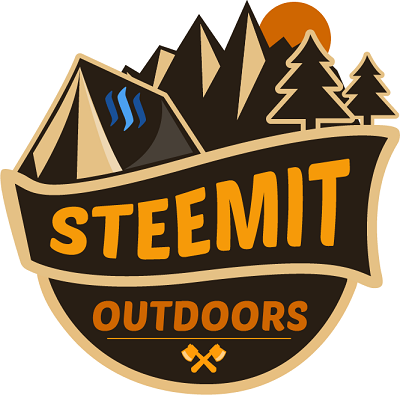 Whats the Mission?    
We as people have become too dependant on outside resources.  Veggies, Fruits and meat that has been farmed somewhere and have been altered and injected with all kinds of toxic hormones, preservatives etc.  We think its time to instill some knowledge that allows for us all to be less dependent on the groceries stores and such, and more dependent on our own skills as humans and as farmers,hunters,and foragers. 
So... That is what we are here to bring!    
Each episode will contain a type of survival skill that will be useful if ever in a survival situation.  This is not some crazy extreme show, this is for the average joe.  We will show our faults and fails as well as our successes!  Teaching tips and tricks that could help you out in a sticky situation!  We will be right there learning with you, seeing what works and what doesnt. This show is for the person who loves the outdoors and loves testing their skills, as well as the person who enjoys a good ole "survivor" type show. hint hint there will be eating of critters!
With that we give you the Premiere Trailer for Steemit Outdoors!
we apologize for the bad quality on first scene, we are avidly saving for some better quality gear! 
What will be covered you ask?  (subject to additions of course) 
Fire Building Strategies and Techniques : Creating fire in various different situations (some simulated ie wet tinder etc) using some of the basic survival and fire starting tools. 
Shelter Building : showing you first hand how to build a wide variety of shelters used for various different situations. 
Foraging/Edible Herbology : Walk with us through the forest, as we show and describe the different edible plants that could give you that needed sustenance in a rough spot. 
Hunting/Trap Making : Learn the tips and tricks, the dos and donts of trap making as we test our skills and show a huge range of different traps used for hunting wild game. 
Basket crafting : Showing the different baskets that can be crafted out of the materials in the forest.  These baskets can be used for traps, storage and many other things! 
Wilderness First Aid : Learn what the great outdoors can provide in a first aid situation!  
What do we need hope for from all of you?    
Your enjoyment, and most of all, for you to learn these skills as they can help in a huge way! While there have been some extremely awesome projects and people who have brought these skills to light on the platform, we would like to try and take it a step further.  
Below are a list of some people who have done wonderful things to teach the outdoors to Steemit!  (NOT IN ANY PARTICULAR ORDER) 
@sustainablyyours @kafkanarchy84 @felander @gardenofeden @papa-pepper @mericanhomestead @quinneaker 
AND MANY MORE! 
We would love to chat and include some of your beautiful talents and skills into this project!
Love what ya saw? Interested in finding out ways you can join and help the cause? 
Please Contact us at : 
Discord: bambam808 
steemit.chat: bambam808 
Want to remain anonynmous yet still love what we are trying to do? 
BTC: 18TysJJGM33HdQN11mEEdeo5KS8GTXQ12v 
LTC: LV62sAtMwNK9vHCoNmji2mTWP6sLbQvQLL 
ETH: 0x31850a11d7e4f59eda60a554a9f87d1fa5e9cfd4 
STEEM:    
Address: deepcrypto8 
Memo: 106762238 
A huge thank you to all of you for your support, comments, concerns and real interaction.  Without everyone on steemit, we would not have many of the things here that we do.  Including but not limited to @steepshot , @dlive , @dtube, etc.    With that said a special shoutout to @brandybb for putting her skills into this project and making it beautiful and professional.  Thank you to @zord189 for the amazing logo creation, and for being an awesome genuine friend.   
Some people that we would love to chat with and that we feel would find this as a very positive step for education on steemit!
@ausitbank