Applied Sociology: Research Supporting Non-Profits Pursuing Elevated Social Paradigms
Applied Sociology: Research Supporting Non-Profits Pursuing Elevated Social Paradigms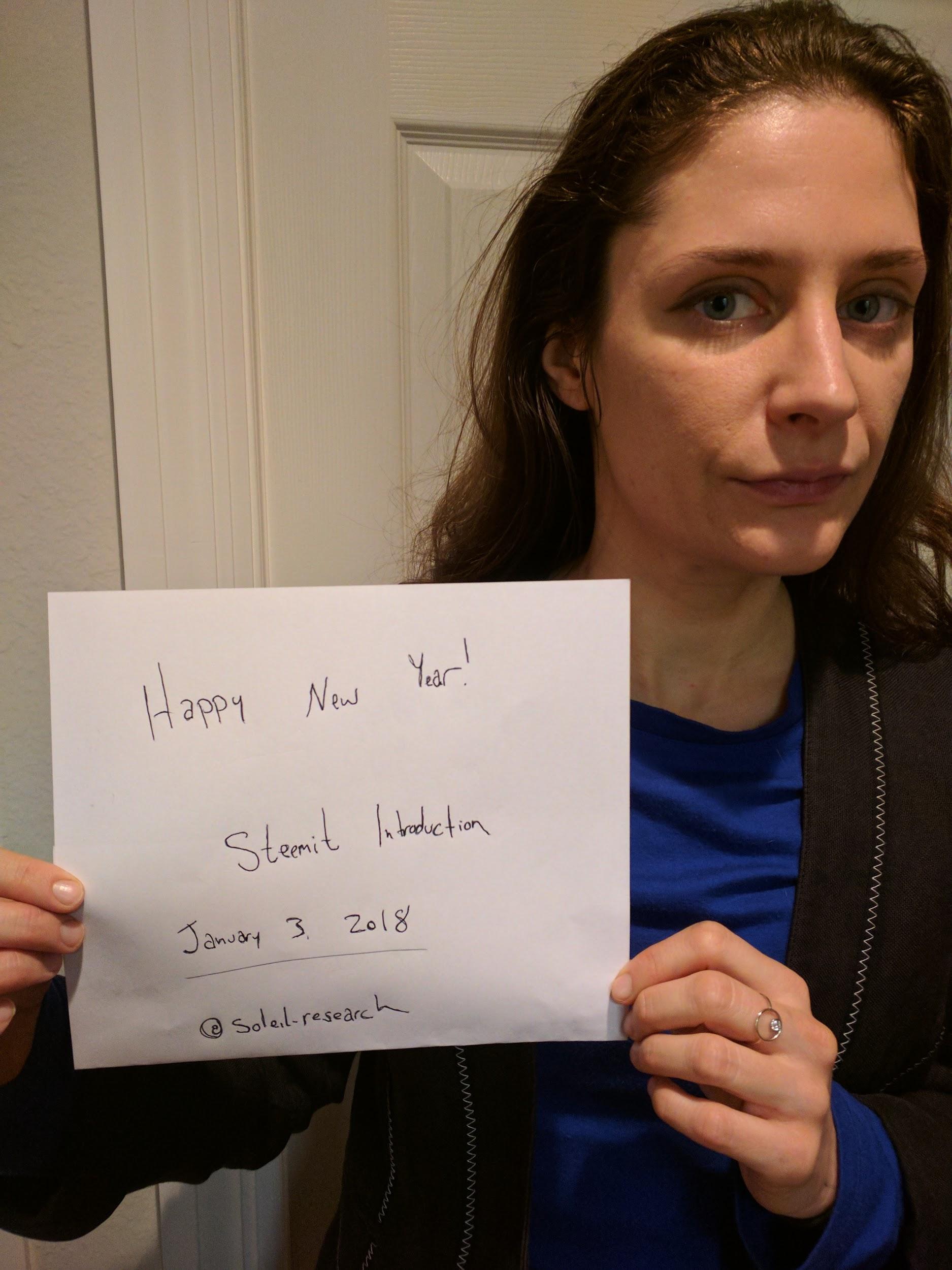 I'm Stephanie. My top intellectual goal at the moment is to find a way to finance social science research in the service of non-profits, B-Corps, and start-ups that actively promote elevated social, environmental, and economic paradigms. My research interests include: 1) New Economic Paradigms, 2) Drug Policy Reform, 3) Prison Reform, 4) US Poverty Alleviation, 5) Access to Health and Reproductive Health Services, 6) Environmental Protection, 7) Immigration Reform, 8) Race Relations, 9) Economic and Educational Inequalities, and 9) Animal Rights.
I currently work as a contract sociologist for various mega-corporations. I have helped them learn a lot about people over the years. Corporations use the data that I generate to develop new products and services, assess the likelihood that their in-development products will be successful, and to market new products and services.
However, the same research techniques that I employ everyday for corporations could equally be used to answer questions like: "How should we present the case for legalizing psilocybin mushrooms to those that do not currently support psychedelic use?" or "How could we improve our program to distribute information about women's health services in our underserved community?" or "What would be the easiest way to encourage midwestern shoppers to bring reusable bags instead of using disposable plastic bags every time they shop?" or "Which part of our project benefiting the incarcerated should we fundraise for first?"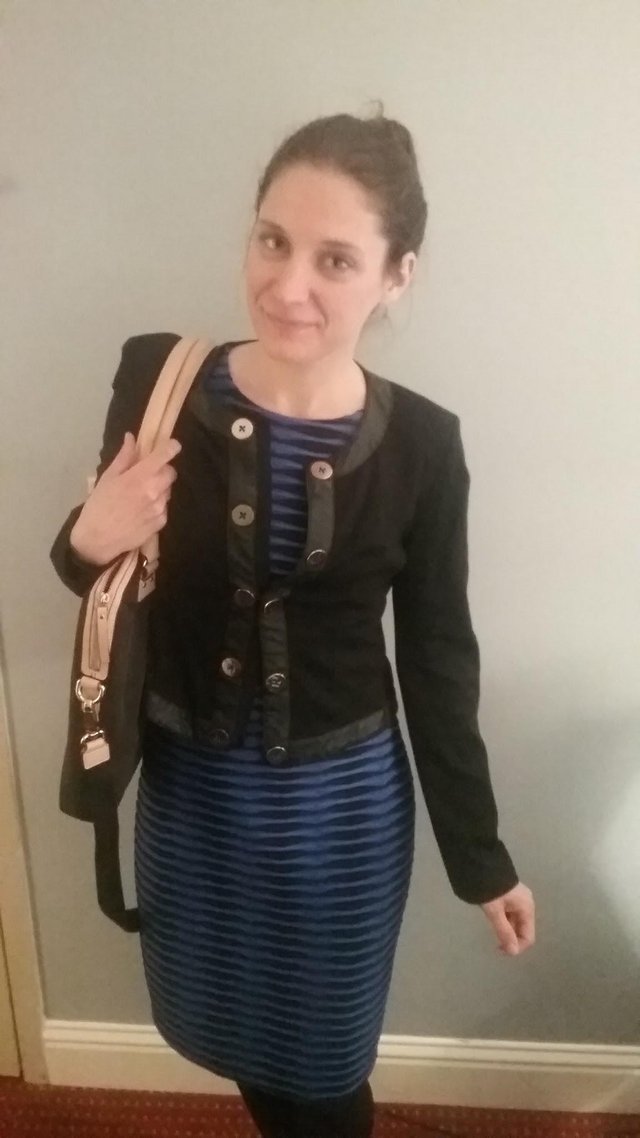 I go into "corporate mode" easily.
Corporations use researchers like myself because the likelihood of making a good decision goes up when you have relevant data to base your decisions upon. I have approached many non-profits, hoping that I could create research that would help them make their decisions as well. Most have been very interested, but have not had the funding to be able pay for such a project. There are many expenses involved in setting these projects up, and sadly most non-profits are woefully underfunded, and research is out of their reach.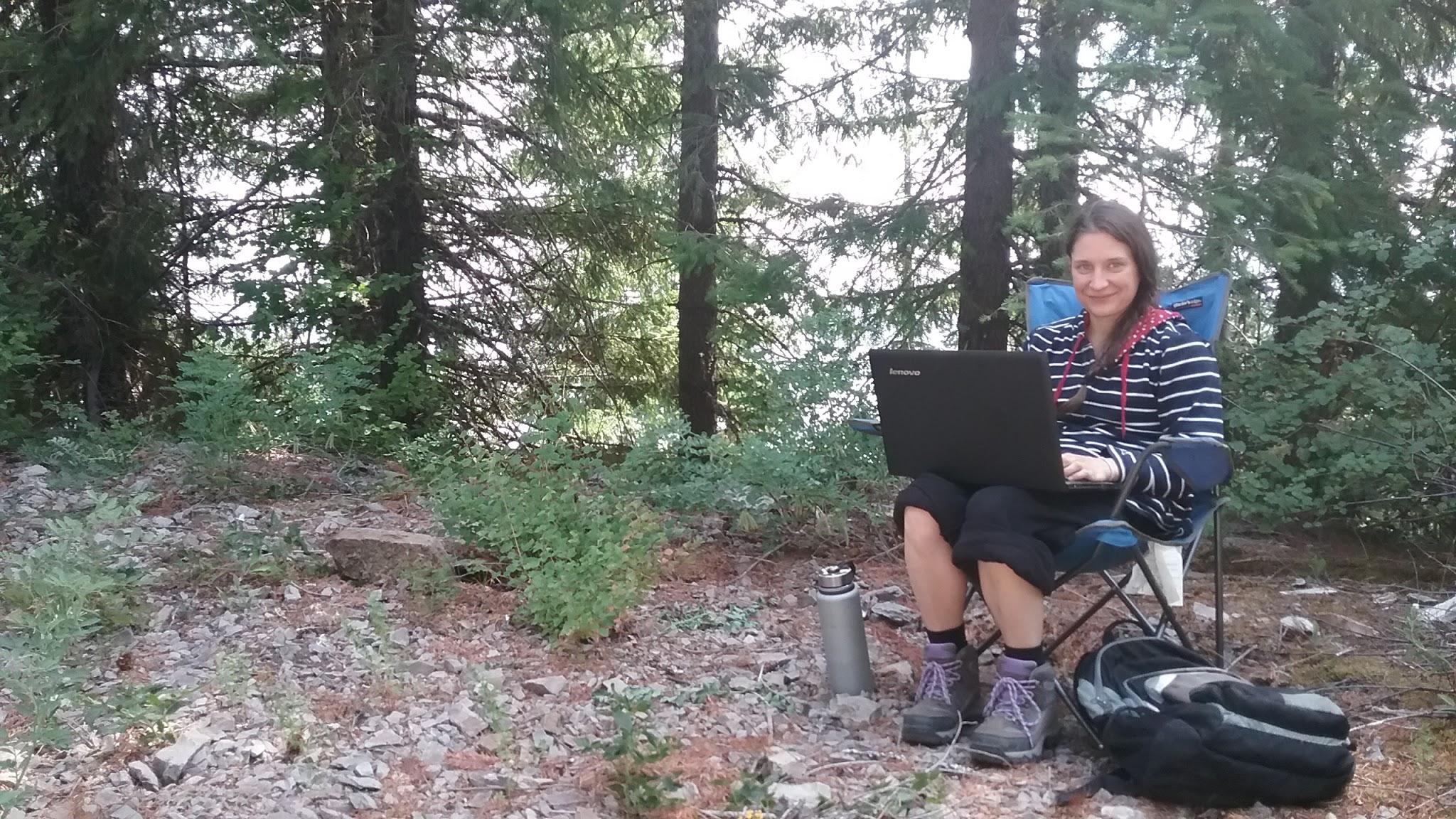 Digital Nomads, Unite! These were taken during a trip to Oregon to see the eclipse. I didn't have any days off, but I had a great time!
So, this year, I am taking a new strategy. Instead of networking with non-profits and hoping that one will have funding and say yes, I would like to generate Steem so that I can put those funds towards serving non-profits. I'll post articles about research techniques, sociology, social commentary, and the progress of my project here. I will also be launching a Patreon and a website for my new project, Soleil Research, sometime soon. My end goal is to approach the non-profits of my dreams and say "Hi, I'm Stephanie, I'm a sociologist and I can do research for you for free - because I am financed by the blockchain and crowdfunding sites!"
---
Got any advice for me? What non-profits or B-corps do you care about? What change do you want to see in the world?
---
**Thanks, and Happy New Year! **
PS: Boring Stuff about Me
-I have been working as a contract sociologist serving corporate clients full time for three years. I belong to professional associations. I refuse to work in an office, so contract work is the only thing I will ever do. This gives me the freedom to pursue the goals described above.
-Before that I was in grad school. I will have my PhD within a few months.
-Promoting social values has been important to me for a long time.
-My 250 page dissertation is about the cultural and political values that inform the American and French healthcare systems. I used to dream about becoming part of the effort to pass universal health coverage in the US, which is why I wrote the dissertation. I have lobbied about this issue in my state's capital.
-Throughout college and grad school I worked at legal clinics for folks experiencing workplace discrimination and immigration issues.
-I have taught under-priviledged students at Upward Bound summer camps.
-I am advocate for the cannabis cultivation community of my county in Northern California.
-I call my congressional reps ALL THE TIME. Lately, I've been calling about net neutrality, tax bills, keeping kratom legal, cannabis policy, health policy, and police brutality.
-I have been an ethical vegan for the past four years. I was first vegetarian in high school, though I fell off the wagon for awhile sometime during my travels.
-I have translated documents about restoring felons' voting rights in my state (when my state was Florida).
-I speak French, having lived there for about four years in my 20's.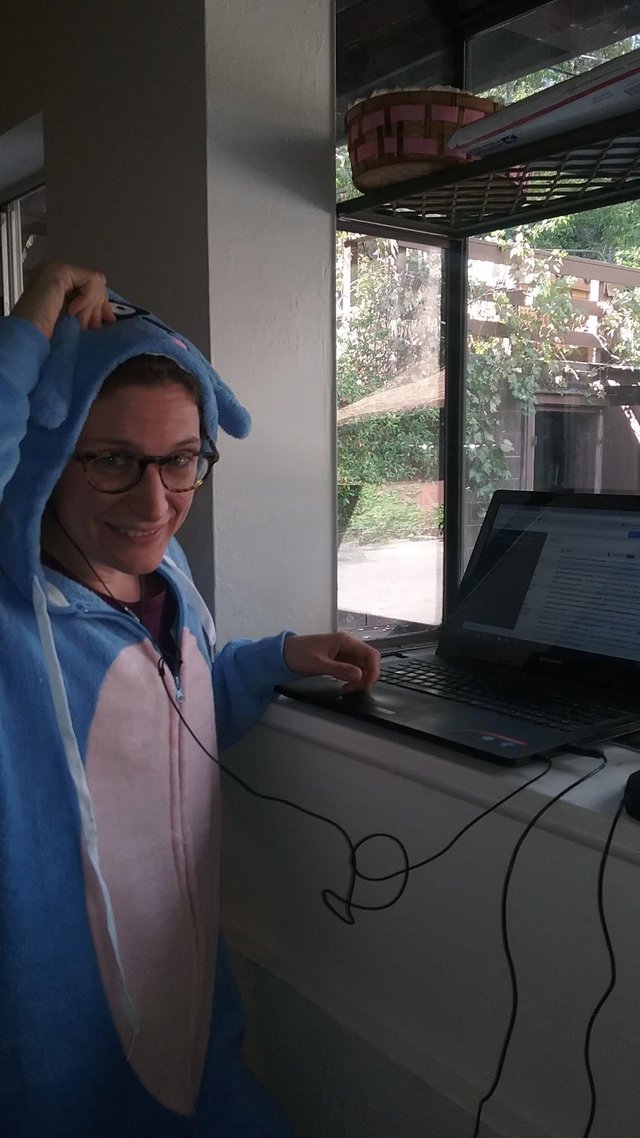 Me working from home. No office attire required :)
-I play Contra Dance and Turkish tunes on the violin.
-I have no useful physical skills, with the exception of cooking, which I love.
-I love dance (Contra, Ecstatic, Fusion, Belly Dance, Swing), hiking, and yoga, and do two of the three every week.
-I am a minimalist by American standards.
-I am married to a man who empowers others to be more inspired, more honest, more clear, more positive, less attached, and more thoughtful every day of his life. This has nothing to do with his work.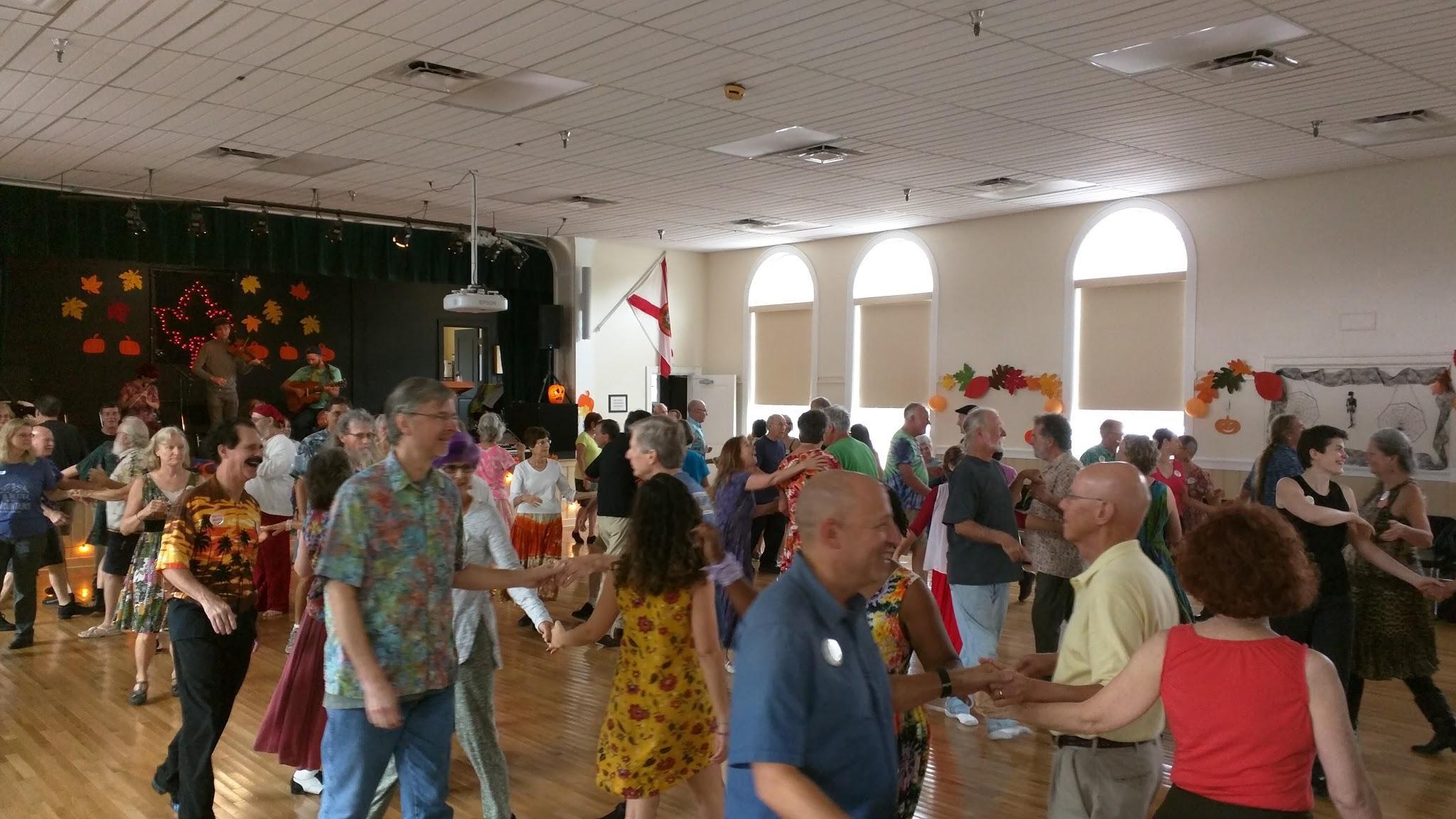 Contra Dance! One of my favorite things!!