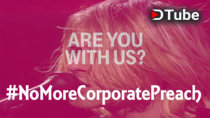 ---
I'm not gonna lie. I've had this account for months. And I've patted myself on the back about it frequently.
I've fancied myself quite the badass, all ahead of the curve & that!
I've preached at friends & family about all this.....but why didn't I actually ever post anything myself?
Maybe it's because I really didn't know exactly what was going on here....and I still don't really.
BUT I do know its a creative hub free from all the poppycock plaguing Youtube these days.
To be honest with you, I was going to just quietly post a few Memes & maybe GIFs to start with perhaps. To sort of feel out this place a bit first. I wasn't going to do a bloggy type post.....but fuck it.
Let's throw caution to the wind and dive in carefully, feet first.
This Video I'm sharing with you today is basically a depiction of the violent allergic reaction that took place inside my mind as I watched the original T-Mobile Superbowl Commercial. Which needless to say, was dreadful.
(Original Commercial Below)
(
)
I should really thank T-Mobile though for making me cringe so hard that I NEEDED to purge this all out into the open.
But something tells me that they already congratulate themselves quite frequently internally. Most likely as a matter of policy, outlined on a big pink poster that hangs proudly in the HR department.
Nonetheless, I hope you've enjoyed my nervous breakdown in a conveniently wrapped video format (if I do say so myself). I'm sure i'll be posting more now that I've broken the seal.
In the meantime, if somebody could link me to like an all encompassing, big picture type vibe explanation of this DTube/Steemit place that'd be phenomenal!
---
▶️ DTube
▶️ IPFS