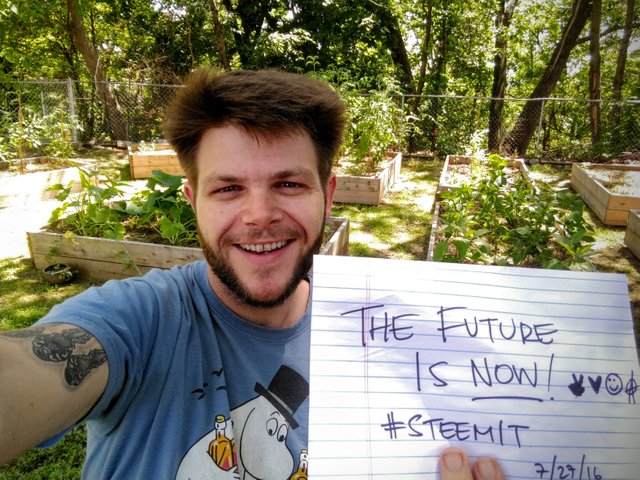 Hello Steemit! My name is Randy Clemens. I'm the author of three books—The Sriracha Cookbook, The Veggie-Lover's Sriracha Cookbook, and The Craft of Stone Brewing Co.: Liquid Lore, Epic Recipes, and Unabashed Arrogance. I'm excited to explore what I can bring to the Steemit community and what new ideas I might take away from it! What a friggin cool idea for a social media & blogging platform! Cryptocoins and blockchains continue to amaze me and I can't wait to see what kind of other tools come out in the next five years!
I actually didn't know the first thing about Bitcoin or any other digital currency until early 2015, when I packed up my entire life and moved from Los Angeles to Manchester, New Hampshire to participate in something called the Free State Project.
"The Free State Project is an agreement among 20,000 pro-liberty activists to move to New Hampshire, where they will exert the fullest practical effort toward the creation of a society in which the maximum role of government is the protection of life, liberty, and property. The success of the Project would likely entail reductions in taxation and regulation, reforms at all levels of government to expand individual rights and free markets, and a restoration of constitutional federalism, demonstrating the benefits of liberty to the rest of the nation and the world." ­—Free State Project mission statement
This Free State Project idea started as an essay that was posted online in July 2001... a proposal to see what kind of political change could be brought about if 20,000 libertarians / voluntaryists relocated to a low-population state to make a push for minimal government and maximum personal freedoms. Not feeling comfortable at ALL with the growing size of the U.S. government, their ever-increasing taxation theft, wars murders, regulatory laws racketeering scams, or mass surveillance spying... I saw this as an opportunity to be part of a historic peaceful human evolution that doesn't rely on force and coercion to function.
Just a few months ago, the Free State Project reached its goal of 20,000 signers, who all pledged to move within five years of reaching that 20k milestone. New movers are coming every week, though there are around 2,000 of us who moved here early that are already making some big changes in our communities and in the state legislature.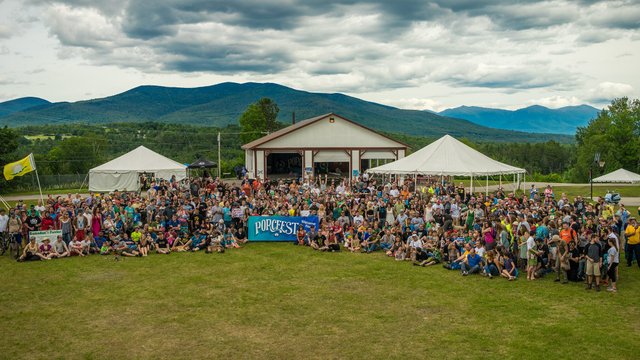 Being around so many forward-thinking individuals is quite an incredible feeling. It's inspired me to become involved in my community, and to grow as an individual.
Here are the few of the things I've been up to since buying my first home and moving to NH: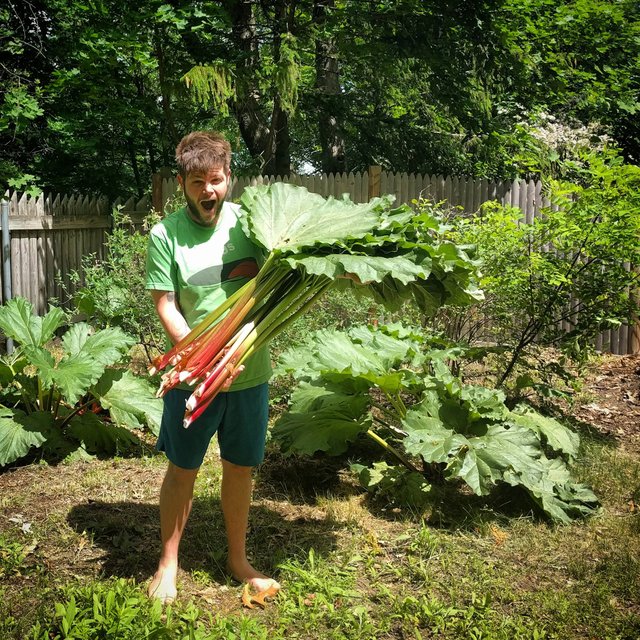 Growing some of my own food!
I LOVE food. I'm a culinary school graduate, have worked in restaurants, and have been writing about food & drink for the past 10 years, but I've never really taken on a big gardening project, especially not in a colder climate that requires starting seedlings indoors and transplanting them, but I've gotten some great guidance from other folks who moved here a few years ago and that's been very helpful. And when it came time to build raised beds, I made an event on Facebook to see if anybody wanted to come out and help while learning how it's done. A group of about eight people—who I'd only known for a few months—came over and helped put FOURTEEN raised beds together and filled them with soil over the course of a beautiful Saturday & Sunday!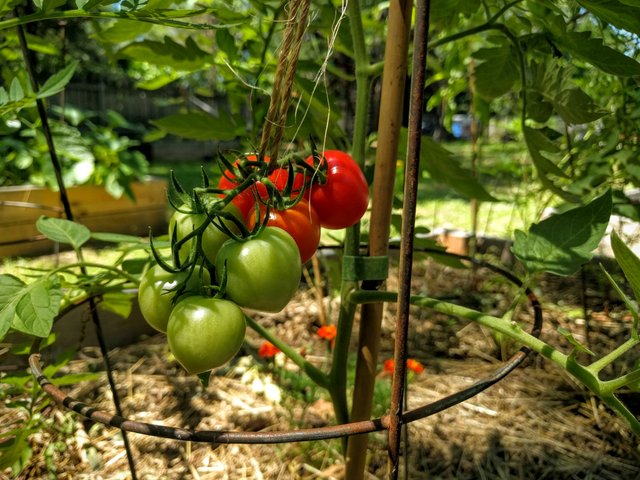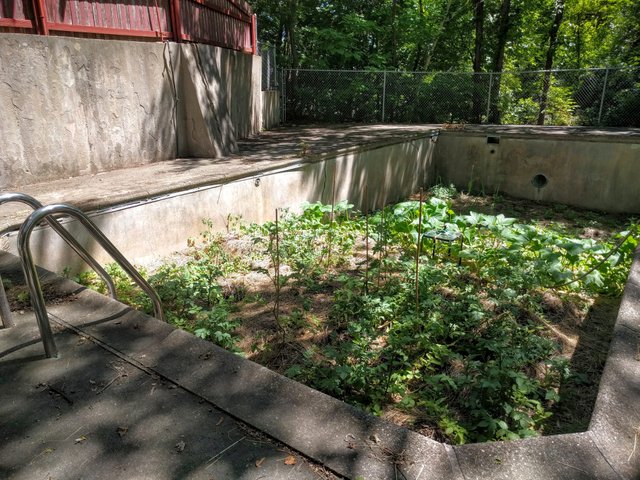 There's a pool at the house, but there's a big crack running down the side of it. What to do? Grow potatoes of course! There will be a couple hundred pounds of spuds in there come harvest time! Squash, lemon cucumbers, celery root, onions, watermelon, cantaloupe, honeydew, lemongrass, chocolate mint, habanero peppers, and more! Chickens and bees will be coming next year!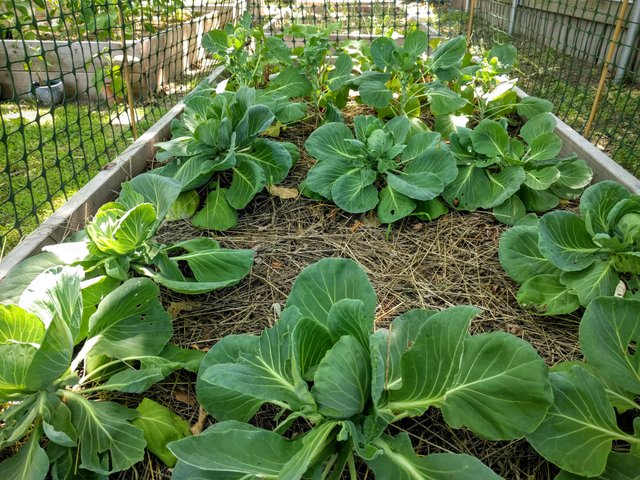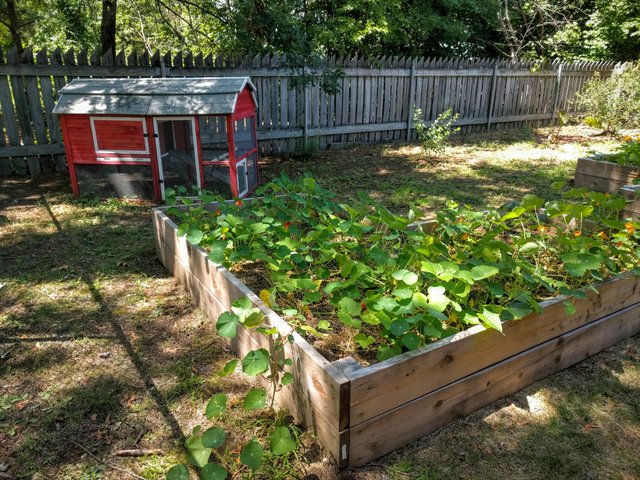 I really like cooking and sharing food with people. Even as a kid, I was always curious to know where my food came from, how different cultures prepared different ingredients, and I really wanted to find out why the government makes certain foods illegal, like raw milk and raw almonds. I'm looking forward to sharing more food photos and recipes on Steem; I've got lots to choose from between my three cookbooks, plus some recipes I've written up for my personal blog over the years.
Lots of protests and demonstrations!
When the government wants to take away individual rights and liberties, I don't want to sit idly by. Here are some of the activities I've participated in over the last 15 months: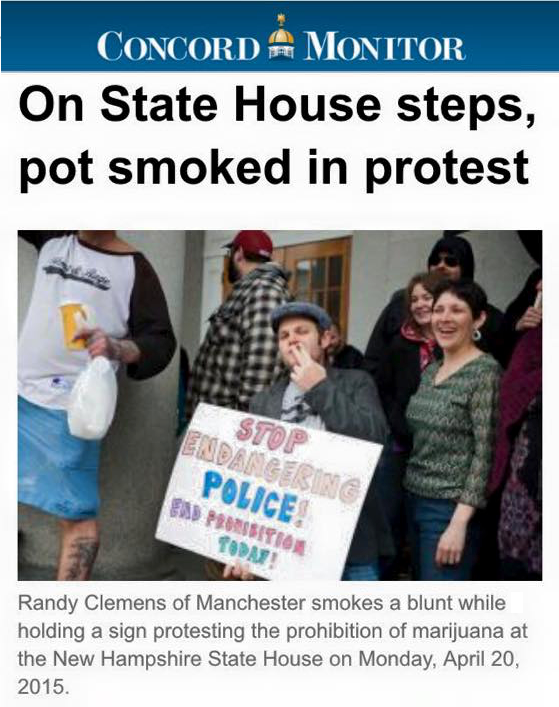 On 4/20, I smoked pot on the State Capitol steps to protest the destructive, wasteful, and horribly unjust War on Drugs
Stood outside of courthouses to inform potential jurors of Jury Nullification -- "the term given to the process where the jury of a criminal case acquits the defendant regardless if he has broken the law in question. The jury would do this in a case where they judge the law to be unjust, therefore the jury can vote to find the defendant innocent since the jury found the law itself to be immoral, unfair, unjustly applied, or unconstitutional." No victim? No crime. Otherwise, you're just policing for profit and that ain't cool.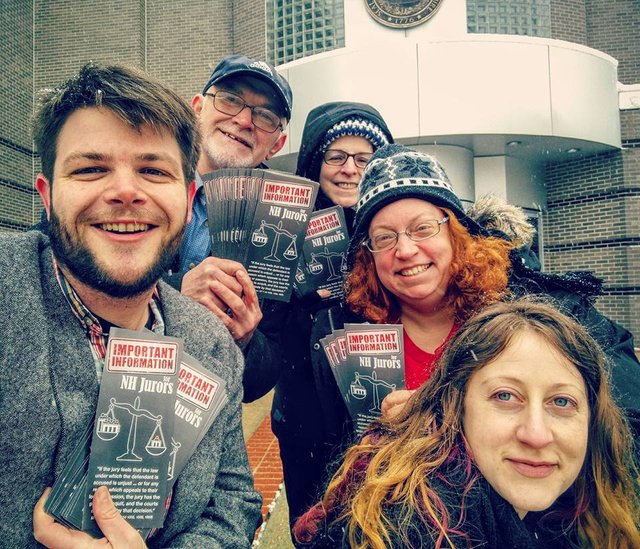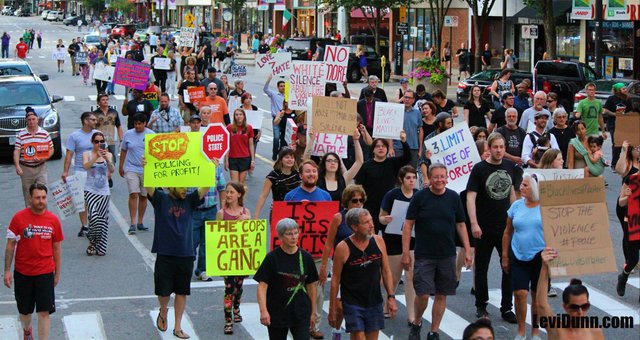 Spoken out against illegal, warrantless police searches & seizures of private property
Protested and spoke out at City Hall against increased police militarization after an Orwellian city-wide lockdown was issued, greatly endangering our community.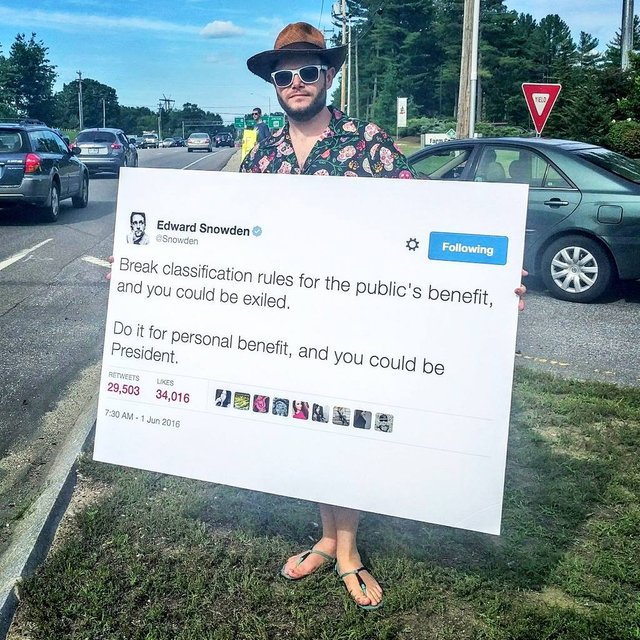 After the FBI director basically pardoned Hillary Clinton for something anyone else would have been put in prison for, I got a giant print-out of a great Edward Snowden tweet, and I held it outside the local FBI office one day and at the Hillary Clinton rally in Portsmouth the next day. A pic of it got back to Snowden, who then tweeted the pic of me holding his tweet. Totally meta, man. Ha!

Media production -- building a video / podcast studio
I've done my share of writing over the last decade, but I've wanted to get more into video production, even though I don't know the first thing about video editing. Thankfully, I've made some great friends who are quite skilled with these things, and together we started a website called FSPmovers.com, and together we've produced several videos about some of the great networks here for Free Staters, like:
We just got some new A/V equipment here to record podcasts and more videos. JJ just finished building a teleprompter -- only cost us about $25-30 to make thanks to this video from Griffin Hammond, who directed the Sriracha documentary, which I'm proud to be in! (Small world, eh?) We painted a green screen on a wall, had a friend make us some custom LED lights.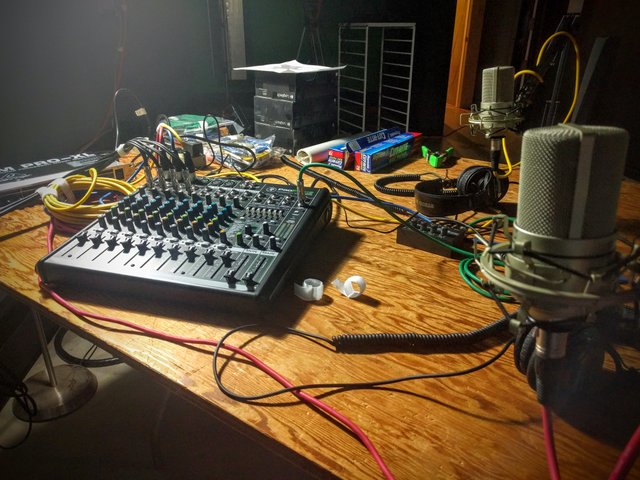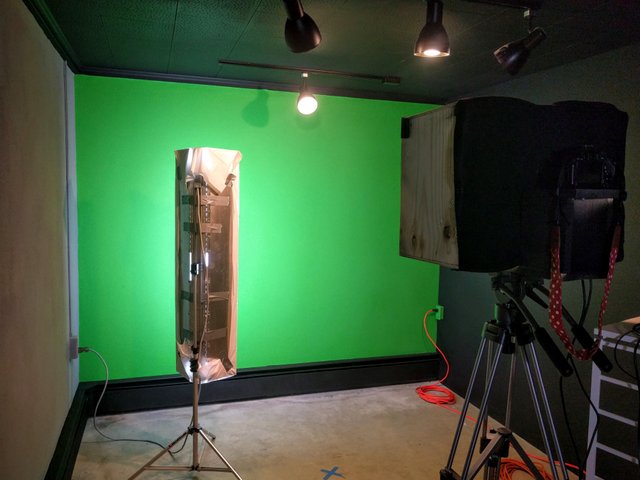 Our latest video is an interview I did with Dr. Jason Sorens, the founder of the Free State Project. Last week was the 15th anniversary of his original essay that started the whole movement. We got some of his reflections on the first 15 years, and his predictions about its future. We also discuss the benefits of limited/small government, why he's so passionate about sharing libertarian ideals, and whether New Hampshire might be poised to peacefully declare its independence from the United States within the next decade.
Cryptocurrencies! Bitcoin, Ethereum, and more!
As I learned more and more about cryptocurrencies, I felt compelled to start working on the video we're currently producing: an in-depth explanation of Bitcoin and blockchains for someone who knows nothing about them. I also began mining Ethereum and am excited to watch it grow. I couldn't have done any of this without the help of my buddy JJ Epic, who co-hosts the Neocash Radio podcast with Dr. Darren Tapp—where they "discuss the future of money today!" They've been doing that weekly show for over three years now... a long time in the crypto world!
Opening up my home to my community
We've been hosting weekly potlucks and bonfires here at the house. It's a great way to connect with friends and meet new movers, as well as people in town visiting to see if NH is right for them.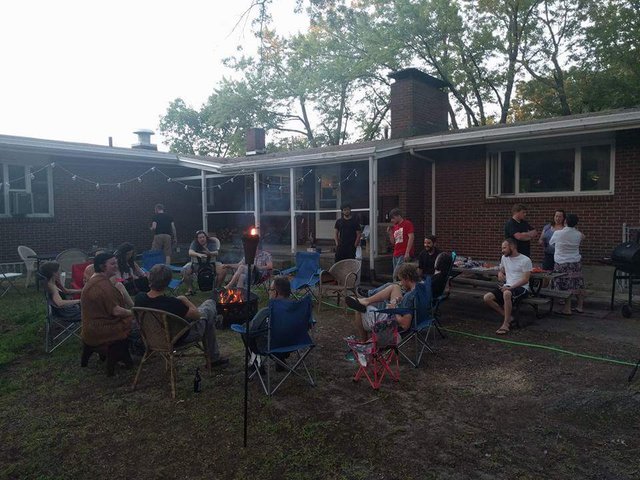 I was also hosting the Community Market Day agorist marketplace twice a month here for a while, which was a roaring success. Sort of like a community swap meet... with local produce, organic soaps, prepared foods, donation-based yoga, handmade jewelry… it was a lot of fun. Unfortunately, the main organizer stole some items of mine and doesn't seem to want to repay a $4,500 loan I'd made to her… so she no longer holds the market here unfortunately. (We'll see if she makes right.) Thankfully, several other folks who also didn't care for her business practices have started up their own little swap meets in their homes. The idea lives on!
What's next? What opportunities does Steem present?
I really want to keep writing and making art and creating new content that encourages critical thinking, deep reflection, and independent analysis. (I also like to make jokes sometimes, too.) It's refreshing to think that Steem presents a platform that can actually monetize my continued journey, enabling me to continue supporting causes I care about while not needing to rely on the dying, parasitic, spammy advertising industry. 
My personal blog has been something I've been able to post to whenever I wanted or needed to, and I love that. Mixed in among recipes and anti-government rants, you'll also find moments of very personal streams of consciousness, like "Loving Myself & Saying Goodbye to Fear and Shame"... or what I wrote the day my father passed away (a little angsty in retrospect, but it captured my feelings in that moment) and during my mom's unsuccessful cancer treatments. I also wrote about scattering my parent's ashes in Squam Lake. I never expected any of those posts would resonate with people as they did; it was just an outlet for me to share what was on my mind and in my heart… the support was almost unbelievable.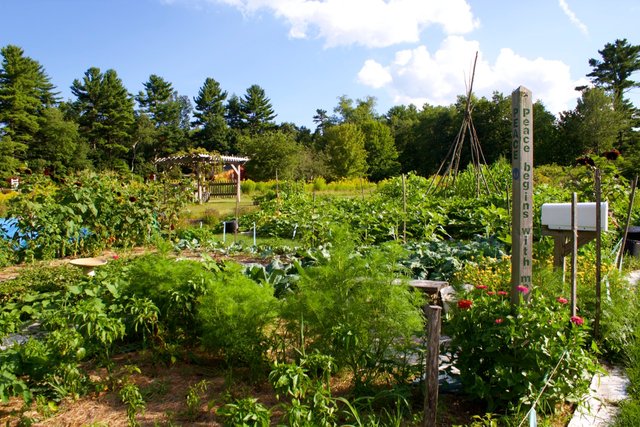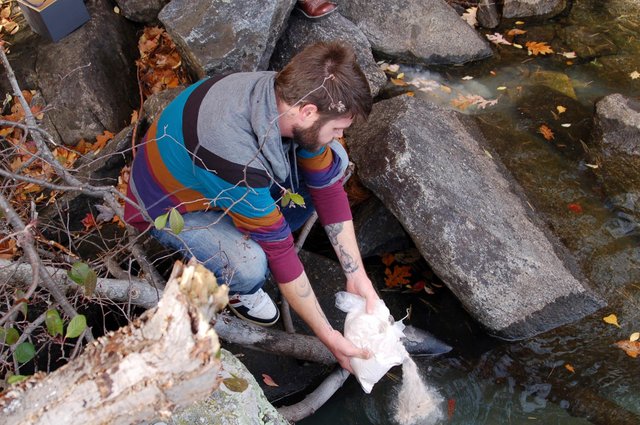 I want to keep writing. I want to share more of my pictures from my travels. I want to share more recipes. Explore my feelings and share them openly. Present important ideas about self-ownership, self-governance, voluntaryism, etc. Who knows? I might even have another book in me, though not about food this time. It's exciting to think Steem can benefit content creators and help bring cryptocurrencies into more mainstream conversations.
I look forward to connecting with the community here. If you have any questions about the Free State Project or anything else I've posted, please don't hesitate to reach out. Peace! ✌️