Hi Steemit!
Wanted to start my first post with one of my favourite juice recipes and touch on some other interests that I may or may not include in future posts.
I'm not 100% plant based person, probably more like 77% but that's still a lot better then where I was 5 years ago. Let's see where I'll be 5 years from now.
I love to start my day with either a veggie juice or a nice smoothie, it sets me up for the day and I miss it when I don't get my daily morning fix. Anyone else experience that?
Same goes for my morning yoga routine, I do it most days and miss it if I can't do it. Being a father of two, there are certainly mornings where it's more challenging to get that time to myself to get in some morning exercise. Still yoga and meditation are a big part of my life, I believe it should be part of everyone's daily routine.
Spring and summer are my favourite seasons as it allow me to step up my gardening and herb growing activities. I do try to grow indoors throughout the rest of the year, in particular the herbs I use in my daily cooking. Like the basil that I decided to include in my spinach juice.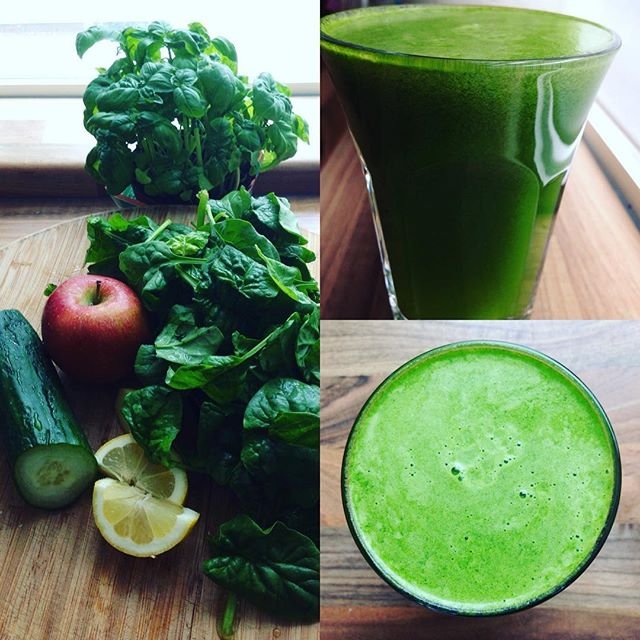 This green juice contains the following:
some basil leaves
4 hands of spinach leaves
ginger (I like to use loads, but adjust to your own taste)
half a cucumber
1 apple
half a lemon
Give it a go, let me know what you think of it.
Do you have a favourite juice or smoothie recipe?
Please let me know as I'm always looking for new recipes to try.
PLNTBSD77