Online game industry veteran turned tech entrepreneur meets the blockchain!
This first post is long overdue (two months overdue, apparently).
Up until earlier this year, I knew little more about cryptocurrencies and blockchain technology than your average Silk Road user. Which I don't imagine is a whole lot.
I understood, in vague terms, that blockchain could change the way we do internet entirely. And that cryptocurrencies had the potential to somehow free us from the shackles imposed on us by mismanaged financial organizations and corrupt politicians. However, it wasn't until my business partner introduced me to Steem in late July that the practical applications of this emergent technology clicked for me.
Since then, I've been fascinated by the mechanics of the Steem blockchain, trying to understand how those mechanics come together to form a self-sustaining system, considering the implications of new mechanics to make that system more effective, and imagining what other forms of crowdsourced content it could be applied to, beyond social media and blogging.
For a social media platform, Steem sure has a whole lot of game behind it.
Personal
Hi Steemit! My name's Max Whitaker and I'm a Southern California-based online game industry veteran turned tech entrepreneur.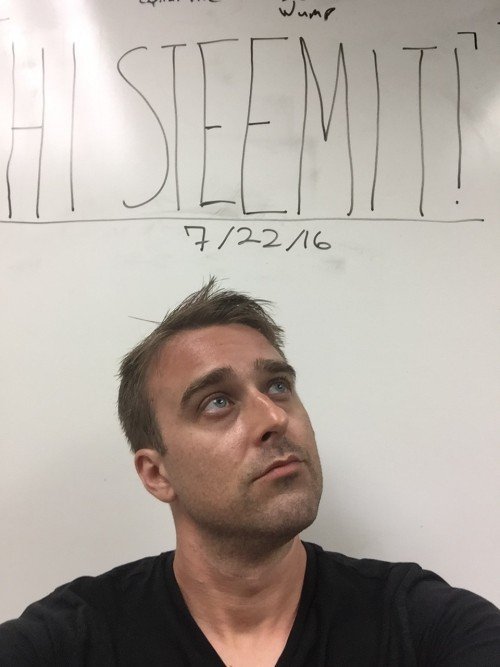 I hope you'll forgive the backdated photo. I've been meaning to make my debut on Steem for a while now, and the first thing I did was take my verification photo... and then sat on it until now. Regardless, I'm not exactly an online personality, so I figured the burden of proof for "some dude on the internet" wouldn't be very high.
I'm kind of a private person and I struggled with writing this more than I probably should have. The closest to "blogging" I've ever done was in the form of a few long Facebook posts years ago. I hardly touch social media these days, unless you count reddit, where I almost exclusively consume content, as opposed to creating it.
That said, don't expect this to be my last post. I'm a systems guy, both personally as a life-long hardcore gamer and professionally, in various roles. Steem is built on some revolutionary systems that I want to be involved in. I don't think I can do that in a meaningful way without also being a participant in the community, so I'll be forcing myself out of my comfort zone and trying to write content regularly. Hopefully it gets easier!
Professional
For the last year and a half, my business partner @jesta and I have been aggregating and contextualizing user generated content, in the form of e-liquid reviews, through our crowdsourced consumer research resource. Prior to that, I held roles in operations, development, and publishing departments supporting online social games, mostly MMOs, for almost fifteen years.
In that time, I've worked for large corporations (Electronic Arts, Blizzard, NCSOFT), but also did a five year stint in the start-up arena (K2 Network). I've worked on some market-defining projects (World of Warcraft, Ultima Online) and have been involved in some spectacular failures (The Sims Online, Hailan Rising). I've served as an individual contributor and have also led large teams, both local and remote.
To state it in no uncertain terms, I believe Steem is a game, albeit one with significant real world implications. As such, there are many relevant lessons to be learned from game development best practices. I believe the breadth of my experience affords me valuable insight into how to approach Steem and I look forward to sharing my thoughts with all of you in the future.
JuiceDB
My business partner and I believe the rise of the "gig economy" and the proliferation of crowdsourced review resources (Amazon, Google, TripAdvisor, Yelp) herald a future wherein businesses and service providers no longer control the narrative, and consumers can make fully informed purchase decisions.
The problem we saw, at least with crowdsourced reviews, is that the big players in the industry were less interested in accuracy than they were in profits for their shareholders. Even if they don't actively manipulate the content (or let their customers), their walled garden approach prevents the full scope of consumer sentiment from being fed into a single "machine."
We thought we had a meaningful alternative to the status quo coming together, even if it was a long hard slog with a small team in an immature (yet promising) market. Then the FDA came along and ruined everything. Our traffic was depressed, both in fact and in spirit, businesses were saying their goodbyes, and the diversity and variety of juice flavors we kept exhaustive records on were being threatened en masse.
We'd long talked about potential pivots into other markets, but pointing our technology at new subject matter was only part of the challenge (though still non-trivial), the hard part was building a community around the content and keeping them happy.
Then the Steem platform found us.
Steem
Steem may be a social media platform, but the underlying technology could be used as a powerful tool for aggregating all kinds of user generated content, including reviews. Never before has the power of blockchain technology been so accessible to the mass market, and we think it's going to be a game-changer.
We're committed to applying our combined experience in online games and web development to redefining the crowdsourced content model and we're moving onto Steem to do it. We want to empower creators and curators to weave their own narratives, instead of being taken advantage of, and misled by, organizations primarily focused on their bottom line.
We have audacious long-term goals; like being able to rebuild JuiceDB (and content-based sites like it) on the blockchain with tools we create. However, we also have more grounded and achievable short-term goals that we're excited to share with you soon.
So let's change the world, shall we?
---
Thanks for reading! Don't forget to Vote, Resteem, and Follow @paxmagnus if you like what you read and want to hear more from me.
You can learn more about my favorite topic (me!) via the links below. Unless you're from the future, some of them are still works in progress as I embrace my new digital lifestyle.