We have been following #wwf for a long time, since the release of the documentary 'Ungrip' directed by Ben: Stewart & Dan: Stewart
, and we followed him right to Steemit! The Steemit platform is exactly what I have been looking for to create socially responsible content, build community and earn a living based on our value.
My interests are:
Alternative Economy
Crypto Currency
Gardening
Health & Wellness
Learning & Writing
Love Experience/Indoctrination
Mental/Emotional Healing
Self Governance
Solutions & Sustainability
I am a budding writer with complementary skills to offer the Steemit community for barter or currency, including but not limited to:
Assistant
Beta Tester
Data Entry
Editing
Ethical Ad Copy Writing
Ghost Writing
Researcher
Starting with my blog I intend to create videos and develop projects like writing and publishing a children's book and building an earth-ship, to name a couple. The main focus that will nurture all my creations going forward are based in experiential Love, in hopes to give a voice and a platform to inspire critical thinking, discussion, debate and sound scientific investigation into Love.
The main resource I will point to, often, while I begin to build the basis of my work is the book ; FREEDOM: The End Of The Human Condition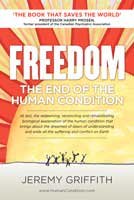 By: Jeremy Griffith
Jeremy founded the WTM, World Transformation Movement https://www.humancondition.com/ with 50 founding members who are dedicated to getting this vital information of the origins of humanity and the reasons for the human condition that is driving our mad dash towards extinction, out to the world. Armed with this information humanity can be more effective in all our ways in which we are working together to turn things around for the whole human race and our gracious host Earth!
Jeremy's work has been shunned and defamed by the mainstream science and media organizations for over 25years. Now a New South Wales Court of appeal unanimously ruled in favor for Jeremy and the WTM as told here in an excerpt from Freedom: The End Of The Human Condition;
Chapter 6:12 The great obscenity
pg.,244-245 para., 573
"In 1995, instead of attracting interest, debate and support, I and the WTM were so
ferociously attacked by the two biggest, left-wing (dogmatic, pseudo idealistic, 'let's
pretend there's no human condition that has to be solved and the world should just be ideal',
dishonest) media organizations in Australia, namely our national public broadcaster, the
Australian Broadcasting Corporation (ABC), and Fairfax Media, that I was made a pariah
in the Australian community and the WTM was completely marginalized. We endure
this situation until, after 15 long years of emotionally exhausting, and, for such a small
group, financially taxing, defamation actions taken by us (which, we've been told by legal
experts, involved the biggest defamation case in Australia's history), we finally managed
to right the extremely serious wrong. This vindication came in 2010 when three judges in
the New South Wales Court of Appeal unanimously found that the earlier 2008 lower court
ruling—which found my work to be of 'such a poor standard that it has no support at all from
the scientific community'—did 'not adequately consider' 'the nature and scale of its subject matter',
in particular 'that the work was a grand narrative explanation from a holistic approach, involving
teleological elements', and that other important submissions 'were not adequately considered by
the primary judge', including that the work can make 'those who take the trouble to grapple with
it uncomfortable' because it 'involves reflections on subject-matter including the purpose of human
existence which may, of its nature, cause an adverse reaction as it touches upon issues which some would
regard as threatening to their ideals, values or even world views'! (A documentation of this attack in
the Australian media and the subsequent court cases can be read at <www.humancondition.com/
persecution>.)"
FREEDOM-Front-Cover-134x200-WEB.jpg
I am excited to join the Steemit community in Love, Collaboration & Creation! Thank you.
Talk to you soon,
Nancy Dianna