Con Trazos y Versos, Me presento! With strokes and poetry, I introduce Myself in Spanish Mode!
Hola a toda la comunidad de Steemit!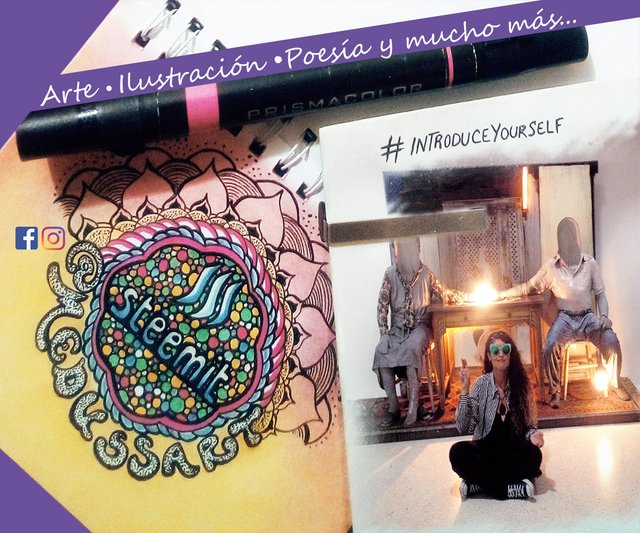 Como amante que soy de la magia, los cuentos y la fantasía... me presentaré así:
Soy una Alienígena, viajera del tiempo.
Mi nombre terrícola es Rocío y desde que tengo memoria siempre fui esa extraña niña cabezona, algo nerd, algo dark, algo fresita, algo contestona, algo silenciosa y muchos algos más. Pero lo que más brillaba en mi, era esa creatividad loca que no me dejaba en paz, era curiosa y me encantaba inventar, crear, diseñar cosas, aparte de mi amor por lo mágico, lo espiritual y esotérico, lo místico, lo pagano...siento que nací con un lápiz y un papel en la mano, pasé toda una vida coloreando y leyendo cuentos... Al principio fue difícil darme cuenta que esa era mi vocación, siempre giraban mi cabeza hacia otra parte hasta que una mudanza inesperada que me causó mucha tristeza y estudiando contaduría, allí me di cuenta que el arte, lo creativo era lo que me apasionaba y que siempre estuvo allí conmigo ... Estudié Diseño Gráfico, pero la magia de la ilustración y el dibujo tradicional es lo que me fascina !!
QUIÉN ES MEDUSSA ??
Es una anécdota graciosa, todo comenzó en la universidad, mis amigos me comparaban con la Gorgona de la mitología griega porque mi cabello es largo y rizado y parecen serpientes. Y me encantó tanto que profundicé en ello y me cree una especie de alter ego místico y muy alienígena ...y por ahí se va al infinito y más allá.
CÓMO LLEGUÉ AQUÍ?
Hace un tiempo mi hermana me comentó al respecto, por ciertos detalles técnicos se me olvidó para siempre hasta que sin esperarlo, ni pensarlo, gracias a @danielvehe , todo ésto salió a la luz nuevamente.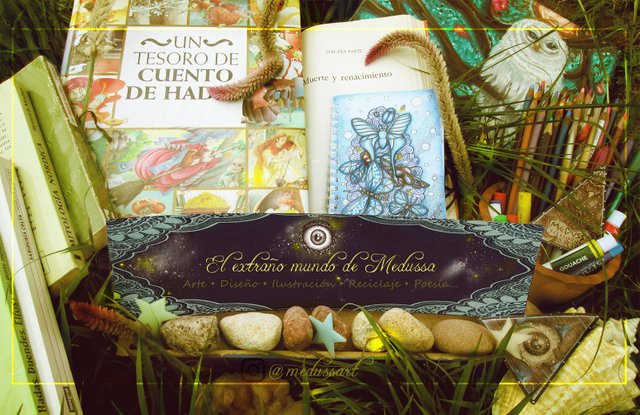 Y dicho y hecho. Es un placer presentarles mi nuevo blog, mi nueva morada, otro espacio grato y ameno para compartir con todos ustedes mi mundo, mi pequeño aquelarre creativo, a veces ambigüo, oscuro y al mismo tiempo colorido, con un poco mucho de locura, alegrías, nostalgias y melancolías con altas dosis de grafito, pinceladas, acuarelas, anécdotas inesperadas, onirismo literatura y poesía... Así he vivido siempre desde que era muy pequeña, entre este mundo terrenal y mi pequeña gran burbuja llena de dimensiones paralelas, llena de cuentos, de fantasmas y extrañas ocurrencias.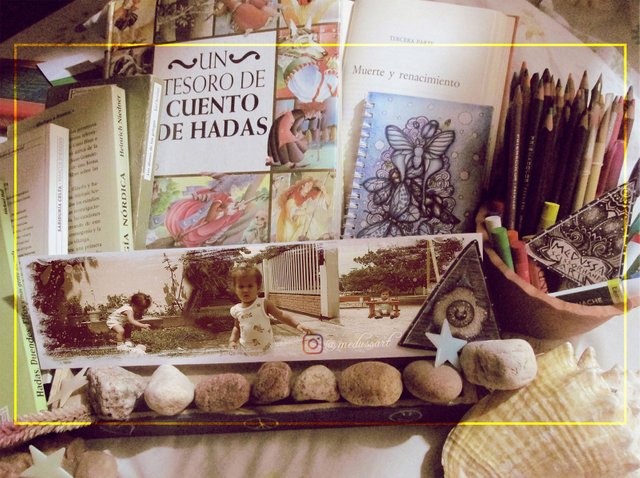 Bienvenido a mi extraño mundo
A mi dimensión desconocida
A mi pequeña gran burbuja
Galáctica, iridiscente
A mi pequeña gran luna de mil fases
A mi pequeño gran planeta
A mi constelación de infinitas estrellas
Donde la magia,el misticismo,
La inocencia del alma y el espíritu,
De lo cuántico,lo esotérico,de lo claro
y oscuro del universo
Orbitan y fluyen como mareas en éxtasis de luna llena
Por todos mis centros de energía
Desde lo dorado y cristalino de mi corona
Hasta mis raíces rojo fuego
Que penetran y se ramifican
En el corazón de mi madre tierra
Desde que era muy pequeña
Y mis manos y mis dedos
Danzaban con el viento
Cual brújula que gira y gira incansable
Tras la ruta de sueños y puntos cardinales
Explorando las rarezas y aquel mundo desconocido
Escondido detrás de cuentos de hadas
Onirismo, animales,naturaleza y aquellas cosas oscuras y paranormales...
Sí, bienvenido seas a mi extraño mundo espacial
A mi tótem,a mi copa,a mis ramas,a mis hojas
A mi tronco,a mis raíces de árbol ancestral
De India, de blanca,de negra,de sangre
y corazón de Asia.
Bienvenido a mis mares
Donde convergen culturas infinitas
Melancolías y nostalgias...
Bienvenido a mi personal lucero del alba
Oculto en papeles,trazos,puntos, pinceladas
Oculto en el recuerdo de poesías y objetos viejos,
En la magia de mi lápiz,colores,tintas y acuarelas...
Bienvenido a mi fuente, a mi oráculo de verde
y dorada savia, a mi frecuencia,
A la bitácora del destino de esta creativa,
Onírica, fantasmal
Alienígena,viajera del tiempo...
Medussa Scissorhands ©
---
UNA ANÉCDOTA INESPERADA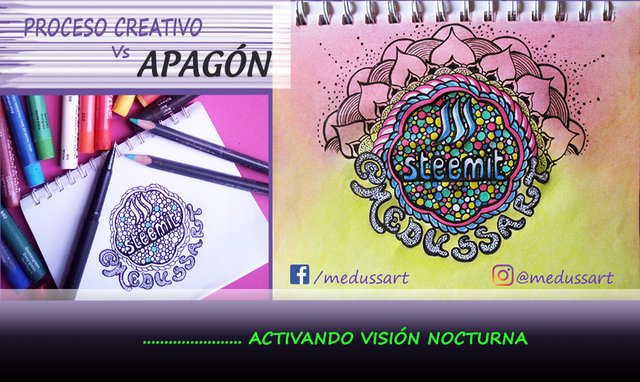 Y de pronto durante mi proceso creativo, intentando terminar todo rápido, un trazo por aquí y otro por allá y boom.... APAGÓN!!!
Tipo Normal!! sólo disfrutar de ese silencio y esa calma que tanto me gusta, mientras poco a poco la luz natural se despedía de mí, y como yo amo tanto a los búhos, que es incluso mi animal espiritual, quise invocar su visión nocturna pero no qué va, el embrujo (la linterna de mi smartphone) no me funcionó por mucho tiempo jajaja... Así que como oso tuve que hibernar ...
Un gran saludo a todos !!!
Luego les muestro un poco más
Aquí en mi pequeña cueva steemianística: @medussart
.
.
.
https://www.facebook.com/medussart
https://www.instagram.com/medussart