Makers for Humanity are dedicated change-makers with different skills and backgrounds, co-working for humanitarian solutions, culture and concepts.
"M4H" are an umbrella group for Makers and Shakers to cocreate a caring-sharing community.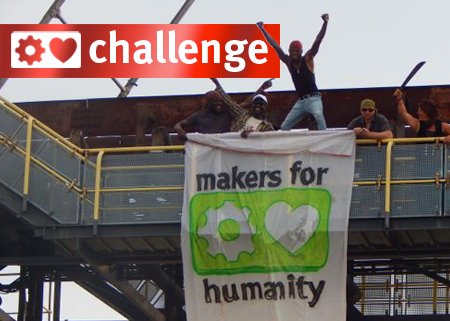 Each m4h-partner works on his/her specific field and area to improve their local situation and that´s the best way for communal impact. The m4h collective and platform presents and networks these change makers and their best-practise samples and furthermore provides cooperative tools and media to enable and support interdisciplinary projects.
Everyone is invited to join in!
Makers for Humanity sind engagierte Change-Macher mit unterschiedlichen Fähigkeiten und Hintergründen, die an humanitären Lösungen, Kulturprojekten und Konzepten mitarbeiten.
"M4H" sind eine Intiative für Macher und Shaker, um eine Caring-Sharing-Community zu schaffen.
Jeder m4h-Partner arbeitet auf seinem spezifischen Gebiet und Bereich, um seine lokale Situation zu verbessern und dies ist der beste Weg für die kommunale Wirkung. Das m4h-Kollektiv und die Plattform präsentieren und vernetzen diese Veränderer und ihre Best-Practice-Beispiele und stellen darüber hinaus kooperative Werkzeuge und Medien zur Verfügung um interdisziplinäre Projekte zu ermöglichen und zu unterstützen.
Jeder ist eingeladen mitzumachen!