How the lessons learned by this "old dog" survivor and freedom lover will lead to success on Steemit!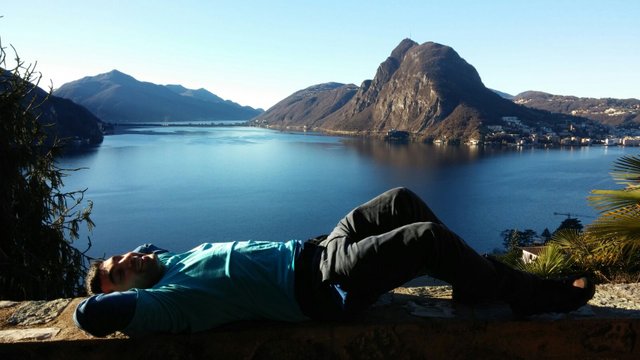 One of my "boys" taking a break at the job site! Check out the other great photos at the end of this article!  
Can an Old (Entrepreneurial) Dog Learn New Crypto Tricks? Part Two
In part one of this series I explained my struggles to make a living or "get money" from the age of 8 right up until a life altering change saw me leave the big city of Toronto and end up in tiny Ticino in the southern part of Switzerland at the age of 35. Here I was unemployed, about to become a father for the first time and in a country where I didn't speak the language! Yikes…. was I nuts or something! The fact is that after spending pretty well my whole life being self-employed and hustling to make a buck I actually wanted the safety net of a "real job", but there were none to be had! The realization that I'd have to hustle my way to an income in a new country, in a language I didn't speak, and with laws that I didn't know or understand had me scared stiff, especially since my savings were dwindling away quickly. What was I going to do? Through my wife I was given a so-called "B permit" which at the time meant that I was very much under the control of the Swiss "foreigner police". They informed me through an interpreter that I could work as a self employed person……. but only doing cleaning work!     
Lesson Learned: Be humble, have fun and get to work!  
  Window cleaning is not the most prestigious of jobs, especially after many years in the design field, but I was desperate! I needed the money and I needed it now! I had a friend in Canada who had built up a fairly large business in window cleaning and he taught me a bit about the ins and outs of that line of work. I told myself "be humble, have fun and get to work".  I decided to channel my inner child and I reflected back to the time when I was 8 years old and made "cold calls" in the neighborhood in order to get lawn cutting and snow shoveling work. My background in design helped me to create some flyers and my wife translated my sales presentation into Italian for me. In one month I made over 1,000 cold calls (without knowing the language) and left an offer and price to clean the windows for all of these places on a regular bases. Believe it or not after a few short months I had enough work to look after my family and just a few months later I had too much work for one person and it was time to expand.  
Lesson Learned: Help other people and take the time to enjoy your surroundings.  
  I've now been at this for over 20 years and after I had enough income to make a living I realized that the desire just to make more money was not a motivating force for me. What was? Several people that needed work heard about me and one by one I trained others and added them to my team. I have discovered that when my focus is to help these individuals to have a job working with a nice team I am blessed financially. I tried to select only like minded individuals, honest people that wanted to make reasonably good money but still have time for other passions and interests. You see, for the most part, we work in the morning up until about noon or so and then all of us have what I've also always desired…. freedom! I'm free to do other things and to pursue one of my new hobbies, interacting with you here. The other members of the team are free to pursue their interests. There are now 14 of us doing this work and following the formula of hard work, imagination and helping others it has lead to a lot of success and some cool experiences. Just a few months ago I sold off 25% of my customers and this has given me some seed money to pursue other projects.  
Cool Experiences: When you work outdoors in a beautiful area it's like being on vacation!   
The area that I live and work in is fabulous and thanks to marketing that now consists almost exclusively of word of mouth we can hand pick our clients and as you can see from the photos we have some unbelievable customers.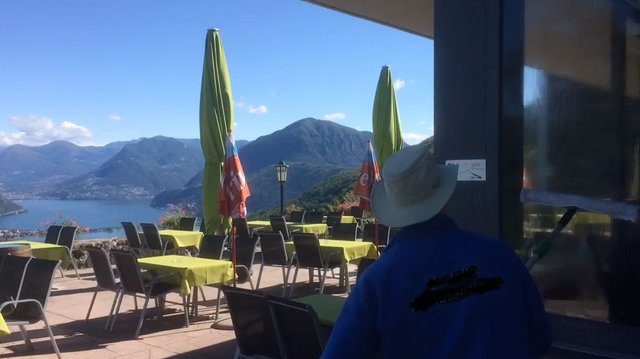 This is a caffè where we wash the windows! All the "boys" fight over who gets to do this place!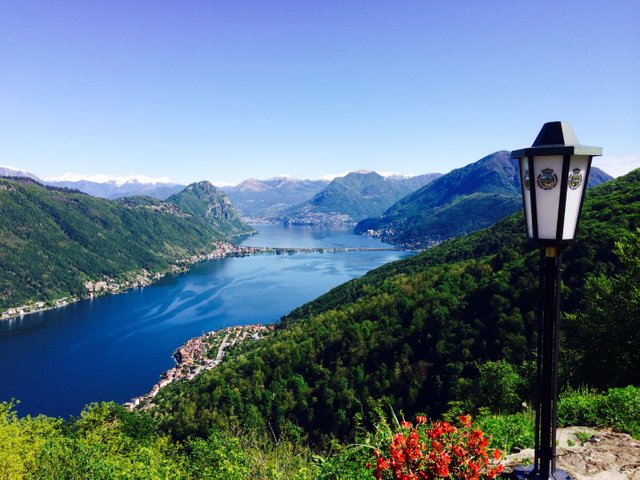 This is the same place as above. After the job we always stop to drink a coffee on their terrace and guess what? We don't even pay for the coffee. Our nice clients take care of that!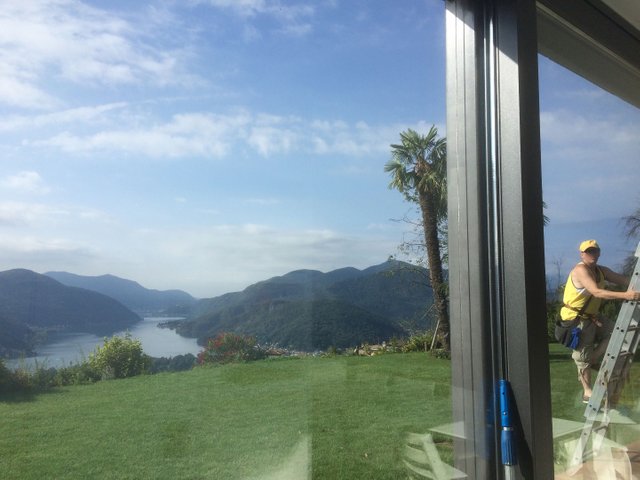 This is a view from a private house that we do which is on another branch of the same lake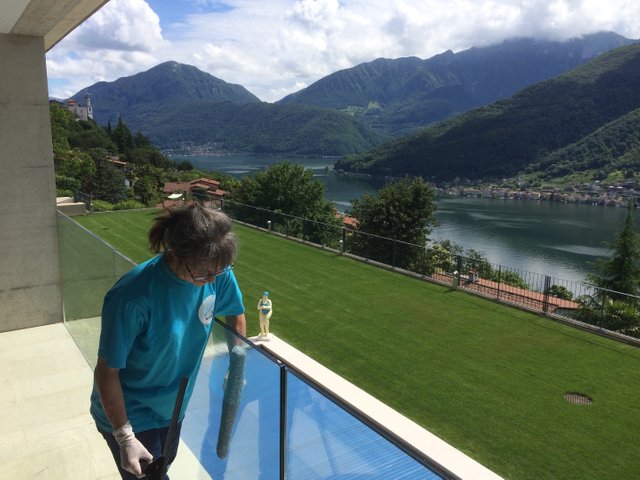 Another branch of the lake and another home that we do. Can we really call this work!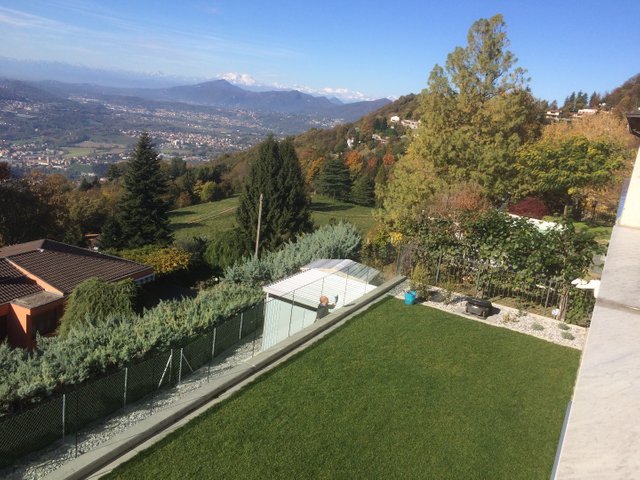 This is a job in my own little town. You can see the Matterhorn in the background!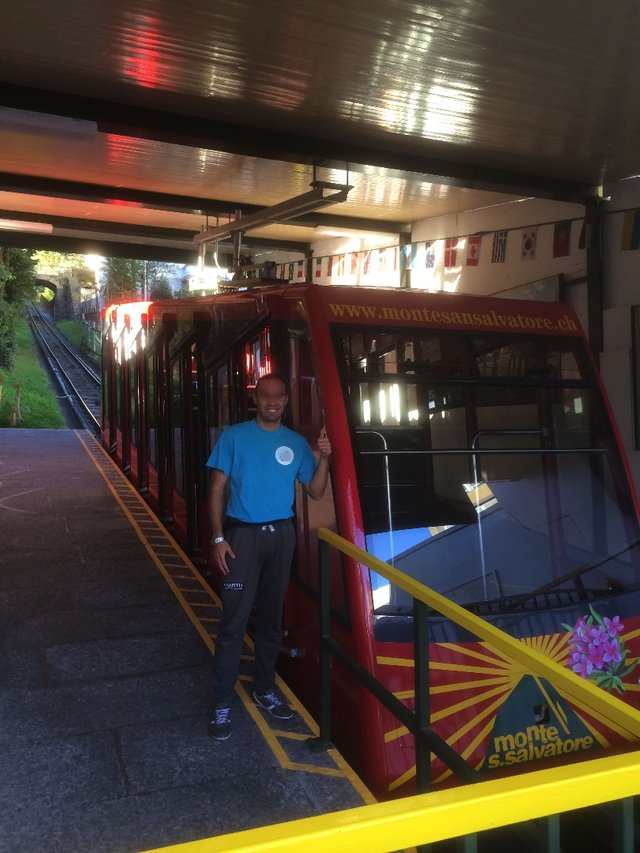 Some of the stuff that we do is really wild. We have to take this cable car to the top of a mountain to do the job that you see below.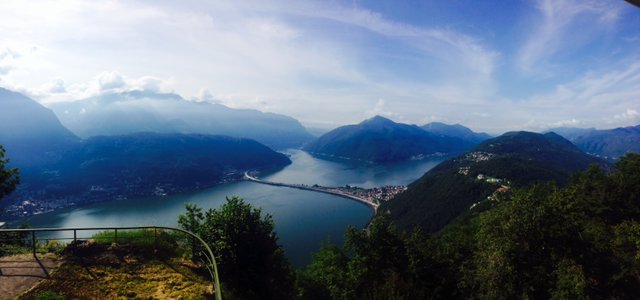 This is a view from up there!
How will all of this Translate into an Old (Entrepreneurial) Dog Learn New Crypto Tricks?  
Well, this old dog needs to move on. It's time to start getting ready to move over to another adventure. The crypto world and Steemit blogging here with you. Can I actually make a living doing this? I've started slowly to be sure but watch as my efforts pick up Steem. My philosophy will remain the same: work hard, try and help others and add value here by contributing good quality posts and comments. I've got so many ideas that my head is exploding.  The main thing for me is catching up tech wise so that my creativity is not hindered by a lack of know how! Don't worry though this old dog will get there! I hope to help you as well by up voting and following you on your journeys.
Please be on the look out for my next post where you'll see one of the many ideas that I have! I'm pumped!
I wish you blessings and success,