Hi everybody,
I am Khoa. I am a Vietnamese developer, a guy who loves running startups and support startup ideas. I have some other channels which I wrote mostly about experience, technology, lesson I've learned from failures and success in my life. You can find my main Vietnamese blog here: https://excitingthing.com/vn
This is me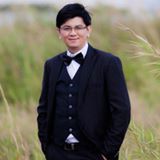 (A photo before my wedding :))
I found Steemit when researching about crypto currency and blockchain. I've figured out it's a great idea that can bring big values to the creative content industry. I start using Steem as a new channel to write about what I have learned about crypto investment + ideas that I want to do with the blockchain technology behind.
Honestly, I cannot say that I am a great investor. I am not a business guy or a shark on the market. I am just new investor that starts playing crypto currency investment by holding strategy. However, as I am a developer - I always try to use all of tools / technologies / technical experience to make sure that I have enough information to make decision :).
Starting from the next article, I will share what I would recommend for everybody if you are a fan of holding strategy or want to play crypto currency like Warren Buffet does with stock :)
Cheers!