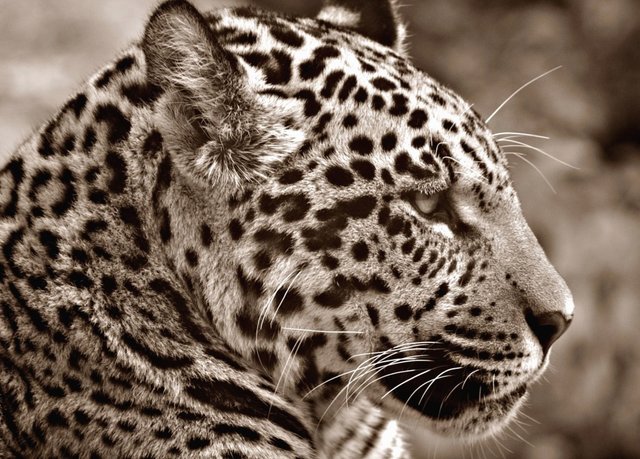 The jaguar is an animal considered the largest feline in the Americas, despite preferring rainforests as its habitat it can adapt to a variety of open or forested terrains, it is associated with the presence of water, knows how to swim very well and likes it. Typically solitary, hunts by setting up ambushes and stands out for this ability - which is considered incomparable in the animal kingdom by both aborigines and researchers - as well as for its stealthy gait and speed, it stalks its prey before attacking with a rapid jump normally from a hiding place located in its target's blind spot. This animal has a very powerful bite in comparison with that of other felines that is capable of piercing carapaces like those of turtles and uses an uncommon method to kill which consists of attacking directly to the head between the ears to penetrate the skull with its fangs, reaching the brain.*
This opportunistic hunter probably acquired all these skills as a result of his role as a predator in its environment. The jaguar is a "keystone species" for the stabilization of the ecosystem in which it lives, as a predator that has a widely varied diet of more than 80 different species this feline regulates the population of the species that it captures thus contributing to the balance of said ecosystem. *
In this sense, Steem can be considered as an ecosystem formed by a community of living beings (users) and the virtual environment where we interact (the platform)*, Steem is then a unit composed of interdependent users who share the same platform. Now, in every ecosystem there must be a balance that is possible thanks to the "keystone species", whether or not they are top predators that are at the apex of the food chain, since they regulate the population of minor species; and we consider that in Steem the balance has been lost due to the already overflowing existence of serious abuse within the platform since there is no "keystone species" that regulates the population of plagiarists and other abusers through what we would call hard or deep cleaning.
@Jaguar.Force wants to give Steem that balance back and generate a relief that allows the growth of and gives greater visibility to the users who live within the platform that do not represent a threat to the health of this ecosystem. This brings many benefits by keeping Steem as a healthy ecosystem where the proliferation of original content is more likely as well as the investment by entrepreneurs/VC's who can see the full potential of Steem even beyond blogging. We want to be a "keystone species" and an apex predator at the same time, the best at what we do.
Jaguar Force offers an independent, plagiarism/abuse deep cleaning service through the detection, monitoring and neutralization of abusers within the platform, we provide open source intelligence* derived from systematic hunting and patient reconnaissance, not unlike a Jaguar in a jungle.
Once the abuse is detected, it is reported to @steemcleaners and/or the client that has requested the service, and from there on a permanent and detailed monitoring is done in order to avoid recurrent abuse. A report will be published periodically with intelligence to be shared with the community in order to show our achievements, reach, professionalism and thus get support from users and projects that value our capabilities.
Jaguar Force is a venture that seeks not only to be born but also to grow as an organization and position itself strategically within Steem, as well as we hope in the future to reach other territories. We are a team made up of users who believe in STEEM, beyond the monetary benefit that it can bring us what motivates us is also a sense of duty and justice we have acquired during our user experience on this platform. We will be sharing with the community our ideas in relation to our activities here and in our soon to be created Discord server. In this way, we hope to have the presence and support of all those who believe in STEEM as much as we do and will do as long as the platform exists. We will demonstrate, as was said at the beginning, how well the jaguar swims and how much it likes it.
Onwards,
The Jaguar Force
@ailindigo Team Leader
@guiltyparties SteemCleaners Liaison