What would Steem's trending list look like if it weren't full of promoted posts? That's a question that finally can be answered.
Introducing just another Steem Frontend but with a twist
Let's first step back and think what Steem blockchain offers us; a database that enables social interaction with built in reward mechanism between users.
Now, databases can be utilized in many different ways, you can shuffle the content order how you like and reshape it.
Yet we've only seen, to my knowledge, more of the same. Steemit.com, busy.org, partiko, esteem - yes, they all look a bit different but at their core they display the same content, in the same order - because all they follow the same rules.
But for as long as I've been on Steem, there has been complaints of what content gets to trend here. Perhaps it's time to offer an alternative?
The problem
Too much SP is in the hands of too few, simple as that. Whales possibly couldn't do a good job at curation even if they wanted to, there's just not enough time. And that's even before we add promotion bots to the picture, these days it's almost impossible to get to trending without promoting your post or if you aren't already in the know of some whale.
And that's something I'd really like to see change. Luckily I know a bit of web development and I have started to actually built something I'd myself want to use; something that also could be shown to others, outside of Steem ecosystem, that could display them the quality content that is produced here by people just like them, proving that proof-of-brain truly is alive and well on Steem blockchain.
Now I have to warn you
My project is in a very early phase but I'd like to show it to you all even in this state to get discussion going as I'm building this service for you, who wants to see quality content and also have a chance to get seen by others like you as well.
How the site works
This is all work in progress, when it comes looks especially. So keep that in mind as we move on.
Landing page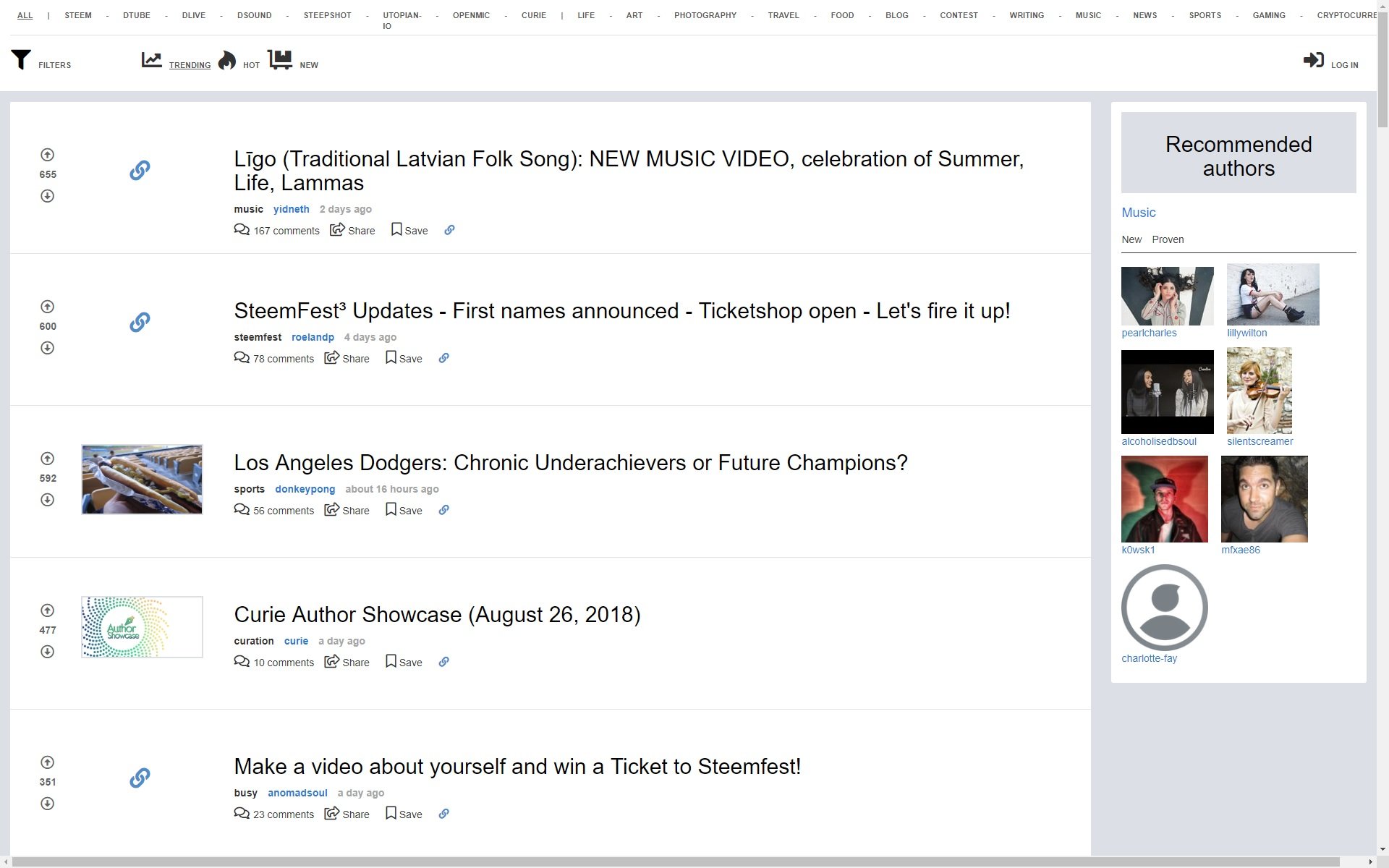 Not very colorful, I know. But what you're looking at is the frontpage, the trending content of Steem or should I say, alternative version of it. By default you'll only be shown content that hasn't been promoted or isn't from someone that is in favor of a whale. In future there'll be more sophisticated ways on how to determine that, but that's for later.
At top you can see the most popular tags for easy navigation and also quick way to see content from most popular Steem apps like Dtube and the likes with few community projects added in also like #openmic. Shoutout for @luzcypher, you're doing a great job!
And at right side you can see "recommended authors" element, it will in future display recommended authors from all of the popular tags so new users can quickly find good quality authors to follow within their topics of interest. I think the best route is to keep this section manually curated by group of individuals that'll hopefully be volunteers.
What is new also is the filters item at top left. Clicking on the icon disables all the filters that are on by default and clicking on filters text itself opens up the options for filters. So it is just matter of seconds to switch between normal and alternative listing method.
Everything else you can see in this view is basic and already familiar to normal steem and social media users.
Filters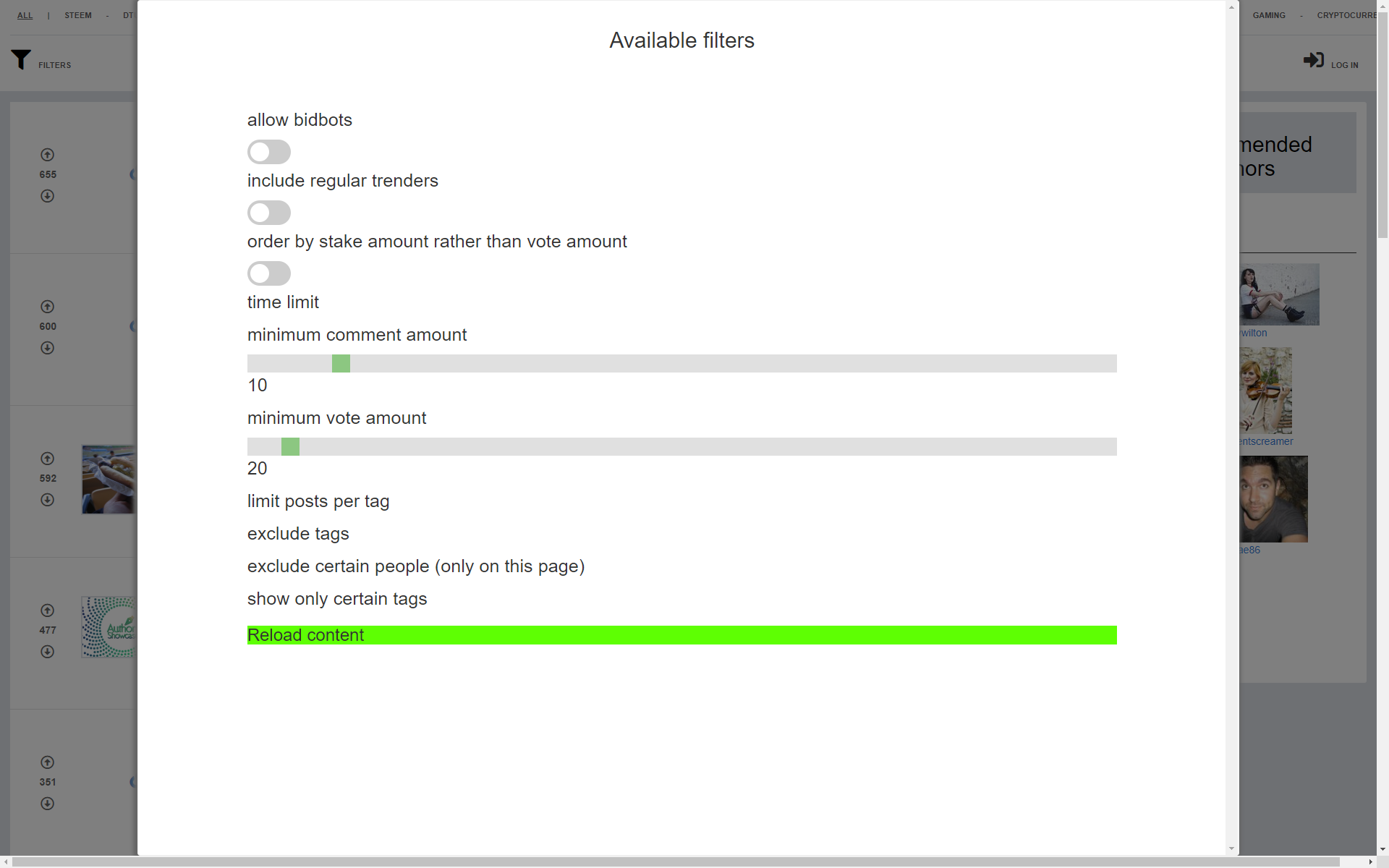 Not all of these work yet, but it gives a glimpse to the future that might be.
"allow bidbots" works (By default user doesn't see promoted posts)
"include regular trenders" works (By default user doesn't see "old regular trenders" that are in favor of whales)
"order by stake amount rather than vote amount" works (By default the 20 post batch get ordered by vote amount rather than stake behind them - this means SP still holds most power but isn't the only factor)
"minimum comment amount" works (How many comments are required for a post to be displayed)
"minimum vote amount" works (How many votes are required for a post to be displayed)
The rest are still under work and consideration.
Outro
If you want to try the prototype yourself, you can do that here: https://steemfrontend.herokuapp.com/index.html
Currently you can only view content on the site but as the main point really is to offer a totally different experience when it comes to consuming content on Steem I felt it's best to show this as early as possible to help shape it up to the best service it can be through your feedback!
Steem can be used in so many ways, there's just not the one and the only way. We all need to start testing waters on what works on attracting mainstream to our blockchain as that's what we need in order to survive. If it's not Steem, it'll be some other blockchain. Hopefully you show support to those who are trying to make that happen, thank you.
People who might be interested in providing feedback or just checking this new addition to Steem ecosystem: