Hello Steemit, I am GUY FAWKES: Soldier, Revolutionary, Immortal

My Genesis:
I was ushered into this world in 1570, but for the sake of this introduceyourself post I want to focus on my most formative event which took place during the 11th year of my life. At this time, Edmund Campion a Jesuit Priest, a man of God, who had been courageously maintaining an underground ministry in Anglican England was discovered by a spy for the English authorities named George Elliot who worked for Robert Dudley, 1st Earl of Leicester as a Priest Hunter.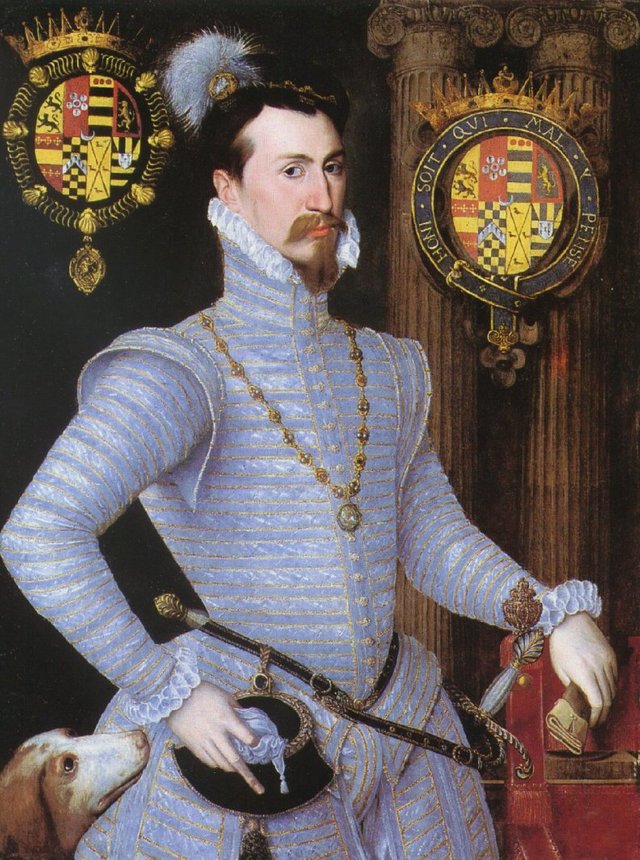 Robert Dudley, 1st Earl of Leicester
The Priest Hunter
But one should not confuse him for a righteous or divinely inspired man. Elliot's primary occupation was as a confidence man who in his free time was known as, for lack of a more grandiloquent term, a rapist. But not a murderer! At least not a convicted murderer. The Earl recruited Elliot, encouraging him to find and turn in recusants (Catholics who refused to convert to Anglicanism) so as to ingratiate himself with the Royal Council and hopefully earn a more lenient sentence. As you can imagine Elliot took to this new vocation with an ironically pious zeal and fervor.
By the time the events which had such a formative impact on my psyche occurred he had already betrayed two Catholic Priests in Oxfordshire. From there he moved on to the only other Catholic house he knew of called "The Grange." Elliot, an opportunist if there ever was one, had formerly been a Catholic and worked as a servant nearby during that time. For this reason the cook at The Grange trusted Elliot completely so that when he appeared one dark night to attend their secret mass, the cook was able to gain entry for Elliot from the lady of the house, a Mrs. Yate, whose husband (along with countless other Catholics) was imprisoned at the time for his own recusant behavior.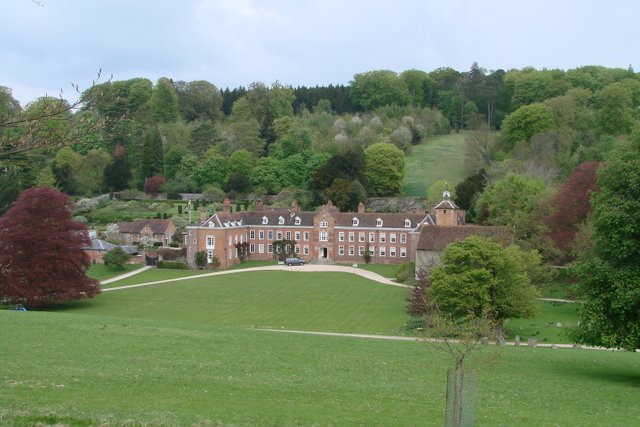 The Grange, a/k/a Lyford Grange
While most in attendance would never forget the heart-shaking sermon, laden as it was with pathos and premonition, Elliot would remember it for another reason completely, for he had unearthed the famous Edmund Campion, author of The Ten Reasons for being Catholic a full-throated denunciation of the Protestant faith. He had unearthed one of the Catholic faith's so-called "diamonds of England." The wandering vagrant. The seditious Jesuit.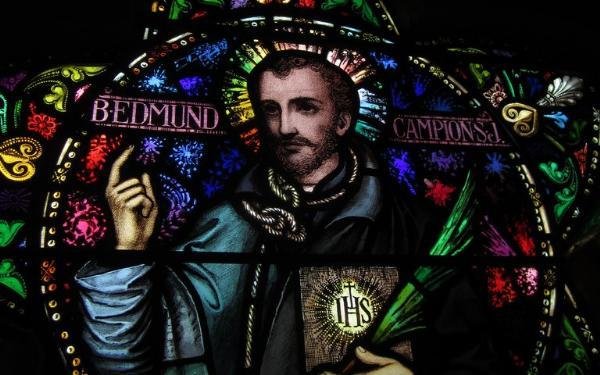 Edmund Campion
The Priest Hunt
After the sermon Elliot had his Royal agent retrieve the local magistrate and 100 reluctant yeomen to search the premises for the Catholic priest and his cohorts, who unfortunately for Elliot, were now missing. Every inch of the house was searched, but not a priest was found. Just as the search party was beginning to disband of its own accord, Elliot issued forth a Warrant which he claimed conveyed the right, nay the DEMAND that the walls of the residence be demolished.
What he failed to realize, however, was that one brave local, disgusted by the evil he was being forced to commit against his neighbor and positioned such that he could SEE the warrant, informed the crowd that the warrant did not, in fact, convey this order. Unfortunately he did not know the depths of depravity to which Elliot would sink to preserve himself and his only hope for acquittal. Elliot branded him a Catholic sympathizer and had him arrested on the spot. That was the end of any resistance to the plan to demolish the walls of The Grange. But despite working well into the night, the Priests were never found, secreted though they were within the very walls of the residence which were being removed.
Mrs. Yate, ever the hostess, provided the Magistrate and his underlings (over 60 strong) with a fine supper and enough wine to drink themselves unconscious. Only God knows why, but at this point--when escape was most feasible--Mrs. Yate requested a sermon from Campion who, ever ready to preach the gospel to anyone willing to listen, exited his hiding space to grant his hostess' wish. Though they were able to return to their secret locations after the sermon, their activities attracted the attention of Elliot who discovered a wall that they had not yet opened. And so it was that George Elliot--Con Man, Rapist, Murderer (alleged)--discovered Edmund Campion, the underground Priest who had been traveling Protestant England preaching to Catholic families in open defiance of Anglican law.
Edmund Campion, author of The Challenge to the Privy Counsel within which he openly confessed to being a priest of the Catholic Church but one who was forbidden to deal in any respect with matters of the state or policies of the realm. He merely wished to discuss ideas with the Counsel as well as Doctors and Masters from the preeminent Universities, so convinced was he in the power of his arguments. He even wished to go before the lawyers of the land to justify his faith based on the common wisdom of the laws both in force and in practice. He claimed his evidence was so impregnable that no living protestant could maintain their doctrine in disputation. "The better furnished they come," he wrote, "the better welcome they shall be."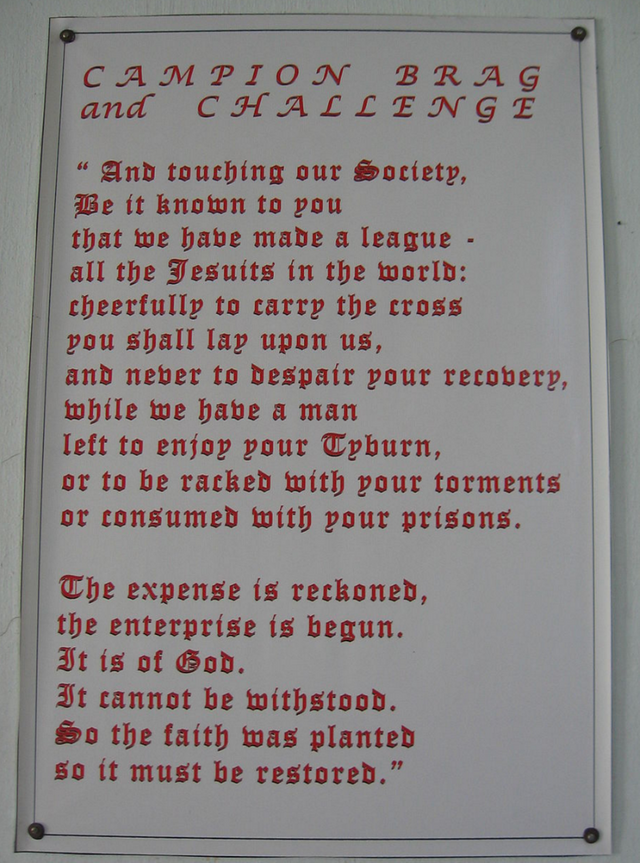 For these words, for these intellectual claims and peaceful proclamations, the Lord Chief Justice Wray found the priest and his companions guilty of treason and so ordered them to be "drawn through the open city of London upon hurdles to the place of execution, and there be hanged and let down alive, and your privy parts cut off, and your entrails taken out and burnt in your sight; then your heads to be cut off and your bodies divided into four parts, to be disposed of at Her Majesty's pleasure. And God have mercy on your souls." This was a judgment their God would sanctify?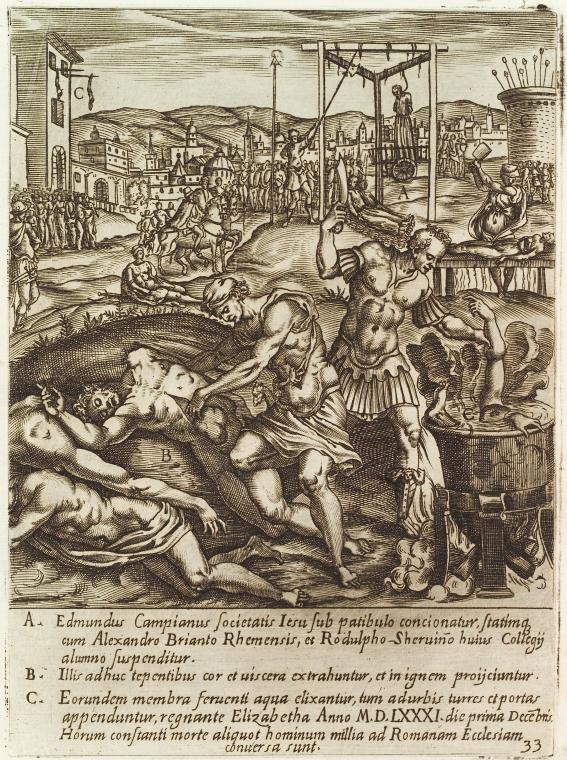 I learned of this tragedy in all its gruesome detail at the impressionaly age of 11. This is how the holiest of my people were treated by the government of England. A government built by proud Catholics. Now that you know this about me, would it really surprise you to learn that the instant I was able, I sold all my belongings and went to fight with and for my people on behalf of Catholic Spain against the Protestant Dutch in the 80 Years War? That when I was finished there and returned home only to find that things had gotten WORSE, not better, that I was willing to participate in a conspiracy to demolish Parliament, the locus of a brutal and barbaric regime that was trying people for their religious beliefs and sentencing them to imprisonment, death, and to be rended limb-from-limb? Finally, should it come as any surprise that for my crimes I was met with the very same fate as Edmund Campion?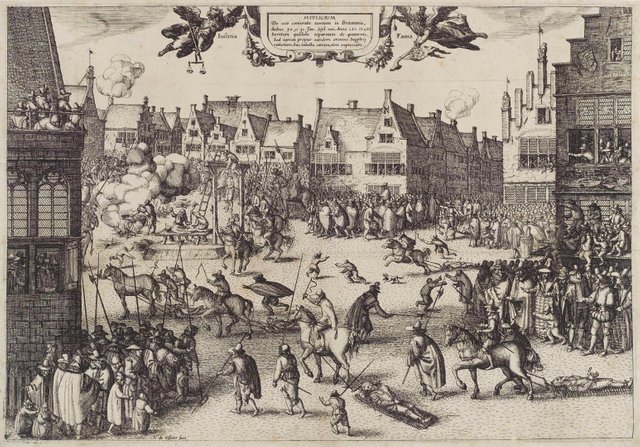 I'm sure you have many questions. So do I. How did I get here? Why am I still alive? I hope to cover these all in good time, assuming I am permitted. For now I hope it suffices to say that I have been biding my time--searching for the proper medium. A medium through which I could communicate with others without risking once again being a victim of brutal oppression, torture, and murder by authorities. I believe I have finally found that medium.
- GF