SEER : Bounty Campaign (Millions of SEER tokens) and Global Recruitment Plan (with $36,000+)
**SEER -- A project listed on Bitfinex + Support from Government of Hainan Province, China**
Introduce yourslef below to reserve the activity, welcome!!
** Bounty Campaign (Millions of SEER tokens) and Global Recruitment Plan (with $36,000+)**
** Campaña Bounty (Millones de tokens SEER) y Global Recruitment Plan (con $ 36,000 +) **
**バウンティキャンペーン(数百万のSEERトークン)とグローバル採用計画($ 36,000 +付き)**
** 바운티 캠페인 (수백만 SEER 토큰) 및 글로벌 채용 계획 ($ 36,000 +) **
** Кампания Bounty (Миллионы токенов SEER) и Глобальный план набора (с 36 000 долларов США +) **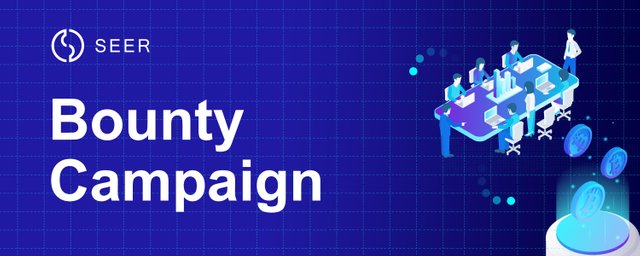 After reading the introduction article -- SEER: A Unique Prediction Project in Blockchain World, lots of readers are interested in this project. However, this article is written in English, we want it to be translated into other languages ( such as Spanish, Japanese, Korean, Russian, Hindi, Indonesia, Vietnamese, Filipino and so on ) so that more people can understand SEER better. As a result, participants themselves will have a better understanding of a promising project.

Rewards:
1、The final winner for each language will get 10,000 SEER tokens, there will be only ONE article accepted for each language.( SEER is tradable on Bitfinex, the world's largest cryptocurrency trading platform. )
2、Any participants who joined the activity with the translated article unaccepted by SEER investment representative team will get 200 SEER tokens as Participation Award.
Rules:
1、All the participants are required to join SEER official Telegram group: https://t.me/Seer_English_Group
2、Reply the post as followings to reserve the right to join the activity:
 My Telegram username:
 My task: translate Englisn into ( the target language )
 My ETH wallet address:
3、The words in pictures also needs to be translated.
4、Questions about the transaltion campaign or quesitons about SEER, feel free to ask below, we will reply you as soon as possible.
5、To avoid copying articles from others or translations by google, please send your translated article to [email protected], if your article is chosen to be the final winner, it needs to be resteemed to your steemit account; if the article is copied from others or translated by google, all the bounties will be disqualified.
6、The quality of the translation will be judged from many aspects inclueding( but not limited ): level on steemit, judgements from other participants, suggestions from professional translation angency, etc. SEER investment representative team has the right to decide which article to be the final winner.
7、Tokens will be sent to participants after campaign within 7 days.
8、SEER investment representative team has the right to publish the translated article.
9、Terms and conditions can be adjusted if it's needed.
10、Apart from Translation Campaign, we have other campaigns coming soon, including Twitter Campaign, Facebook Campaign, Steemit Campaign, Forum Campaign, Telegram Campaign, and Content Campaign, etc. What's more, we have a Global Recruitment Plan, don't miss it.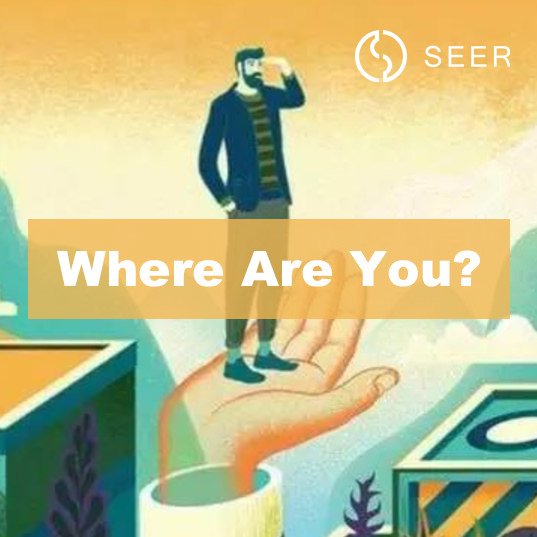 **Global Recruitment Plan: Recruit 10 Community Managers Worldwide**

**Responsibilities**
1. Create chat group and invite community members with 300 to 500 people
2. Write articles about SEER and share them with the community
3. Answer questions asked by community members
4. Organize online activities ( there will be sperate budget for activities )
5. Organize offline meetups
**Requirements**
1. Blockchain enthusiasts
2. Creative thinking and excellent communication skills 
3. Have enough time to manage the community
4. Being kind and patient to community members
**Salary**
1. $300 value of SEER tokens per month
2. After every 3 months, $50 will be added to the salary; when the salary reaches $600 per month, there will be a face to face interview to select core managers.
3. There is no salary limitation for big contributors: excellent candidates that have the ability and resources to make great contribution to the construction of SEER community can negotiate the salary with SEER investment representative team.
**Bonus**
1. Excellent community managers can interview team leaders or members
2. SEER will share the story of excellent managers in the weekly report
3. Free gifts with different kinds of themes
4. Free air tickets and activity tickets to attend blockchain events worldwide
**If you are interested in the position, please send an e-mail to [email protected] with the following materials:**
1. Your resume;
2. Your Linkedin profile;
3. Your self-introduction video;
4. Your understanding-video of SEER;
5. What achievements you will reach in the first month of being a community manager of SEER;
and all the other materials which prove you are better than other candidates for this position.
Cheers and good luck to all the participants!!
 Interested in SEER? Want to talk with bright minds in SEER community?
Don't hesitate to join Telegram English Group: https://t.me/Seer_English_Group