HEY STEEMIT - WE ARE D.tube Forum! | NICE TO MEET YOU!
Hey, Steemit community!
Today I want to present you D.tube Forum | Barcelona 2019

After more than 3 months posting about this project on @dtube, with almost daily videos about the event and the ongoing planning, today we want to present us to the Steemit community outside of D.tube. So today we are bringing you out first written post. I hope you enjoy it and we hope to engage with more Steemians outside of the @dtube community.
WHAT IS D.tube Forum?
The D.tube Forum is a worldwide meetup for everyone interested in content sharing on the STEEM blockchain.
The focus is on @dtube, the STEEM dApp for sharing video content and every creator who is passionate about filmmaking and vlogging.
But our doors are open to anyone from the STEEM blockchain and even to people outside of STEEM.
Our aim with this event is to provide a platform for everyone interested in social media based on STEEM.
WHERE IS D.tube Forum?
This year 2019 the first D.tube Forum will take place in Barcelona / Spain.
The goal is to continue this event every year with changing locations all over the globe.
WHEN IS D.tube Forum?
This year 2019 the event will be from the 17th of May until 19th of May, 2 weeks from now.
So you have still a great chance to book your flight and accommodation to attend this event.
WHO WILL BE AT D.tube Forum?
We have a wide range of presentations of STEEM related dApps and projects at the event.
Of course, we will start the event with a D.tube - update 0.9 presentations with @heimindanger who will show us the newest features of D.tube.
As well we are happy to present the dApps @dsound, @actifit & @vimm.tv and the communities @cleanplanet, @ddaily and @onelovedtube at the event.
Next, to these presentations, we have many great Steemians attending the event. You can find all of them under the WHO IS WHO - list down below.
HOW IS D.tube Forum MADE POSSIBLE?
First off, we are happy to provide you this event as a free-of-charge event. No entry fee is required. We have a symbolic entry fee of $5 on our @fundition campaign where you can show your commitment to the event with your purchase.
This event is funded 100% by the community of the STEEM blockchain.
We have a @fundition campaign ongoing where we offer several great support packages for everyone who wants to support this project.
If you want to support us even more, please check out the @fundition campaign: https://fundition.io/#!/@dtube.forum/nki4yaz5z

All current sponsors of the event are shown down below!
WHAT ARE WE PLANNING AT D.tube Forum?
We will kick off the event on Friday 17th at the venue Espacio88 in Barcelona Poble Nou.
This is what the venue looks like: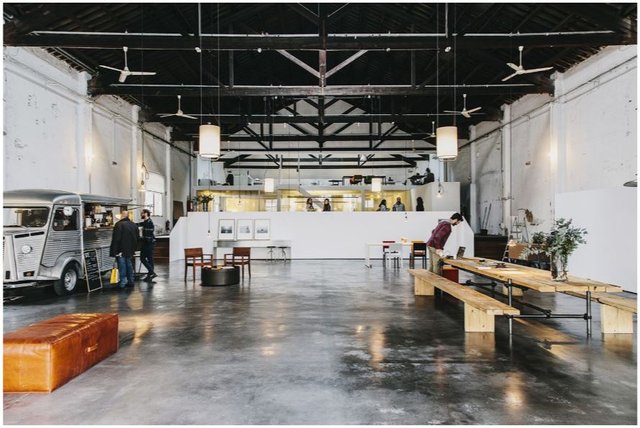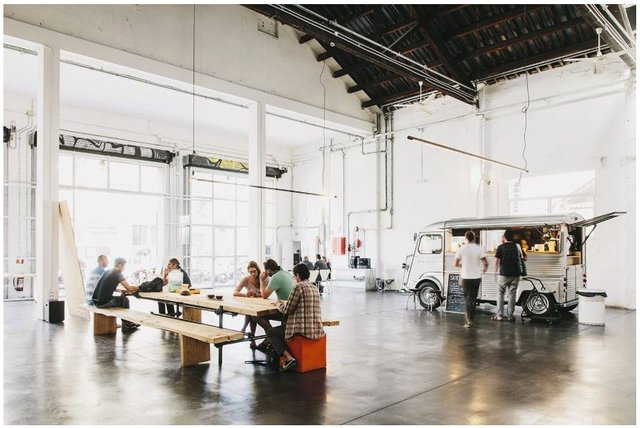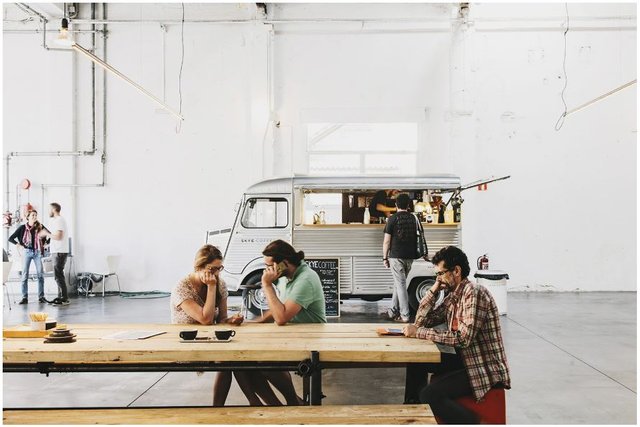 This charming coffee truck is providing coffee and tea for all attendees of the D.tube Forum.
We are still looking for an official coffee sponsor for the event.
So if you or your project want to be the sponsor and present your sponsorship at the coffee truck, please get in contact with us. You can contact us on discord https://discord.gg/TCA9SP or in the comment section.
Thank you!
On Saturday 18th we will have a @cleanplanet walk in the morning where we collect trash on the beach of Barcelona.
After a lunchbreak, we will make a @dtube promotion walk in Barcelona with the aim to promote the platform and to attract others to join the platform.
We will finish on Saturday with an amazing after show party in a club near the seaside.
The Sunday will be a relaxing finish of the weekend with a city tour with all attendees.
HOW CAN YOU JOIN THE D.tube Forum?
You can buy your symbolic entry fee of $5 and show everyone that you will be at the first D.tube Forum.
But this is not mandatory and you can join the event as well without buying it.
We are happy about everyone who will be able to make it to Barcelona for this amazing event.
WHAT IS THE VALUE OF ATTENDING THE D.tube Forum?
You can connect with great STeeminas from all over the world in real life.
This idea of coming together and meet face to face is the main goal of bringing the STEEM community further and closer together.
Next to the personal connections, of course, you will learn a lot about the mentioned projects.
A little side effect, you will spend some great time in one of the most beautiful cities in Europe!
WHAT IF YOU CAN NOT ATTEND THE D.tube Forum?
We want to make sure that everyone has the chance of having the feeling of being right there in the place. So we will live stream the entire event on Friday on @vimm.tv and maybe YouTube.
We are looking forward to everyone who can make it to the event and we are thankful for all your support!
DTube FORUM 2019 - "YOUR STORY BROUGHT TO LIFE"
The WHO is WHO at the DTube FORUM: (23)
@roger.remix
@laubsauger
@misselectric
@greencross
@prc
@tixinhacapitinha
@pescador
@floripondia
@sergiomendes
@nathanmars
@artakush +1
@jesapelcroot
@corsicana
@lecharles
@french.fyde
@yann0975
@kaerpediem
@surfermarly
@joythewanderer
@cryptospa
@tibfox
@hauptmann
(everyone will appear here who bought the symbolic entry fee)
We hope many more will show their commitment to attend the DTube Forum!
Current members of the organization team:
@roger.remix
@tibfox
@artakush
@greencross
@ivansnz
@nathanmars
@sergiomendes
@hauptmann
This project is just possible with the great support of our community. So we want to thank you all for every upvote, resteem, and comment.
If you want to support us even more, please check out the @fundition campaign: https://fundition.io/#!/@dtube.forum/nki4yaz5z

A very BIG THANK YOU! goes out to our sponsors:
@dtube


@mariusfebruary


@dsound


@cleanplanet


@actifit


@roelandp


@prc


@tixinhacapitinha


@pescador

@floripondia


@freecrypto


@surfermarly


@phoenixwinter


@snook


If you want to appear here as a sponsor as well, check out our rewards on @fundition.
From Barcelona with LOVE
@hauptmann