Our Dream
DrApis is a cross between traditional, time proven, apiculture techniques and sustainable beekeeping. High grade, truly raw, unprocessed, natural products. And the most stubborn resistance to chemicals, pesticides and alike. Success measured by number of healthy colonies, not by honey kg.
Nature does it's job better when left alone. Nothing like natural selection and giving time to time. Only the most authentic and purest of our bees' hard work is selected for you. Reused or recycled shipping and packaging materials whenever possible.
We invite you to visit our Youtube channel where you can take a glimpse at the pristine wildflower fields where our bees work.
Our products are harvested and processed naturally by the Apis melifera honey bee. After each season, DrApis carefully harvests the surplus of their hard work, always leaving enough for the cold season. Have a taste of some of the most pure and best of Portuguese nature.
---
Premium raw apiculture products from Alentejo, Portugal
Raw Honey, Comb Honey, Beeswax, Propolis and Bee Bread
Worldwide shipping
---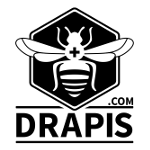 www.drapis.com
@drapis
---
Twitter @drapiscom // Facebook @drapiscom // Instagram @dr.apis