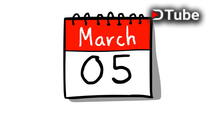 ---
Hey guys,
I am Daily light. Today's video is about....right, you guessed it! It's about Dtube and about me!
Guys First give me your opinions about what is the best thing about Dtube?
For me it's the amazing community!!
Dtube has the most amazing community you can have.
You will never get negativity unless you are a thief or very rude against other people.
Create valuable content, do not copy paste from other articles or from other videos.
I think the best way is to be yourself. I was planning to create news videos but it got me thinking about what do i really want to do!
So here i am with a crappy animation. And my English accent is not the best but
I'm learning as I go! I think my animations will be much better in future! I will make a video or 2 videos every day depending on the time i have.
So please upvote and resteem my videos if you guys think I'm creating valuable content.
Thank you!
See you guys tomorrow.
Bye.
---
▶️ DTube
▶️ IPFS