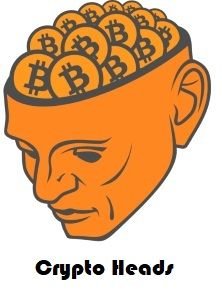 Hey and Welcome everybody to the Crypto Heads Community,
we are a bunch of free minded spirits from all kinds of backgrounds and heritage. We came together in this community to talk about Cryptocurrencies, Travel, Health, Sports, Technology and everything else that makes our life more beautiful. We love to share our knowledge and experience with each other, so everybody can benefit!
This Crypto Heads Account is a private community based Account (where members get invited and share one posting key) and therefore all members are able to post, vote and resteem whatever he/she likes.
Every member of this community will be listed on the Crypto Heads Account under "following". That said, this also means no member is allowed to follow other people with the Crypto Heads Account, without approval of the existing members.

So, please be aware that everybody in this Community is responsible for everything she/he does on behalf of this Account.
This is part of the unknown to this project because all members have full control over post, edit, vote and resteem of all the content that will be published by Crypto Heads.
Let common sense rule and follow our motto "proof of brain" ;-0
Special thanks to the founding members:
---
Every member of this community Account will profit from the following benefits:
Automated 100% Upvote thru Steemvoters on every post that the member writes on his private Steemit Account
All Community members are listed under "following" (please don't follow people without approval of existing Crypto Heads members)
Resteem Service for your posts to the Crypto Heads Community
All rewards that this Account collects will be invested in Steempower and therefore increase the Voting Power for the community.
( Donations are very welcome ;-)
Socializing, meet, talk and exchange of Knowledge with others
And many more ideas to come... we build the future!!!
Please Follow these Rules, so that everybody can enjoy this community:
Please don't spam this account with any kind of commercials or referral links
Respect the posts from other members! If you want to edit or change a post from another member please ask for approval.
Don't ask for votes, resteem or following
Don't follow any other users with the Crypto Head Account that are not going to be members of the Crypto Head Community
Don't spend the Votingpower of Crypto Heads Account for your private comments. You can upvote your own Post but not your comments!!!
Please also upvote/resteem posts from Crypto Heads with your own private Steemit Account e.g. @masterthematrix -> upvote Crypto Heads
Post (so we can build up faster the Steempower of Crypto Heads
Account)
Stay cryptic and have fun!!!
---
I'm thrilled to see what the future will bring to this community and I wish you all a Happy New Year 2018!
Lets have all a good time Crypto Heads,
PS: If this is your first time logged in to Crypto Heads than check this out:
Please login to Crypto Heads Account (with the posting key sent to you), leave a comment on this post with your private Account name
e.g. "Hi guys great to be here. @masterthematrix"

And if you have any further Ideas or suggestion on how to design this introduction post. Feel free to edit this post and leave a comment on what you have changed (this feature is only available for the next 7 days)