CargoX supported by Gorenje, the 1.25 billion EUR annual revenue, trend-setting manufacturing giant

CargoX is proud to announce that Gorenje Group, the 1.25 billion EUR revenue company, one of the leading European household appliance manufacturers, is supporting CargoX and plans to evaluate our solution.
Ljubljana, April 26 2018) - Having excellent supporting companies and partners is great, but being supported by one of the leading European manufacturers of household appliances with a 68-year history and annual revenue of 1.25 billion EUR is truly impressive!
CargoX is proud to announce that the Gorenje Group, owner of global brands Gorenje and the premium brand Asko, as well as six additional local brands, is supporting CargoX and plans to evaluate our Smart B/L solution. Gorenje has a massive presence throughout 90 countries worldwide with its advanced, innovative, energy-efficient, and beautifully designed household appliances that provide users with a simple, intuitive experience and make their lives easier.
Gorenje is a highly focused design-driven innovator, and they have earned their status of a challenger and a trendsetter in their industry, which has been confirmed frequently by numerous prestigious international design awards and further strengthened by collaborations with renowned designers such as Pininfarina, Karim Rashid, Ora ïto, and Philippe Starck.
Their diverse set of innovatively designed, affordable and premium class collections of ovens, stoves, refrigerators, blenders, toasters, clothes and dishwashing machines, dryers, and kitchen furniture with attractive lines such as Infinity, Classico, Retro, Chef's Collection, Baby Collection, Vitaway, Beauty, and their Retro Special Edition refrigerators serve the whole market well. They generate the majority of their revenue in Germany, Russia, the Netherlands, Scandinavia, Central and Southeast Europe, the USA, and Australia.
It is a big honour to be supported by a company that has 11,000 employees of 42 different nationalities, with production facilities across Europe, as well as development and competence centres in Sweden, the Netherlands, the Czech Republic, and Slovenia, and whose other businesses also include ecology-related services, toolmaking, engineering, catering, and trade. They know their business and they're always on top of the trends to stay ahead of the competition.
CargoX matches Gorenje's vision. Our common goal is to provide practical ideas that make everyday tasks easier, and therefore more enjoyable. By guaranteeing high quality and reliability we both strive to be the driver of positive change. Our innovative solution complements their impeccable production and design standards. And most importantly, we both aim to revolutionize the speed, efficiency, and security in our industries.
So, here's to cooking up some fine logistics with Gorenje!
Cheers,
Your CargoX Team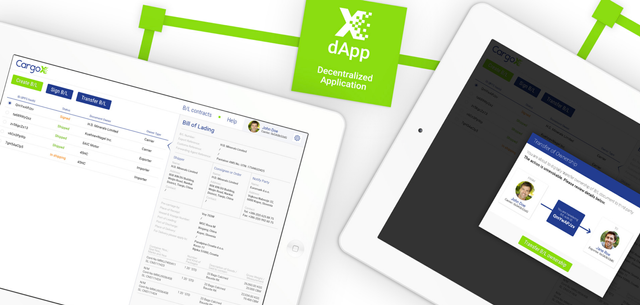 What Is CargoX?
CargoX is the independent supplier of blockchain-based Smart B/L solutions that enable extremely fast, safe, reliable and cost-effective global Bill of Lading processing. CargoX has developed a decentralised platform based on the Ethereum network, and has a pipeline of future products for the supply chain industry.
I recognize CargoX as one of the best blockchain projects, and give it the highest possibility of actually changing the shipping and logistics industry, not only in the region but beyond. It is refreshing to see a project that brings so many advantages and has none of the negatives. I am looking forward to the success of the CargoX project.
Peter Gašperšič, Ph.D.
Minister of infrastructure, Republic of Slovenia
Secure
No central storage which could be attacked by hackers. Global Trade's most important document is encrypted and securely written on the blockchain network, accessible only with traders' private keys.
Fast
Smart B/L is issued instantly and is immediately available to the Exporter. When agreed conditions are met, Smart B/L is transferred to the legal owner of goods – instantly, without couriers in the middle. Just like sending an e-mail.
Paperless
A blockchain-based Smart B/L will be equivalent to a paper one. Having it on the blockchain just takes the pain away. No need to print, send, store and archive it in a conventional way anymore.
Cost savings
Each paper B/L is sent at least three times with couriers making it extremely expensive and slow. The average cost for sending a B/L three times is around $100 and it takes up to 10 days to reach the final destination. More than 50 million B/Ls are created every year.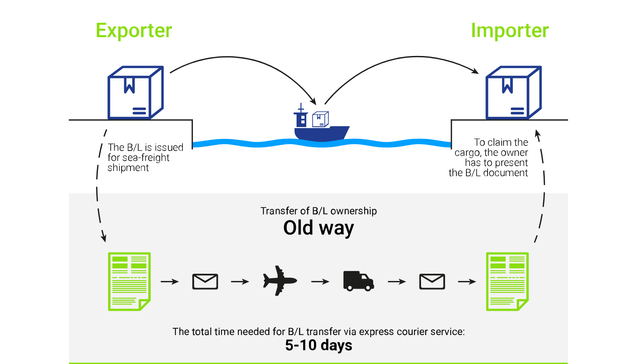 Follow Us On